(DISCONTINUED)
As New York City's largest and premier bike tour and bike rental company, Bike and Roll New York City is expanding its operational footprint by now offering a two-hour Segway Tour that promises to enrich any excursion by providing an experience showcasing the city's spectacular skyline. The two-hour Segway Tour begins with a relaxing eight-minute boat ride via Statue Cruises from Liberty Landing at the World Financial Center in lower Manhattan to Liberty State Park along the New Jersey waterfront, where participants will receive their Segway and brief tutorial before riding along the water and soaking in Manhattan's breath-taking buildings and sites.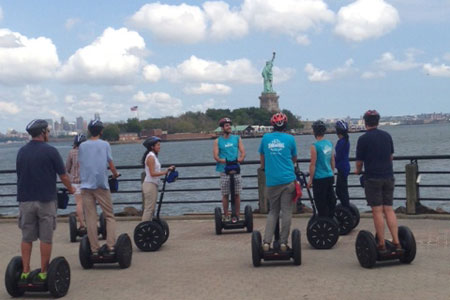 "Liberty State Park's extensive network of paths and trails along with the maritime experience makes this combination a very appealing and captivating moment for the families embarking on this tour," said Chris Wogas, President of Bike and Roll NYC. "We are thrilled to offer this one-of-a-kind Sail and Segway outing that we believe will become very popular among both locals and visitors."

Participants will be able to take in unprecedented views of the Statue of Liberty, Ellis Island, the Empire State Building, World Trade Center and the famed New York City skyline while also enjoying a car-free experience.

Each tour includes proper training and instructions regarding Segway usage, which are restricted to the park's trails. Tours depart at 10 a.m. and 1 p.m. daily and cost $79 per person. Included in the price of each tour is a round-trip ferry ticket, and Segway users must be at least 16 years of age or older.

At the conclusion of each tour, visitors can stick around the park or take the ferry back to World Financial Center. Bike and Roll NYC will offer bike rentals in Liberty State Park as well.

For more information regarding Bike and Roll New York City and to make reservations for the Segway Tour, please visit www.bikenewyorkcity.com.