Some joints are famous for their drinks, others for their music, but nothing compares to NYC rooftop bars and their stunning views. These bars are not, however, all made equal. Again, you're faced with countless options. Whether you're a visitor or have lived in the city your whole life, you won't regret having these 5 rooftop bar destinations on your bucket list.
74 Wythe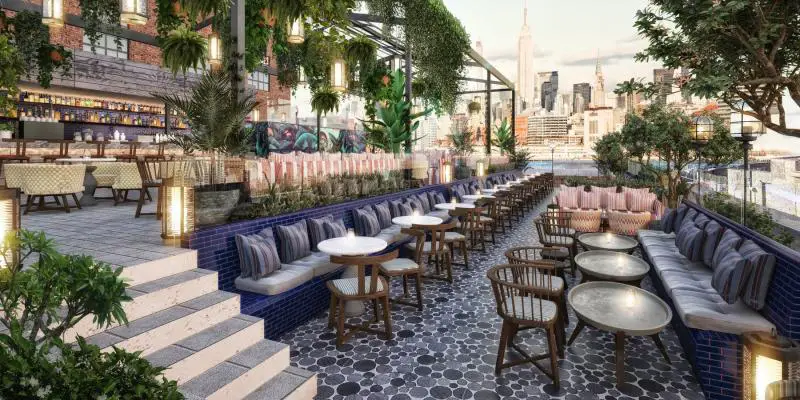 This NYC Rooftop venue presents 15,000 sq. ft. of four connected spaces. Covering three stories, the establishment welcomes you with a stairwell containing reflecting lights. It's almost as if you're underwater. You'll also notice the entrance mosaic that honors the structure's beginnings as a spice factory. The main area features a kitchen, stage, bar, cloakroom, and two entrances. It also has a mezzanine with a bar, bathrooms, and greenroom facing the dance floor; this room suits functions like weddings, seminars, product launches, and band performances.


And that's not forgetting the rooftop that reveals the waterfront and city skyline. The good news is that the roof has a deck. That way, weather changes won't interrupt your bar mitzvah. Another selling point is the cocktail lounge that displays ice creations and old liquor. The floor above has a dining loft with a wine cellar, cooking area, and adjoining courtyard. Being away from the city center, the space guarantees serenity from New York's sirens and honking buses. 74 Wythe Ave., Brooklyn, 718-838-9569, 74wythe.com
Le Bain
Some clubs offer relaxation, and others make you party; Le Bain does both. From guest DJs to disco balls, revelers get the entire package. If you're tired of dancing but brought your bathing costume, the club also features a Jacuzzi. The view is unmatched, considering the club is housed by (but doesn't share an entrance with) towering hotel hotspot The Standard. Talk about sunsets, starry skies, Manhattan's flashing lights, and the Hudson nearby.
You can also pop in for an afternoon of crêpes and world-class cocktails to discuss politics, gossip, or just commune with yourself. This mood is perfect for proposals and birthdays. Remember, the space fills up fast. It's advisable to arrive during the day and wait till darkness falls. However, the wait is worth it for a joint of this stature. So are the prices. The best part is that the bar operates throughout the year. The Standard, High Line, 444 W. 13th St., 212-645-7600, standardhotels.com
The Lookup Rooftop
This bar is every cocktail lover's paradise. Apart from the diverse menu, the joint boasts the finest mixologists. You don't have to worry about pronunciation; the menu classifies drinks numerically for quick orders. But cocktails are not all there is to report. You'll also love the tasty finger foods. What's more, the cool crowd and soft music are perfect for conversations.
And that's not mentioning the open layout that increases the bar's capacity. You can decide to take the chairs or couches around the corners. You also have the option of the lounge, stadium, or high top sitting areas. The welcoming staff and ID inspection at the door prove the place is well-organized. While you may face elevator delays on busy nights, the ESB view is enough consolation. The convenient location is a plus, too: it will only take a few minutes to walk from Times Square or Penn Station. 45 W. 35th St., 212-279-3535, thelookuprooftop.com
Castell Rooftop Lounge
From neat and stirred to dry and shaken, this bar doesn't disappoint when it comes to martinis. They also serve other drinks, for example, wines, vodkas, beers, and highballs. Accompaniments include sandwiches, fries, and crackers. But this is not the place for party animals; the relaxed vibe offers tranquility from New York's busy streets. This explains the numerous middle-aged professionals catching a drink here before heading home.
Moreover, you don't have to shout to hold a conversation thanks to the soft music. The friendly waiters will also elevate your mood if you had a bad day. Though the lounge is comfortable, it doesn't provide much of a view. However, the surroundings are breathtaking from the outside, especially during sunsets and clear nights. The ivy crawling on the walls also comes in handy for a green touch. Note that a reservation is mandatory for admission. 260 W. 40th St., 21st Fl., 929-396-3135, castellnyc.com
Mr. Purple
If you're going to view New York's skyline, you will need a rooftop restaurant in the middle of everything the city offers. Enter Mr. Purple. Found in the Hotel Indigo on the Lower East Side, the bar sells a variety of meals despite their limited menu. For instance, you can order sandwiches, croissants, or oatmeal for breakfast. They also have cocktail varieties with "Mr. Purple" being a special. In addition to tequila and lemon punch, the drink contains apple and cranberry juice. Given the hotel's commitment to preserving the neighborhood's identity, don't be surprised by the graffiti. The establishment also has a swimming pool to make your summer extra fun. Since it gets congested, arrive early to book your space. 80 Orchard St., 212-237-1790, mrpurplenyc.com
---
Bottom Line: This list is, of course, not the end of NYC's entertainment spots. Even if you have exhausted rooftop bars, you can still visit sports pubs, museums, casinos, and cinemas—at least as soon as the governor's office gives the all clear.