"Only the unimaginative can fail to find a reason for drinking Champagne."—Oscar Wilde
We so agree with Mr. Wilde. But now, as if we needed it, there's another excuse to imbibe the bubbly: This October 18th is the 10th annual Global Champagne Day—yes, that's a thing—and corks will be popping all over NYC in celebrations. Here are some choice selections.
The restaurant Irvington is teaming up with master vintner Moët & Chandon to offer a special tasting dinner. From tomato salad to roasted tile fish, each course is paired with a glass of Moët or one of its sister labels (think Veuve Clicquot and Ruinart). Company reps will be on hand to chat about the wine amid the restaurant's light-wooded, modern decor. Call to reserve the $65 feast: 201 Park Ave. So., 212-677-0425, irvingtonnyc.com


Amid the Midtown bustle, Flûte—one of NYC's first champagne-centric lounges—lies tucked away, an intimate underground living room where the lights are low and furniture velvety. Every day is champagne day here, but mention GCD and, owner Hervé Rousseau promises, a little treat will be in store: an extra glass or an appetizer, perhaps a pen or gift certificate to take away with you…205 W. 54th St., 212-265-5169, flutebar.com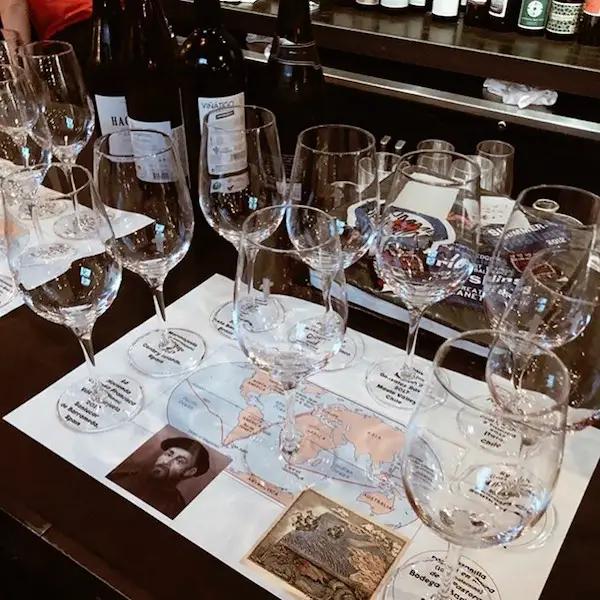 Terroir Tribeca has a rep as one of the best wine bars in town, stocking all sorts of bottles you wouldn't find elsewhere amid vaguely steam-punk surrounds. But they've a soft spot for the sparkling stuff. On Oct. 18, they're cracking open two magnums of a German Riesling (not technically champagne, but why carp?). Owner Paul Grieco will be pouring, dressed as Madame Veuve Clicquot, and his oenophilist lieutenant Nicole Castro Garro will be garbed as Dom Perignon, the monk who reputedly invented champagne. 24 Harrison St., 212-625-9463, wineisterroir.com
Sometimes you just have to splurge. And what better place to do it than the swank surrounds of The Plaza—specifically, The Champagne Bar located off the hotel's Fifth Avenue foyer. Veuve Clicquot's Grande Dame 2006 is the featured bottle of the month, but a trio of champagne flights and various champagne cocktails are also on offer. And for all participating in Global Champagne Day: complimentary oysters shucked right at your table. 768 Fifth Ave., 212-546-5304, theplazany.com
Unlike oysters, pizza isn't a classic pair-with-champagne food. And yet Marta, a casual double-storied eatery famed for its crispy Roman-style pies (baked in huge, bee-hived ovens in open view) and grilled Italian fare, carries expansive yet reasonably priced champagne offerings, both by the glass and by the bottle. Why champagne, over Italy's own prosecco? "If you are to focus on sparkling wines, there's only one path to take," explains per Beverage Director Evan Abrams. 29 E. 29th St., 212-651-3800, martamanhattan.com
Pizza and champagne—maybe that is a thing, after all. Because every Wednesday thru Friday, Greenwich Villager Niche Niche throws a 7pm party featuring this dynamic duo in The Cellar, its underground Gothic grotto: pies from a local pizzeria, plus a tasting of four different bubblies for $65 (or a deluxe quartet, at varying prices). 43 MacDougal St., 212-420-4777, nichenichenyc.com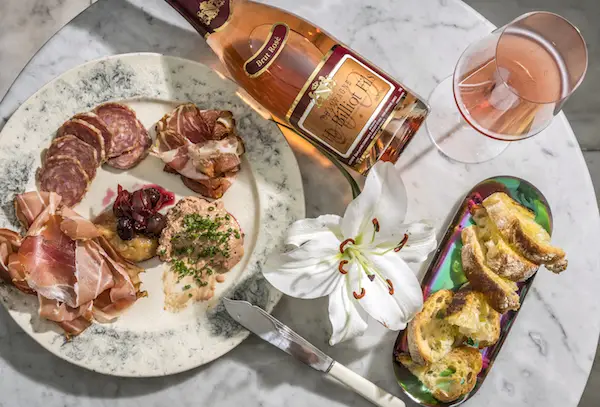 Credit: Noah Fecks.
For a lighter experience, head over to Niche Niche's parent, a few blocks away: Air's Champagne Parlor, a cozy, colorful living room that's all plush furnishings, marble-topped tables and glowing chandeliers (shaped like blown bubbles). Punctuated with a perky primer on champagne, the menu boasts over 120 varieties of sparkling wines at various prices, along with sumptuous nibbles, like cheese and charcuterie plates, lobster salad, or caviar dramatically presented under a smoky glass dome. 127 MacDougal St., 212-420-4777, airschampagneparlor.com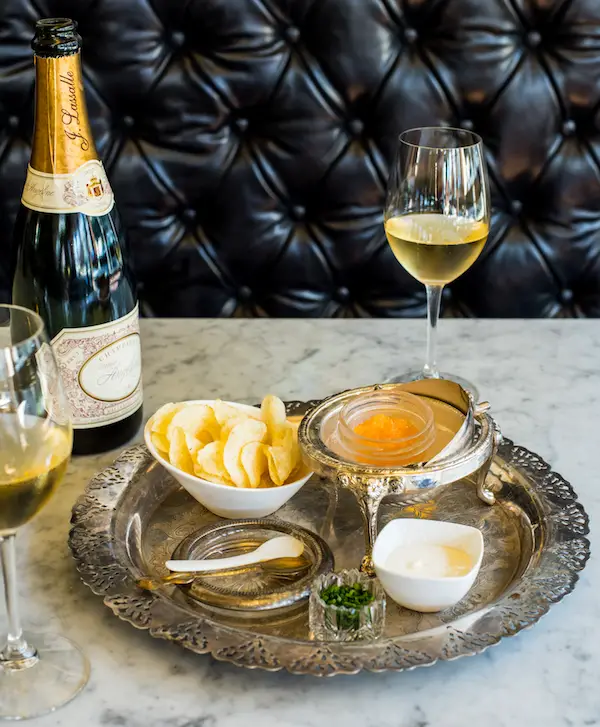 Photo credit: Kassie Borreson.
We've saved the latest for last. The Riddler, a renowned San Francisco champers spot, just opened a NYC incarnation, an intimate space with a gold-leaf ceiling and marble-topped counters. The wine list, 150 bottles strong, features small producers. To go with: munchies both classic (oysters, caviar) and casual (tater tot waffles, icebox cake). 51 Bank St., 212-741-5136, theriddlerbar.com/new-york