New York City is truly the city that never sleeps, with hundreds of flights arriving every day. Figuring out the time to allow, fares, tips, and train routes on the spot in a new city can be overwhelming for the mind, as well as the pocketbook. Read on to get some basic information on time and cost getting around NYC—ahead of time.
Airports
New York City is serviced by three major airports: John F. Kennedy International (JFK) (located in Queens); LaGuardia (LGA) (also located in Queens, it's closer to Midtown/Upper Manhattan; primarily serving domestic flights), and Newark Liberty International (EWR).
JFK Airport
Yellow cab fares to/from Kennedy Airport into the city run a flat rate of $52, plus tolls. A ride from LaGuardia or JFK into the city can run from roughly 30 min. to an hour, depending on traffic. A trip to/from Newark Airport into NYC starts at $17.50, and takes about about 25 minutes. At JFK, You can opt to ride AirTrain, which stops at every terminal and connects with both the NYC subway and the Long Island Railroad (at Jamaica Station).
The fare is $7.50 (including $5 AirTrain fee and $2.50 subway fee).


Newark Liberty International Airport
Despite the New Jersey location, Newark is very accessible to New York City—in fact, depending on the traffic and your destination, it can be the closest airport of the three. The easiest way to reach Newark Liberty is via NJ TRANSIT. On weekdays, between 6am and 9pm, at least six NJ TRANSIT trains arrive every hour at the airport station. Between 9pm and midnight, four trains arrive every hour.
On NJ TRANSIT, no reservations are required. Your ticket is valid between the stations printed on the ticket, any day, anytime, on any train.
Buses
There are private bus lines that go from LaGuardia to midtown for about $15. The #60 city bus from 106th and Broadway, for $2.50, goes to LaGuardia via Broadway, 125th Street and the Triborough Bridge. The #Q33 bus also goes from LaGuardia back to 74th Street Jackson Heights subway (roughly 30 min. ride.) Many regional bus services use Port Authority Bus Terminal on 8th Avenue and West 41st/42nd Streets.
Subways
New York City's subway system currently has more than 800 miles of subway tracks (including underground and elevated tracks), that, if laid end to end, would get you from New York to Chicago. Aside from occasional weekend track work, service runs 24 hours. A subway fare ($2.75) entitles you to ride the train, and within a two hour time frame, transfer to another train or bus. A 7 Day Unlimited Pass is $31.
The Lexington Avenue Lines (4, 5, 6) run north/south on the East Side. Great if you are going to destinations including: Metropolitan Museum of Art, the Guggenheim Museum, the Statue of Liberty, Yankee Stadium and Chinatown. The Seventh Avenue Lines (1, 2, 3) run north/south along Broadway and then Seventh Avenue. Great for those who want to go to West Village, Chelsea/Tribeca neighborhoods, or the S.I. Ferry. The Eighth Avenue Lines (A, C, E) runs north/south on the West Side and can take you to The American Museum of Natural History/Rose Center for Earth and Space, the west side of Central Park and JFK Airport. The Sixth Avenue Line (B, D, F, M) runs north/south through Manhattan for access to the Museum of Modern Art, Rockefeller Center, Radio City Music Hall and St. Patrick's Cathedral. Some lines run east to Brooklyn or Queens. The Broadway Lines (N, Q, R) go down Broadway below 42nd Street and on Seventh Avenue above Times Square. They can help you get to Chinatown, SoHo, New York University, Union Square, the Empire State Building, Carnegie Hall and Central Park, as well as the Financial District, Astoria, Queens and Brooklyn.
Tips: *Buy at least a round trip fare on a card, at $5.50. A Single Ride Ticket is $2.75. *If you don't have a Metrocard, you will be charged an additional $1, so hold on to your card. *If you have more than more than one Metrocard, a ticket booth officer can combine amounts onto one card, if you wish. For more on subway fares, click here.
CityTicket for LIRR/Metro-North
For just slightly more, the CityTicket ($4) will allow a person to travel on Saturday or Sunday within the city limits on the Long Island Railroad (at Pennsylvania Station-34th Street between 7th/8th Aves) or the Metro-North (Grand Central Station-89 East 42nd Street). You can also use the ticket for a trip to or from JFK airport. It must be purchased before hand, at a ticket window or ticket machine, and must used day of purchase.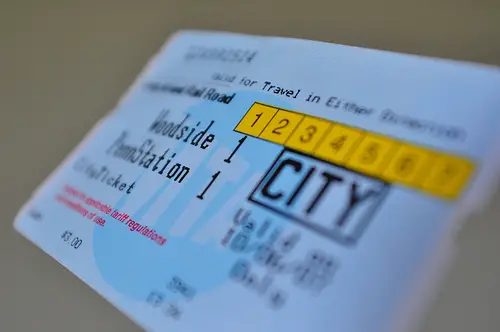 If you're going to ride the LIRR or MetroNorth, buy a ticket before you board the train. If you don't, you will pay a "step-up" fee, that must be cash. Peak fares are weekdays, between 6am-10am, 4pm-8pm.
Cabs
Metered cab fares begin at $2.50, with .50 increases every fifth of a mile. There is a .50 surcharge in the evenings. Most cabs now accept credit cards. Persons with disabilities take note-a cab driver cannot start the meter before you are settled in-it's the law. There is no additional charge for luggage. For the Taxicab Rider's Bill of Rights, click here.
Carmel Car & Limousine offers lower rates to/from JFK, LaGuardia, and Newark. Click here for a $4 coupon! For information, visit carmellimo.com.
Bikes
Biking is not only good for you and healthy for the environment, it's a great way to see New York City. Central Park, Brooklyn Bridge, Prospect Park, all have biking paths (please be kind, too, to pedestrians!) Bike and Roll's My Way Pass ($54 adults/$36 kids) gives riders access to multiple spots to pick up and drop off a bike.
There is hop on, hop off riding; a return trip scenic boat ride with New York Water Taxi; discounts to NYC restaurants, museums and attractions. They also offer separately a variety of sightseeing tours through these and other popular sightseeing spots. For more information, visit bikeandroll.com
Best City Sightseeing Secret: Staten Island Ferry
Whether a visitor or a local, one of the city's greatest sightseeing musts is a ride aboard the Staten Island Ferry. Leaving from Battery Park, the half hour ride gives you the best views of the Manhattan skyline, passes Governors Island, Ellis Island, and the Statue of Liberty.
Best of all, it is FREE, leaving every half hour.