Jet to JFK, dash away to the Hamptons, and soar over the city in one of Gotham Air or BLADE's luxury helicopters. Travel will never be quite the same.


Airport bound? Gotham Air, powered by Helicopter Flight Services, cuts your trip from Manhattan to Newark or JFK down to a slick six minutes. For travelers, going by car to the airport is more than half the battle. Gotham Air lets you kiss traffic, and unneeded traveling stress goodbye, as you go sky high to your destination.

First Things First: Gotham Air's helicopters can each carry six passengers, and require four filled seats to fly. If you're flying with less than four people, Gotham Air's app technology allows you to find other travelers looking to hit the skies. Once your chopper hits minimum capacity, head to the helipad. If you prefer to charter your own chopper, just book all six seats in the app at the time of your reservation. Your helicopter can be ready in as little as 20 minutes.

Pennywise: Seat prices vary based on popularity. Check website or app for specific flight costs.

Got Baggage?: Passengers are permitted one carry-on item with a 25-pound limit.

Just an App Away: In addition to booking on the Gotham Air website, you can also download the Gotham Air app (App Store and Google Play), so your Gotham Air experience is right in the palm of your hand.

Gotham Air, Pier 6 (South and Broad Streets), East River, 212-213-4243; gothamair.com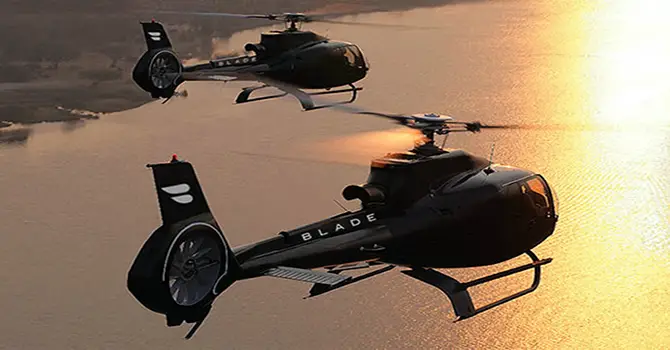 Liberty Helicopter's partnership with BLADE gets travelers to local airports, the Hamptons for a sun-kissed summer day, and even to Mohegan Sun Casino for a weekend getaway filled with gambling, dining, and entertainment. BLADE flies you to Teterboro or Newark in four minutes flat, JFK in seven minutes, and White Plains in 12 minutes.

First Things First: If you're flying solo or with a small group, check out BLADE's existing flights in the app so you can book your seat in a snap. Don't see what you need? Charter your own chopper! It's easy as flying over the Hudson -- if you're a licensed pilot and all that jazz.

Pennywise: Check website or app for specific flight costs. Your ticket also scores you a snack, drink, and a newspaper to read for the duration of your flight.

Got Baggage?: One small carry-on per passenger; golf clubs are not permitted on BLADE helicopters.

Just an App Away: Download the BLADE app (App Store and Google Play), and in just a few clicks, you'll be booking your seat on a crowdsourced 'copter, or chartering your own BLADE flight. Flights can be ready in a zap (20 minutes, to be exact).
The Hollywood Treatment: Blockbuster director Brett Ratner (Rush Hour; X-Men) directed BLADE's new promotional video. The premise? "Your helicopter. Your rules." Check it out here.

BLADE, West 30th Street, Manhattan; East 34th Street, Manhattan; flyblade.com