The 88th Annual Feast of San Gennaro, New York City's longest-running, biggest and most revered religious outdoor festival, will take place Thursday, September 11 through Sunday, September 21, 2014, on the streets of historic Little Italy, the lower Manhattan neighborhood which served as the first home in America for hundreds of thousands of Italian immigrants seeking a better life in the early 20th century.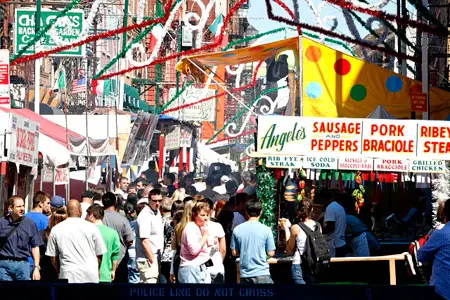 The Feast will begin on September 11 with the annual Blessing of the Stands at 6 PM when Rev. Romano Almagno, the new Administrator of Most Precious Blood Church, the National Sanctuary of San Gennaro, and Fr. Fabian Grifone, Pastor Emeritus, will lead a group of priests in a Procession through the streets blessing vendors and restaurant, café and boutique owners.
Other highlights include: TK will be the Co-Grand Marshals of the 88th Annual Feast of San Gennaro Grand Procession on Saturday, September 13, at 2pm;a Celebratory Mass for San Gennaro in Most Precious Blood Church (110 Baxter Street) on Thursday, Sept. 18 at 6 PM followed by a Religious Procession with the Statue at 7 PM; the 13th Annual Cannoli Eating Competition on Thursday, Sept. 11 at 2 PM on the FIAT Performance Stage (corner of Grand and Mott Sts) and a Blood Drive on Sunday, Sept. 21, 11:30 AM to 6:30 PM, in the Youth Center of St. Patrick's Basilica on Mulberry Street.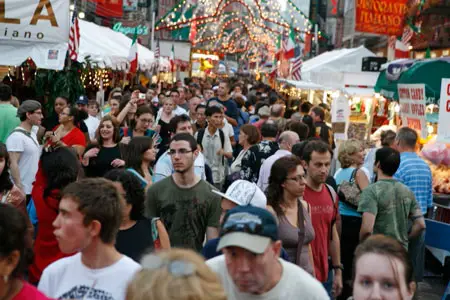 There will be a Special Tribute to Fr. Fabian Grifone, Pastor Emeritus, who retired this year after serving 20 years at Most Precious Blood Church, on the FIAT Performance Stage on Saturday, Sept. 20, from 2 - 3 PM with performances by TK
This year's sponsors of the 88th Annual Feast of San Gennaro are: TK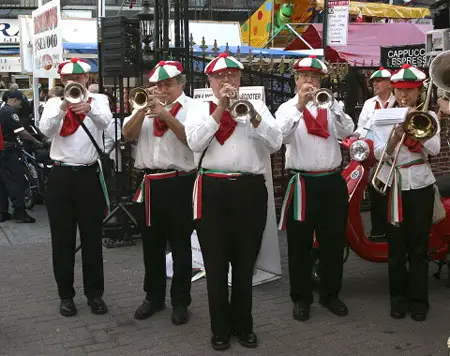 There will be various special activities during the afternoons and live performances nightly on the
The 13th Annual Little Italy Cannoli Eating Competition, sanctioned by the International Federation of Professional Eaters, will be held.Thursday, Sept. 11 at 2 PM, with 10 professional eaters trying to equal, or beat, the world record set here in 2011 by Patrick Bertoletti who ate 32 full-sized cannoli in eight minutes. The competition is sponsored by Little Italy's Ferrara Bakery.
This year's Festa of All Festas will feature musical performances by TK
Presented annually since 1996 by Figli di San Gennaro, Inc. (Children of San Gennaro), a not-for-profit community organization dedicated to keeping alive the spirit and faith of the early Italian immigrants, this year's Feast is expected to once again attract approximately 1.5 million people from the four corners of the globe to celebrate the annual celebration of the Patron Saint of Naples – Saint Januarius.
Although this is an annual celebration of faith, the Feast of San Gennaro is known the world over for its festive atmosphere, an 11-day street festival featuring religious processions and colorful parades, free musical entertainment every evening, a wide variety of ethnic food delicacies, charming restaurants and cafes and even a world-famous cannoli-eating competition!
The central focus of the celebration takes place every September 19th, the official Saint Day when a celebratory Mass is held in Most Precious Blood Church followed by a religious procession in which the Statue of San Gennaro is carried from its permanent home in the church through the streets of Little Italy.
"The Feast of San Gennaro holds a special place in the hearts of Italian people everywhere," says Joseph Mattone, President of Figli di San Gennaro, Inc. "It is a festive period of faith and redemption, a time for remembrance and reconciliation, and a time for celebration. The Feast brings the world to Little Italy and Little Italy to the world."
One of the most popular annual attractions in New York City, the Feast of San Gennaro features activities for the entire family that take place along Mulberry, Hester and Grand Streets, from 11:30 a.m. to 11:30 p.m. (midnight on Fridays and Saturdays). The local streets are decorated with festive banners and arches in green, white and red, the colors of the Italian flag. More than 40 of Little Italy's most famous Italian restaurants, many of them landmarks, roll out the red carpet for Feast visitors, and many provide outdoor dining facilities for the event, offering a wide variety of Italian specialty foods and pastries. Some restaurants even have strolling musicians to entertain their customers.
The area's Italian restaurants and cafes obtain special city permits to serve Italian food delicacies, beer and wine at tables set up outside their establishments. More than 200 vendors operate stalls throughout the Feast selling Italian favorites as sausage and pepper sandwiches, zeppoles, calzones and gelatos, pizzas and pastas. There are also carnival games and rides.
For more information, call 212-768-9320 or visit www.sangennaro.org.