New York City is certainly one of the greatest cities in the world, but it is hardly one of the cheapest to both get to or stay in. For the budget traveler, every second counts, which means that many of you won't want to waste time refreshing yourself or settling in after your flight in. To help you both survive a flight—especially if it is a long haul one—and to get out and about into NYC as fast as possible, all you need to do is follow these steps and prepare.
Photo by Eva Darron on Unsplash
Find a Great Flight for a Good Deal
With flight comparison apps and websites, you can not only find the best provider, but the best days to travel. This way you can minimize the cost of flying significantly, thus saving your money and stress when it comes to managing your budget for NYC.
Know Your Needs and Contact the Airline
If you have any special needs that must be attended to, contact your airline in advance. If you have a disability, you can arrange for an airport car to pick you up and drive you through the airport. If you have special dietary needs, then you can call ahead and have the airline stock your special meal. Just don't leave this to the last minute, because if you do, you will find you will be disappointed more often than not.
Pack Smart for Easier Travel
Many airlines today now offer base fares which strip back ticket price for a bare-bones experience. This most commonly means you cannot bring a checked bag, but only a carry-on. By packing smarter instead of larger you can comfortably fit even a month's worth of traveling into a small carry-on suitcase. Just remember to make it easy to unpack liquids and electronics for security checks.
Know These Key Tips About Airports
If you are flying to NYC from the EU, then chances are your flight is covered under EU policy. What this means is that if there is a long enough delay (for long-haul flights the delay must exceed three hours), then you have a right to compensation. This way you can recoup some of the precious time lost getting to NYC. Just remember to keep all receipts as well, and simply contact FairPlane.co.uk to start the claims process, and get back some of those extra costs.
Prepare for the Long Haul
There are a few items you should always bring with you on a long-haul flight:
Your own water bottle
Electronics with downloaded movies and TV
Headphones
A neck pillow
Comfortable clothing and shoes
A book or magazine
By having your own means to be comfortable and entertained, you can vary your activities up and get through your long-haul flight without becoming bored.
Whether your flight is an hour or seven or even closer to 24, you want to do all you can so that you can be fresh, ready, and able to get out and about into NYC as quickly as possible. By following this guide, you can adequately prepare yourself and be ready to explore one of the greatest cities in the world.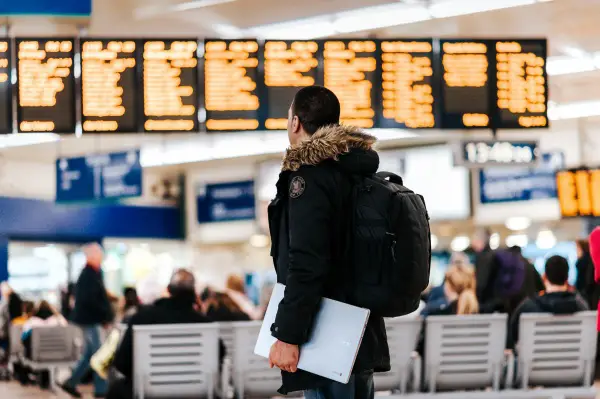 Photo by Anete L?si?a on Unsplash