New York City features a wide variety of historical homes that showcase our nation's history. The houses honor people like LGBTQ pioneering photographer Alice Austen, founding father Alexander Hamilton, and poet and writer Edgar Allan Poe. You can still engage with the homes even when their physical buildings are closed because of COVID-19 restrictions. These are just a few New York historical homes and mansions that are offering virtual tours, collections, and more fun events online.
Alice Austen House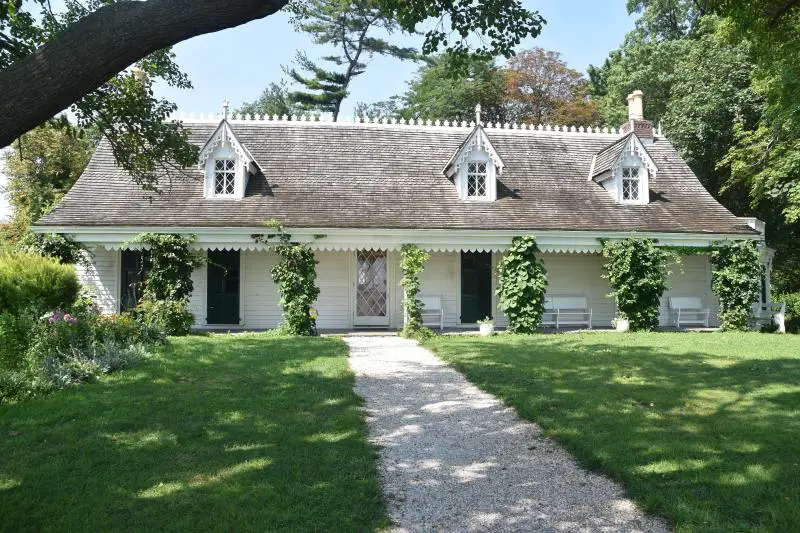 Thomas Altfather Good/Flickr
Alice Austen spent her life taking photographs and showcasing intimate relationships between women, Her work as a queer photographer has given her a second life after her death in 1952. Austen's house, also known as Clear Comfort, was purchased by her grandfather, John Haggerty Austen. Alice Austen lived there with her partner, Gertrude Tate, for almost 30 years. Now, the house serves to honor the life and images of the photographer. You can "walk" through the walls of the house through a Google virtual tour. Also, you can look through her vast catalog of photos on the house's website. Google virtual tour, 2 Hylan Blvd. at Edgewater St., Staten Island, 718-816-4506 x10, aliceausten.org
Bartow-Pell Mansion
The Lenape people owned this land for centuries before physicist Thomas Pell purchased the land in 1654. The current mansion was built by Pell's relative and future owner of the home, Robert Bartow. The mansion serves now as a remnant of the Greek Revival and Federal-style Bronx mansions that existed at the time. You can watch a virtual tour of the mansion here, and take part in minimonies and virtual programming. 895 Shore Rd, 718-885-1461, bartowpellmansionmuseum.org/visit/
Dyckman Farmhouse
One of the last farmhouses of Manhattan, the Dyckman estate was owned by German immigrant Jan Dyckman in the 1600s. His grandson, William, rebuilt the house after it was destroyed in the Revolutionary War. It was used as a farmhouse for much of the 19th century. When NYC became more industrialized in the early 20th Century, Mary Alice Dyckman Dean and Fannie Fredericka bought the home to keep it from being destroyed. Now, the house serves as a historical landmark in the city, connecting it to its growth across time. You can watch the New York Conservancy's video tour of the house here and engage with other virtual programs on the house's website. Broadway @ 204th St., 212-304-9422, dyckmanfarmhouse.org/dyckman-at-home
Edgar Allan Poe's Cottage
Edgar Allan Poe's literary work has shaped generations of poets, fiction writers, and critics. The writer lived in this New York cottage in the later years of his life with his young, dying wife, Virginia (who married Poe when she was 13), and mother-in-law, Maria Clemm. The house bounced around among several subsequent owners before being purchased by the state of New York in 1913. Currently closed to in-person visits, the house is offering an audio tour with descriptions of the house. 2640 Grand Concourse at East Kingsbridge Rd, The Bronx, poecottage.oncell.com/en/index.html
The Frick Collection
Owned by Pittsburgh industrialist Henry Clay Frick, this Upper East Side landmark is one of the last mansions from the Gilded Era. The house now serves to honor Frick's legacy and showcase illustrious works of art. The museum is physically closed, but you can tour the mansion virtually with 360 images of the exhibits with an audio guide. 1 E. 70th St., 212-288-0700, frick.org/visit/virtual_tour
Hamilton Grange
The "ten dollar founding father without a father" who "got farther by working a lot harder" lived in New York City and became "a new man." Alexander Hamilton's house was constructed as a Federal-style country home, per his own request. Unfortunately, Hamilton only lived in the house for two years thanks to his fatal duel with Aaron Burr. The house is closed to the public (the grounds are open), but you can watch this Facebook tour of the house here, as well as the New York Conservancy's highly popular tour here. 414 W. 141st St., 646-548-2310, nps.gov/hagr/index.htm
Historic House Trust Tours
The Historic House Trust works tirelessly to maintain homes of historical significance in New York. Even though the physical houses are closed, the tours are now bringing the houses to your computer screens. Some of the houses offering tours online include the Richmond House, Edgar Allan Poe's Cottage, and Alice Austen's House. Their website even links hungry historians to sites from the New York Landmark Conservancy like Lefferts Historic House, Morris-Jumel Mansion, and the Old Stone House. 830 Fifth Ave., The Arsenal Room 203, 212-360-8282,
sites.google.com/historichousetrust.org/hhtonline/tours?authuser=0
The Morgan Library & Museum
Pierpont Morgan was not just one of the seminal bankers and financiers of the 19th century. He was also a collector of literature and art. After Pierpont's death, his son, JP Morgan Jr., gave his father's library to the public. The physical library is open now with limited capacity, and you can also take a virtual tour of the expansive space here. (Link to panoramic tour.) 225 Madison Ave., 212-685-0008, themorgan.org
Lefferts Historic House
This farmhouse in Brooklyn features exhibits honoring a wide variety of cultures and people from the 18th and 19th centuries, including enslaved people, the Lenape, and Dutch settlers. Even though the house is under renovations, you can tour an older version of the house here and enjoy many activities at home. 452 Flatbush Ave, Brooklyn, prospectpark.org/visit-the-park/places-to-go/lefferts-historic-house/
Lewis H. Latimer House
Lewis H. Latimer innovated some of the most important inventions of his era, including carbon filament. He also was important in the invention of the telephone. The son of enslaved people, Latimer lived in this Queens house for the last 25 years of his life, where he spent time with his family. The Latimer family owned the house until 1963; it was moved to its current location to avoid demolition. It now serves as a memorial to Latimer's legacy and a place for educating future inventors. The house is currently closed, but you can watch the New York Conservancy's recent tour of the house here. 34-41 137th St., Flushing, 718-961-8585, lewislatimerhouse.org
Louis Armstrong House Museum
Louis Armstrong made New York City and every stage he played on a "Wonderful World." Aside from that legendary song, his work transformed jazz, and his beautiful trumpet sounds still echo through the world of music today. In 1943, Armstrong chose to live in Corona, Queens. His home now serves as a memorial to Armstrong's cultural legacy, with many amazing artifacts, documents, and public exhibits. The museum is temporarily closed, but you can still spend hours engaging with Armstrong's digital collections and you can interact with the home on Facebook and Instagram. 34-56 107th St., Corona, Queens, 718-478-8274, louisarmstronghouse.org/museum-collections/
Lyndhurst Mansion, Tarrytown, NY
Lyndhurst is a gorgeous, gothic mansion sitting along the Hudson River. The home was owned by several wealthy men, including former New York City Mayor William Paulding, merchant George Merritt, and railroad tycoon Jay Gould. Gould's sister, Helen Gould, shaped much of the house we see today, as she formed the bowling pavilion and recreation center and maintained the mansion throughout her life. Anna, Duchess of Talleyrand-Perigord, and Helen's younger sister, gave the mansion to the National Trust for Historic Preservation after her death in 1961. Now, the iconic structure in Westchester is closed, but you can still get a virtual tour of the mansion, the exterior of the mansion, and the bowling alley. 635 South Broadway, Tarrytown, 914-631-4481, lyndhurst.org/virtualtours/
Merchant's House Museum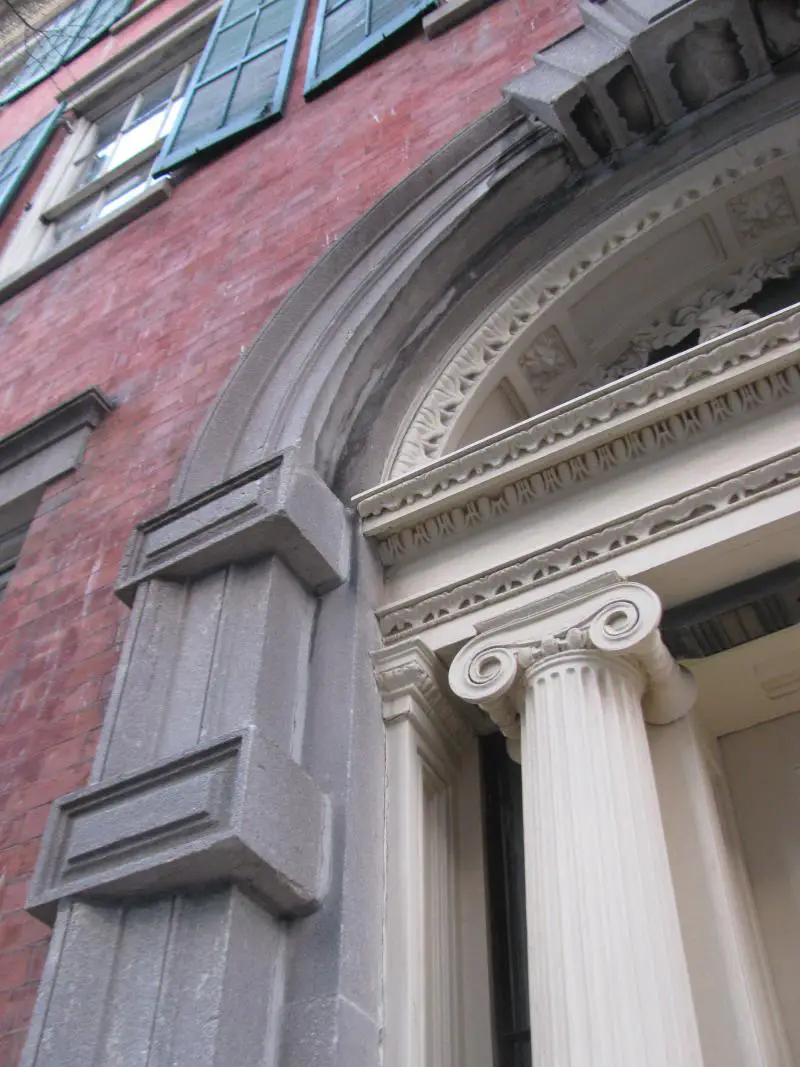 Eden, Janine and Jim/Flickr
This Greenwich Village/SoHo/NoHo house was owned by the Tredwell family for generations. Now, the home is one of the last houses still standing from the Greek Revival period and has an 1832 late-Federal brick interior. The house is open only by appointment and you can find virtual tours and other exhibits online. 29 E. 4th St., 212-777-1089, merchantshouse.org/virtual-exhibitions/
Morris-Jumel Mansion
The mansion was once the home of British Colonel Roger Morris and later the brief headquarters (about a month) for George Washington during the Revolutionary War. Due to its stature on the top of one of the highest points in NYC, the mansion was called Mount Morris. The house has great views of New York Harbor, New Jersey, and Connecticut. Later, musician and civil rights activist Paul Robeson said that the home had a strong significance in the context of America's roots. The mansion is now a place for learning about domestic life in New York City during the Revolution and many figures from that time. You can watch a virtual tour of the mansion here and take part in several virtual events. 65 Jumel Ter., 212-923-8008, morrisjumel.org
NYC Virtual Tours
New York City is providing a slew of virtual tours of historic homes across NYC. nylandmarks.org/news/need-a-break-or-want-to-learn-about-nyc-history-watch-our-virtual-tours/
Old Stone House
Although this house has been reconstructed, its original stonework bore witness to a rich history, from serving as a Dutch farmhouse to being the culminating site of the Revolutionary War's Battle of Brooklyn to being the original clubhouse of the early Brooklyn Dodgers baseball team. Now, the house is an important historical landmark in the Park Slope neighborhood, marking several points in the borough's history. You can take a virtual tour of the home here. You can also take part in online exhibitions like the Brooklyn Utopias Art Exhibit. 336 3rd St., Brooklyn, 718-768-3195, theoldstonehouse.org
Richmond Town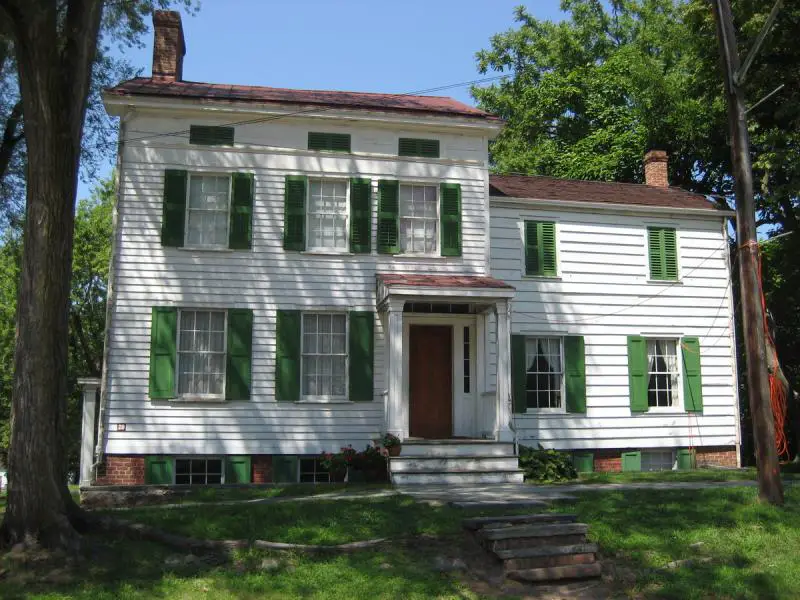 Roberto Pla/Flickr
Richmond Town provides a look into Staten Island's history. The creation of a 100-acre, 40-structure town also opens up NYC's history to multiple perspectives. In addition to weekend real-life tours, you can enjoy virtual tours from several houses in the community, including the Vorleezer's House, the Stephens-Prier House, and the Guyon Tavern. 441 Clarke Ave, Staten Island, 718-351-1611, historicrichmondtown.org/arts-and-culture-in-quarantine
Van Cortlandt House
The Van Cortlandt family owned this house and plantation in New York for over 100 years. Now, the house serves as a reminder of the history of farmers in New York City. The home is open with limited capacity, as are the grounds; in addition, you can watch this recent virtual tour. 6035 Broadway, Bronx, 718-543-3344, vchm.org
---
Want more free advice on what to do and see in New York? Join our Facebook group Everything to Do NYC, a place for people to ask questions and get tips on how to make the most of the city.