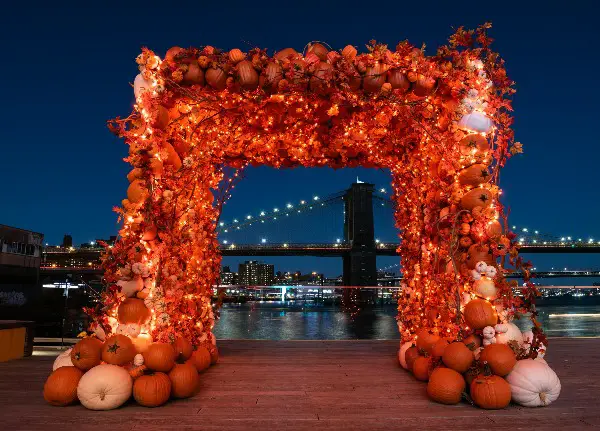 The Pumpkin Arch returns to the Heineken Riverdeck at Pier 17 in the Seaport District. Photo by Jane Kratochvil.
Coronavirus Latest for Tourism
Although the major tourism headlines this week were about postponements—both the Philharmonic and Broadway are pushing off to at least summer 2021—a scan of the wider scene reveals green shoots of rebirth. Economists note the upticks in New York truck driving gigs and national auto sales as two indicators of a continuing rebound. The U.S. is leading the world in new hotel openings in 2020. NYC luxury is making a comeback, suggesting the affluent may be making their way back to the city—Louis Vuitton is open again, Bergdorf Goodman is expanding its hours, and Per Se returns tomorrow. Manhattan apartment inventory went down last month, another sign the exodus is slowing.

Michigan, Ohio, and Virginia have just been added to the city's quarantine list, but the desire for travel is resilient. In fact, a new Hilton study found 94% of Americans missing travel (90% of respondents credited travel with some of their happiest memories). How essential is it? The majority said their travel memories are more important to them than even their smartphones. Read on for more on NYC and broader tourism trends.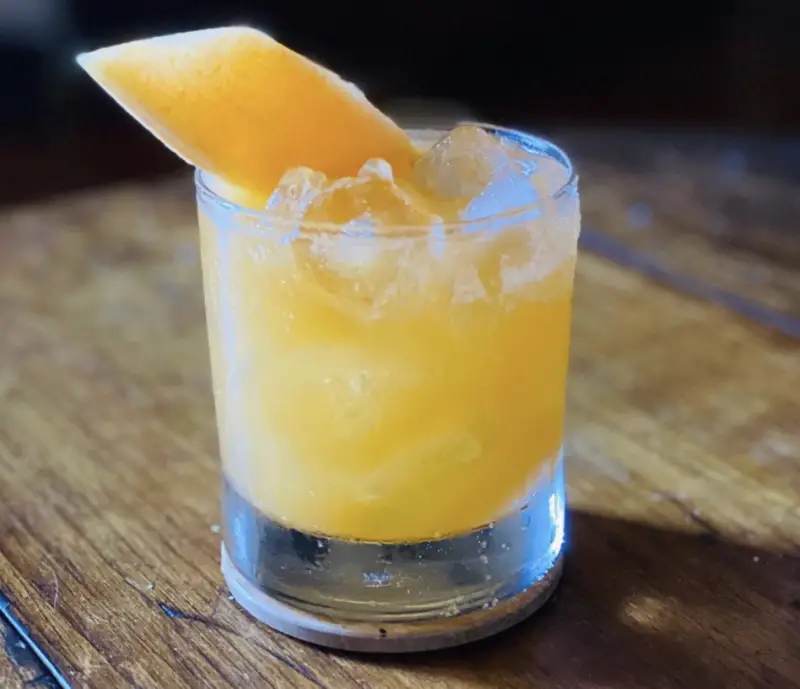 Taqueria and cocktail experience Amigo by Nai now open in the East Village. Pictured: "That Time in Sevilla."
Links of Interest
NYC
Open House New York goes off this weekend—with a mix of virtual and self-guided explorations.

The Times catches up with the state of New York tourism.

Grand Central Oyster Bar shuts down after 12 days of limited capacity dining.

NYC Ferry's Hornblower taps Niagara Falls assets for cash.

MTA debt could reach $50 billion in four years.
Starting Saturday, NYRR's Run For The Love of Running and the Virtual TCS New York City Marathon Run For The Medal kick off, running through November 1st.

BEYOND THE CITY
Officials seek New York-London travel bubble in time for the holidays.

Digital health passport CommonPass could speed up cross-border travel.

The International Air Transport Association (IATA) says risk of COVID transmission on a flight is very low.

Airlines preparing for leisure travel boom—they just don't know when.

Five stages to reboot hotel recovery.

Ten learnings for tourism from the last 10 months.

CLOSING TIME
Iconic Roosevelt Hotel wraps up after 96 years.

After 30+ years, Mont Blanc 52 closes up.

Maloney & Porcelli ends a 25-year run.

Tribeca mainstay Sole di Capri says arrivederci.
A New Way to Keep Up From City Guide
Every week more than 10,000 people read City Guide's This Week in the City. Would you like it delivered to your email inbox every Thursday? Sign up here!
Everything to Do NYC Facebook Group Post of the Week
City Guide's Facebook Group Everything to Do NYC is a great way to keep up with what's going on in the city and how locals and visitors are faring. This is a great place to get information in real time about must-sees in the city. This recent post is up to 47 comments already:
I just moved from the other side of the country and now I'm looking for some pretty places to do some photography! It could be a house you walk by, a pretty mural, or anything in between.
There was the expected (Central Park, the Brooklyn Promenade) and more far afield ideas like Bushwick murals, the Grand Concourse, Washington Mews, Audobon murals, Gantry State, views from Inwood Hill Park, the Elevated Acre, and the West 60s for Halloween decorations. You can check out the full response here. Other recent posts provide insight into what locals and visitors are thinking—the group is over 9,000 members strong.
---
Want more on New York City tourism? Sign up for our free weekly Tourism Happenings newsletter. Just drop a line to [email protected].