The winter holiday season in New York City is unparalleled. We've included here some must sees during your visit that are sure to create wonderful memories, including Rockefeller Center, annual traditions, holiday markets, parades, and more.
For What to Do at the Holidays in NYC 2015, click here.
SKATING RINKS
The iconic Rockefeller Center Ice Skating Rink, is now open. For information on reservations, skate lessons or season passes, call 212-332-7654 or visit therinkatrockcenter.com. VIP packages are also available. For more information on Rockefeller Center, visit rockefellercenter.com.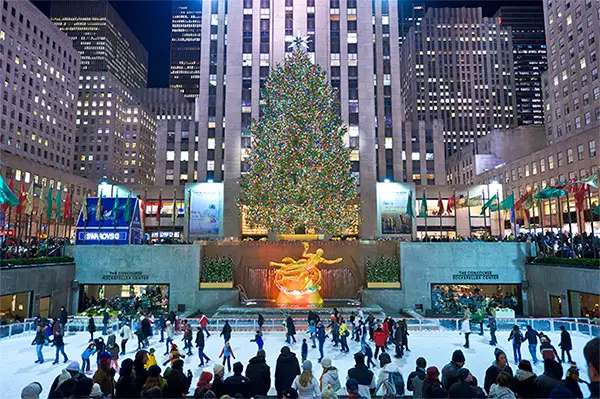 Trump Rink, formerly known as Wollman Rink in Central Park, is open. For schedules and rates, call 212-439-6900, or visit wollmanskatingrink.com.
Through December 31st, A Slice of Brooklyn's 3-1/2-hour Christmas Lights & Cannoli Tour highlights the festive homes of Dyker Heights, the Italian-American section of Brooklyn made famous in the PBS documentary Dyker Lights and seen on TLC's Crazy Christmas Lights. The tour, which departs from Union Square in Manhattan, also stops for a delicious cannoli and hot chocolate from an authentic, Brooklyn neighborhood pastry shop. The multimedia presentation includes vintage Christmas variety specials like Andy Williams, Frank Sinatra, Bing Crosby, and more. Call 212-913-9917 or click here for reservations. Use promo code CITYGUIDE when purchasing tickets and receive $3 off tickets.
Gray Line Sightseeing offers their Holiday Lights Bus Tour from Dec. 1 through Jan. 3.

THE RIDE: HOLIDAY EDITION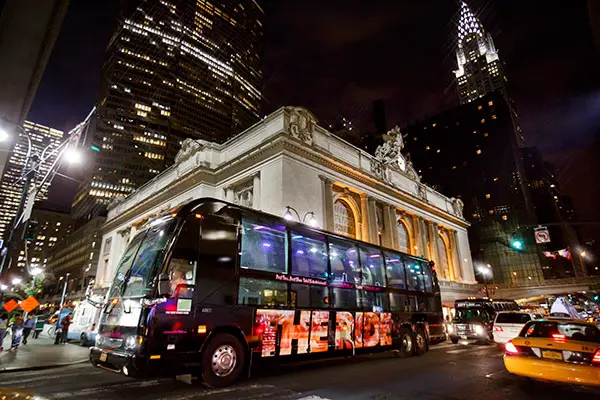 THE RIDE Holiday Edition is back for its third year! THE RIDE is a joyous experience to share with friends and loved ones during New York City's favorite season. Enjoy the exclusivity of gliding through Manhattan in THE RIDE's state-of-the-art sleigh, protected from the frenzy of the crowds and the winter weather. THE RIDE's repertory company of talented performers will continue to surprise and to delight you wit their original themed vignettes and music. Through Jan. 4. SAVE $10 WITH DISCOUNT CODE RDCG.

In the true holiday spirit, THE RIDE is offering two promotions for opportunities when you can ride The Ride for free:
*Food Drive with NYC Food Bank (Nov. 10-14) Bring at least $25 of canned food and your store receipt, to receive a free ticket.
*Toy Drive with Toys for Tots NYC (Dec. 1-22) Bring a toy worth at least $25 and your store receipt to The RIDE box office and receive a free ticket.
HOLIDAY MARKETS
Every year, NYC offers a variety of sprawling pop up holiday markets.
•
Bryant Park
kicks the holiday shopping season early with its Winter Village, which opens its doors
Oct. 21
, wintervillage.org.
• Year round, Chelsea Market and Hell's Kitchen offer a wide, unique selection of new and antique finds, great for gifts. annexmarkets.com
• Union Square's Holiday Market will run this year from Nov. 24-Dec. 24.
• This year's Grand Central Terminal Holiday Fair (Nov. 17-Dec. 24; closed Thanksgiving) features distinctive gifts from 76 artisans, craftspeople, and small businesses in the Greater New York area and around the country offering handmade products including art, clothing, and accessories for adults and children, handbags, home goods, bath and body products and more. grandcentralterminal.com
• Columbus Circle's Holiday Market, located in picturesque Central Park by 59th Street and Central Park West, will run this year from Dec. 2-24.
PERFORMANCES/EVENTS
The Macy's Thanksgiving Day Parade has been a longstanding New York City tradition that kicks off the holidays. Dating back to 1924, each year, generations of families-locals and visitors alike, line up to see floats, live entertainment, some of the greatest hot air balloons (Snoopy, Hello Kitty, Spiderman and many others), plus a glimpse of Santa on his sleigh at the end. The parade gained popularity after being prominently featured in the film classic, Miracle on 34th Street, starring a very young Natalie Wood. Parade route runs down Central Park West from 77th Street to Columbus Circle along Central Park South to 6th Avenue, down 6th Avenue to 34th Street and along 34th Street to Macy's Herald Square. Line up early!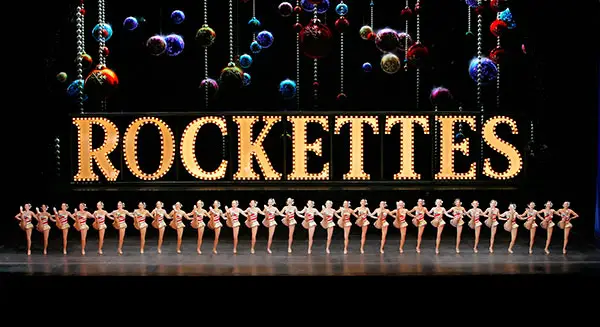 NYC perennial holiday favorite, the Radio City Christmas Spectacular, runs this year from Nov. 7-Dec. 31. Fan-favorites include "New York at Christmas," where the Rockettes board a real double-decker bus and the high-energy tap number, "Twelve Days of Christmas." Of course, beloved classics like "The Parade of the Wooden Soldiers" and "The Living Nativity" will also be back.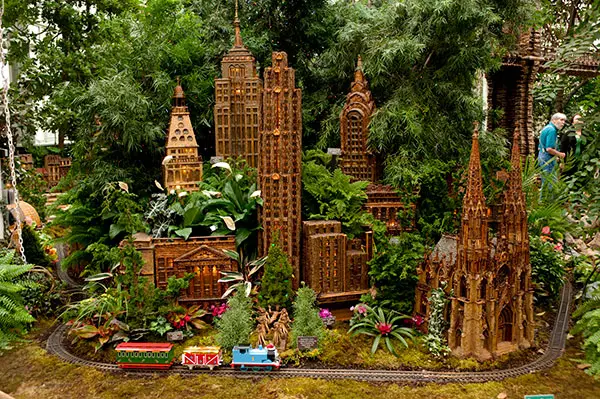 Photo: Ivo M. Vermeulen
A hit with kids and adults alike, make a day trip to visit NYBG's Annual Train Show, where The Enid A. Haupt Conservatory plays host to a city in miniature, featuring more than 150 New York landmarks re-created with nuts, bark, leaves, and other plant parts. While you're there, take care of your shopping list! The NYBG Annual Train Show runs from Nov. 15-Jan. 19.
This year's Winter's Eve at Lincoln Square will take place Dec. 1, from 5:30pm-9pm. There will be music, performers, more than 30 restaurants and eateries offering food tastings, and more, rain, snow or shine. The festivities begin with the Upper West Side Tree lighting in Dante Park, at Broadway and 63rd Street.
The Rockefeller Center Christmas Tree Lighting is a world renowned symbol of the holiday spirit. This year's event is set to take place Dec. 3, with live performances from 7pm-9pm. The tree will remain lit and can be viewed through Jan. 7, 2015.
WindSync brings their A Pocket Nutcracker to the Metropolitan Museum of Art on Dec. 14.
Chanukah Menorah Lighting - Every year, thousands gather around the 32-foot-high, gold-colored, 4,000-pound steel menorah at Grand Army Plaza (Fifth Avenue and West 59th Street, across the street from The Plaza hotel) to kick off the annual Jewish Festival of Lights; this year the first lighting takes place Saturday, Dec. 16, at 8:30pm. The Festival of Lights concludes Dec. 23.
In George Balanchine's The Nutcracker, Tschaikovsky's beloved melodies will transport viewers to a world where mischievous mice besiege a battalion of toy soldiers, and an onstage blizzard leads to an enchanted Land of Sweets. The production runs this year from Nov. 28-Jan. 3.
The New York Transit Museum Holiday Train Show at Grand Central (Nov. 16-Feb. 22) features Metro-North, New York Central and subway trains departing from a miniature GCT on a 34-foot-long two level "O" gauge layout. Model Lionel trains from the Museum's collection and vintage Lionel advertisements are also on display.
The vocally uplifting NYCGMC Holiday Spectactular 2014: Home for the Holidays, will be performed this year at the Skirball Center for the Performing Arts, Dec. 19-21.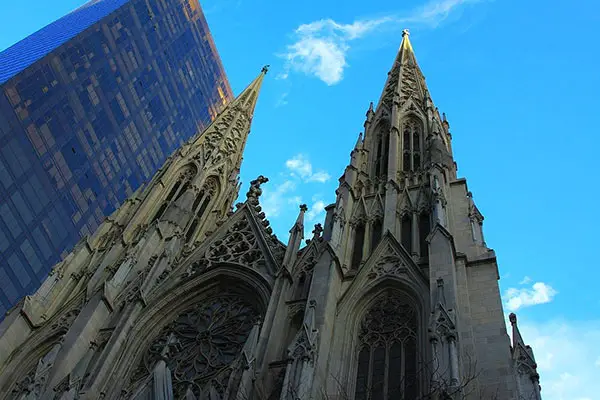 Credit
Christmas Eve Midnight Mass at St. Patrick's Cathedral - It's always standing room only for this beloved annual mass at NYC's iconic Catholic church. Get there early.
A New York City landmark, the legendary Apollo Theater's Kwanzaa Regeneration Night on Dec. 27 returns with the renowned New York-based dance company, Abdel Salaam's Forces of Nature Dance Theatre. It is an evening of joyful dance and music, hosted by WBLS personality Imhotep Gary Byrd, that honors the principles of Kwanzaa – family, community and culture.
Times Square New Year's Eve Ball Drop -There's nothing quite like the excitement surrounding New Year's Eve in New York City-there's an endless selection of festivities, cruises and dining opportunities abound. The most famous celebration — where more than a million gather to see a Waterford crystal ball 'drop' in Times Square, and stars perform to bring in the new year — is a world-televised event. If you go, plan to get there early, before 5pm.