On August 16, summertime revelers and rum aficionados will be celebrating National Rum Day. The rum-inspired occasion happens to fall on a Friday this year, so there's even more of a reason to get out and celebrate. Many stylish destinations in New York City and Brooklyn are offering summery rum drinks, so be sure to get out and sip in these last few weeks of summer.
National Rum Day in NYC: The Aviary
Boom Goes the Dynamite. Photo credit: Noah Fecks.


Mixologist Lee Carames is the talent behind Boom Goes the Dynamite, which is on the menu at The Aviary at the Mandarin Oriental. Carames yearned to craft a cocktail using Ten To One Caribbean Dark Rum and Ten To One Caribbean Light Rum. "The funk from Ten To One's white rum and the smooth caramel tones from the dark lend themselves to flavors such as cassis, banana, and cucumber. Boom Goes The Dynamite also features the flavors of amaro, banana liqueur, and cassis liqueur. Mandarin Oriental, 80 Columbus Circle, [email protected], aviarynyc.com
National Rum Day in NYC: Cecconi's
Located in Dumbo's Brooklyn Bridge Park, Cecconi's boasts waterfront views of the Manhattan skyline. The mod Italian restaurant offers hand-made pasta, seafood and other Italian dishes. On the cocktail menu is the Three Hour Tour, which is available exclusively at Cecconi's in Dumbo. Made with Banks 5 Rum, Martini Bianco, St. Agrestis Inferno Bitter, and St. Agrestis Amaro, it's batched with coconut oil to impart a fresh coconut flavor. The mod classic Italian restaurant has locations worldwide; its flagship restaurant is in London. 55 Water St., 718-650-3900,Brooklyn, cecconisdumbo.com
National Rum Day in NYC: Las' Lap
In Trinidad and Tobago, Carnival revelers often say "Good times aren't about food, nor drink. It's the spirit of those you enjoy." Las Lap celebrates that philosophy and the overall vibes of Trinidad and Tobago—rum destinations for sure. Las Lap's Take Flight is crafted with Facundo Neo, splashes of pineapple juice and lime juice, martini bitters, and demerara. The cocktail is then finished off with a wedge of pineapple and a mint sprig. Take Flight is available exclusively at Las' Lap. 74 Orchard St., 646-484-6002, laslapnewyork.com

National Rum Day in NYC: Momofuku Noodle Bar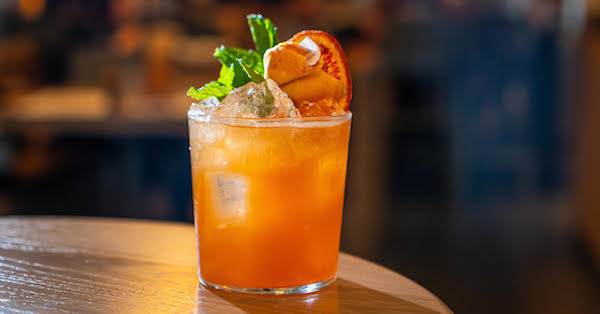 Photo credit: Noah Fecks.
Embrace the flavors of summer with Momofuku Noodle Bar's exotic Five Star Mai Tai. The colorful cocktail boasts Ten To One Dark Rum, Trader Vic's Macadamia Nut Liqueur, and Chinese 5 Spice-infused Tokki Black Soju. It includes citrusy splashes of mandarin orange purée, blood orange juice, pineapple purée, and lime juice. The summery sip is garnished with a mint sprig, a dehydrated blood orange wheel, and a fortune cookie. "Chinese 5 Spice is the foundation of this Mai Tai variation. The spirit's vanilla and toffee notes pair well with the macadamia nut liqueur. The mandarin and blood orange are sweet and slightly bitter and are there to round out the pineapple," reveals mixologist Haera Shin. The Shops at Columbus Circle, 10 Columbus Circle, momofukunoodlebar.com
National Rum Day in NYC: The Rum House
An innovative take on a classic, The Rum House boasts a distinct downtown sensibility set against a classic New York backdrop.Sip a Tortuga while enjoying the sound of the nightly live piano and jazz music. Created by Kenneth McCoy, it features El Dorado 8yr Rumalong with dashes of cinnamon powder, orange juice, and lemon juice. It is served on the rocks and garnished with the sweet flavor of candied ginger on a skewer. The Rum House is the ideal locale for a nightcap, pre-theater cocktail, or an evening of revelry in the buzzing Times Square area. 228 W. 47thSt., 646-490-6924, therumhousenyc.com
National Rum Day in NYC: Tommy Bahama Restaurant & Bar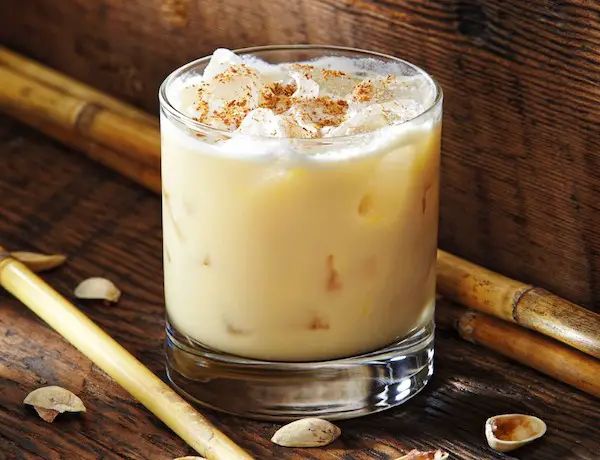 The Pain Killer.
For a taste of the islands without leaving midtown, explore the libations at Tommy Bahama. Its Tommy Bahama Pain Killer was designed to ease your cares away. It mingles Pusser's Rum with pineapple juice, Coco Lopez, and a splash of orange juice. 551 Fifth Ave., 212-537-0960, tommybahama.com
National Rum Day in NYC: The W Hotel
The cocktail, served at W New York - Times Square - features eight different rums and 26 different ingredients beginning with a different letter of the alphabet from A-Z. The hotel tapped London's culinary mad-hatters Bompas & Parr to conduct hours of R&D to balance the cocktail, on-menu at the hotel bar and available complimentary in the hotel suites. 1567 Broadway, 212-930-7400,
whotelsnewyork.com