New York is a city of endless dating stories: some romantic, others hilariously horrific. Enter #DateMe: An OkCupid Experiment. This Off-Broadway show, created by writer/comedian Robyn Lynne Norris, is based on Norris' IRL experiences with the popular dating site. This unique musical incorporates audience participation, improvised comedy, and the chance for singles to meet their match. It's running now at the Westside Theatre.
Norris based this show around her first forays into the world of online dating. "I just moved to L.A .and a friend wanted advice on creating an OK Cupid profile," said Norris in a press release. "In order to help her out, I had to fill out my own profile." Her silly "Cat Lady" alter-ego, designed to turn off potential suitors, actually prompted hundreds of men to message her.
#DateMe follows a character named Robyn (played by Kaitlyn Black) in her online dating experiment, creating 38 profiles she deems "undateable" and seeing who reaches out to them. No spoilers, but the experiment doesn't quite go as planned.
The audience participation element of the show ensures it's fresh every night and makes you part of the fabric of the show. You'll also get to see the performers think on their feet with the improvised portions of the evening, which involve scenes of hilarious bad dates.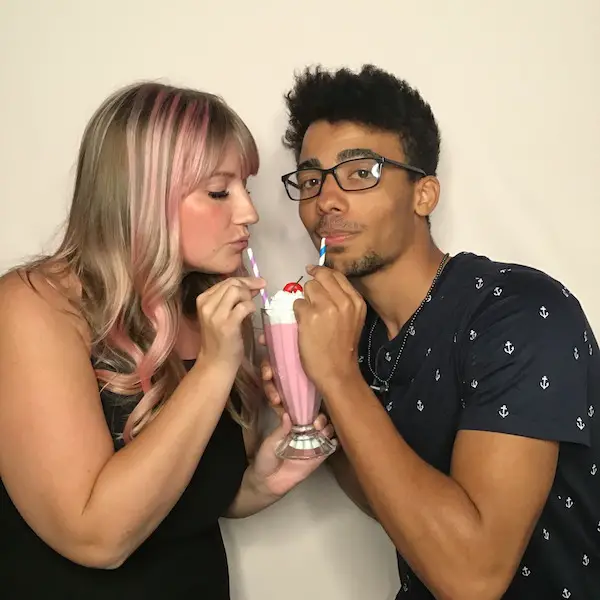 The #DateMe app is another exciting feature, which helps you create an online dating profile and use it during your evening at the theatre. On the app you can view other profiles of audience members at your performance, as well as interact with characters from the show. At intermission, you'll also get the chance to meet other audience members at the bar on site.
Robyn Lynne Norris created and starred in the first productions of #DateMe, previously staged in Los Angeles and Chicago under the title Undateable. Norris is a trained improviser and sketch comedian—as well as free-style rapper—who has performed in the national touring company of Second City and at other venues throughout the country.
In #DateMe, The supporting cast of Chris Alvarado, Jonathan Gregg, Eric Lockley, Megan Sikora, Liz Wisan, Jillian Gottlieb, and Jonathan Wagner make up the dating candidates, friends, and other characters in Robyn's world. The book was written by Robyn Lynne Norris, Bob Ladewig, and Frank Caeti, with song lyrics by Norris, Caeti, Ladewig, and Amanda Blake Davis. The director and choreographer is Lorin Latarro.
---
#Date Me: An OkCupid Experiment is currently running at the Westside Theatre: 407 W. 43rd St. Call 212-239-6200 or visit datemeshow.com for tickets and more information. The show's closing date is September 15th, 2019.