Over 15 million people came to Brooklyn as tourists last year, confirming the borough's status as one of the top attractions in NYC. Circle Line Sightseeing Cruises has just launched the first dedicated ride to New York's other city. Longtime Brooklyn resident Ellen Freudenheim, author of the brand-new book The Brooklyn Experience: The Ultimate Guide to Neighborhoods & Noshes, Culture & the Cutting Edge, knows this degree of attention wasn't always an inevitability.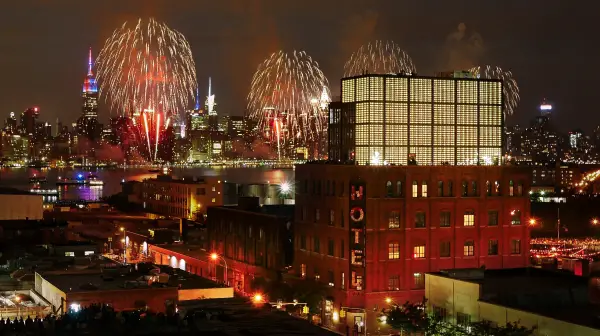 "It's amazing how much it's changed," she says. "In 1991 when I told people I was writing a guidebook to Brooklyn they said 'You gotta be kidding!' Now, no more apologies for writing about Brooklyn. It's great to see Brooklyn flourishing in previously unimaginable ways."
The Brooklyn Experience provides a comprehensive guide to all things BK. From a "Welcome to Brooklyn" overview with 20 great reasons to fall in love with the borough, to looks forward and back, Freudenheim shows off some serious neighborhood savvy. Then again, The Brooklyn Experience is not her first rodeo: this is her fourth guidebook to the borough.
"The first guidebook tried to represent all the different angles," Freudenheim says. "It was a celebration of ethnically diverse neighborhoods. Without having to get an airplane ticket you could travel around the world. That was the first book. But then Brooklyn exploded. I tried to make this guidebook really user-friendly, for the armchair tourist, for the first time visitor, the tenth time visitor, and people who live here."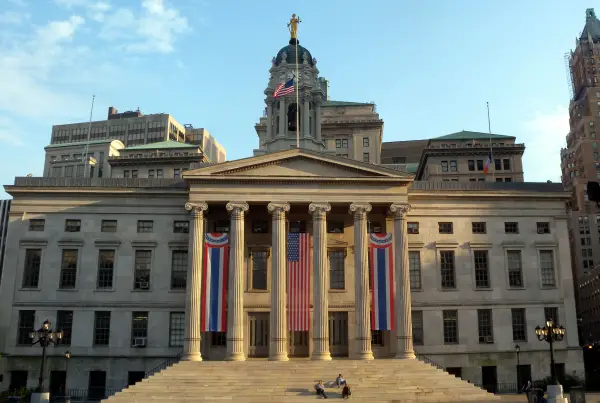 Borough Hall, by Jim.henderson: own work, CC0
Freudenheim credits several changes for Brooklyn's current moment. The borough has become younger, safer, and more worldwide in its reach.
"You couldn't pay a top-level ad agency to create the Brooklyn brand," says Freudenheim. "It's a naturally occurring brand. Brooklyn has always had a sense of self and place. It was birthed as separate from Manhattan and it remains proud and separate from Manhattan, and competitive with Manhattan. Brooklyn has got a style. There's a tongue-in-cheekness about the retro styling. It's fun. It's historic. It's visually accessible. And a new generation in Brooklyn is communicating globally."
No New York story can avoid being grounded in real estate, and Freudenheim finds that to be a big factor in Brooklyn's rise as well. Rents have for years driven creative New Yorkers from Manhattan to Brooklyn. "In the 1950s, it was working class, people worked on the docks, and for industrial giants such as Pfizer. People made things. Now there's tourism. There are hotels galore."
The Brooklyn Experience is detailed and comprehensive, with over 30 neighborhoods to explore. Within each nabe's chapter you'll find GPS cues, "Best Bets," events, and special notes targeting the modern traveler: the best places to go for "Selfies and 'Za." There's also the kind of background on "Celebs, Film, Fiction" that a search engine won't ferret out for you.
Of course Brooklyn doesn't have the density of Manhattan, where a few blocks can move you in and out of dramatically difference scenes. You can't get that much out of Brooklyn without getting behind the wheel of a car, right?
"I'm not sure I agree with that premise," Freudenheim says. "Hop off the L and step out at every stop in Brooklyn. Go as far as Bushwick. If you want to see what's new in North Brooklyn, a trip along the L is really interesting. Or, just explore Bedford Avenue, check out Greenpoint, the Museum of Food and Drink, and Grand Street.
"Another route is to walk over the Brooklyn Bridge. Dumbo, noodle around, check out St. Ann's Warehouse—they do unbelievable theater performances there, and it's beautiful. Have a picnic in Brooklyn Bridge Park. Walk up past the Eagle Warehouse, near where Walt Whitman lived. Go to Brooklyn Heights. Take the Promenade for even more views. Take my little walking tour of the Brooklyn Skyscraper Historic District. Pierrepont Street—it's historic, it's beautiful. Go sit on the steps of Borough Hall. Fulton Street is the shopping nexus, a jumble of wig shops, blingy shops…Japanese tourists used to go there to get sneakers. Then Junior's for cheesecake. BRIC House, nip over there, they always have something going on. Start at 9am, stick around for a show. You'll have seen a lot.
"Or start at Grand Army Plaza; the Soldiers and Sailors Memorial Arch looks like you're in Paris. Go in and see why Olmsted and Vaux, the park's designers, said they corrected the mistakes they made in Central Park in Prospect Park. Note the front of the Brooklyn Central Library, with its front doors put together to look like an open book. Any time of year go into the Brooklyn Botanic Garden, they've got indoor conservatories. The Brooklyn Museum is awesome and getting better by the minute. Yes, the museums in Manhattan are beyond world class. But there's a lot of world class in Brooklyn. You just need to know where to look."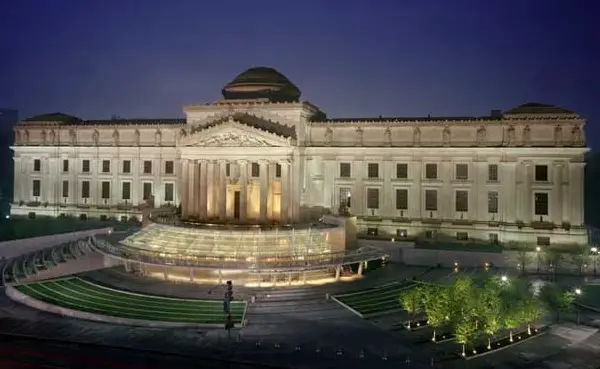 Take The Brooklyn Experience with you. You'll find a wealth of photos, both historical and current, to whet your appetite for your own Brooklyn experience. You'll find chapters on Brooklyn's cultural scene, eating and drinking, shopping, waterfront and parks, and DIY tours—one of which the traces the formative haunts of Brooklyn's own Woody Allen, the kind of quirky element that The Brooklyn Experience is packed with that you won't find in other guidebooks.
"The book includes a lot of lists," Freudenheim says. "They'll find a list for kids, kids on a rainy day, where to stop for souvenirs—beyond the trinket Times Square stuff. There's a lot of history in Brooklyn, Revolutionary War history, Civil War history. African-American history here is deep and rich. The Transit Museum is the best."
Like any good New Yorker, Freudenheim is quick to offer advice. "Talk to people. It's New York. People in Brooklyn, they'll engage. Or joke. It's a good place for a laugh."
Any last recommendations for visitors?
"Come now," Freudenheim says. "This is a golden moment for tourism in Brooklyn. People are welcoming of tourists and it still feels like you're walking into a neighborhood, not like you're walking onto a stage set."
The Brooklyn Experience: The Ultimate Guide to Neighborhoods & Noshes, Culture & the Cutting Edge is available from Rutgers University Press in paperback and ebook here.