Here is everything you need to know about the Broadway and Off-Broadway shows in NYC in 2022. Big Apple stages are alive with new plays and musicals, so it's not surprising that theatre lovers are busy plotting their Broadway and Off-Broadway adventures. Even the most jaded theatregoer can't help but be impressed by the elevated star stats rocking New York's theatre scene right now. Not only are Broadway notables out in full force, but Hollywood has unleashed several of its A-listers onto Big Apple stages. So get ready for some serious celeb spotting under the lights (as well as out and about in Manhattan).
BROADWAY SHOWS IN NYC 2022
MAY BROADWAY SHOWS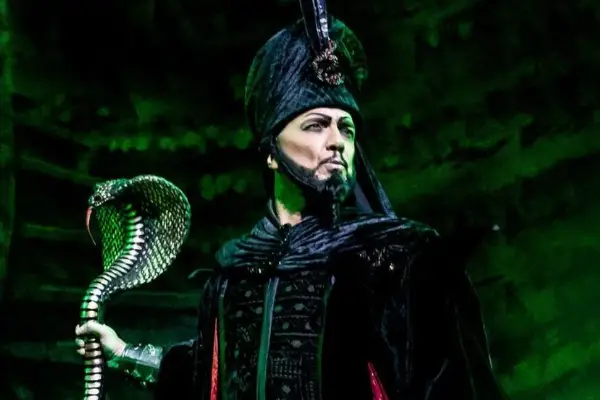 New to the Aladdin cast: Dennis Stowe takes on the role of Jafar.
Aladdin (New Amsterdam Theatre, 214 W. 42nd St.) (Opened 3/20/14) (2 hrs., 30 mins.) Like The Lion King, this Disney musical developed from animated origins has been a total crowd-pleaser since it arrived in 2014. This family-friendly magic carpet thrill ride flies onto the stage teeming with romance, mischief, and, of course, a wildly madcap Genie! The end result is a not-to-be-missed Broadway spectacular! (aladdinthemusical.com)
American Buffalo (Circle in the Square Theatre, 235 W. 50th St.) (Opened 4/14/22) (2 hrs.) David Mamet's explosive and timely classic revolves around the business of crime and how it takes over three small-time hustlers. The all-star award-winning cast includes Laurence Fishburne, Sam Rockwell, and Darren Criss. (americanbuffalonyc.com)
Beetlejuice (Marriott Marquis Theatre, 210 W. 46th St.) (Reopened 4/8/22) (2 hrs., 30 mins.) This wild ride of a musical returns to Broadway bringing with it an edgy and madcap take on life—and afterlife, once the gloriously irreverent and unapologetically scruffy title ghost insinuates himself into the life of "a strange and unusual" teen who has befriended the deceased former owners of her family's new home. (beetlejuicebroadway.com)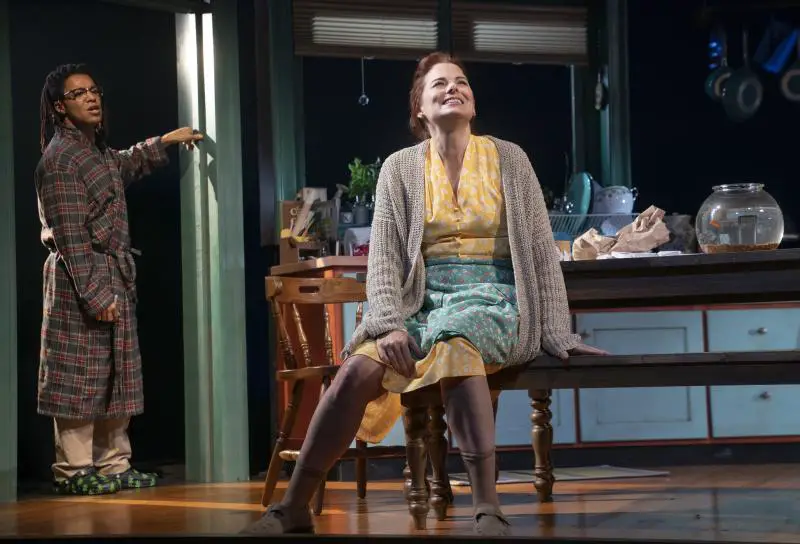 Christopher Livingston, Debra Messing in Roundabout Theatre Company's BIRTHDAY CANDLES. Photo by Joan Marcus.
Birthday Candles (American Airlines Theatre, 227 W. 42nd St.) (Opened 4/10/22) (90 mins., no intermission) In playwright Noah Haidle's Broadway debut, actress Debra Messing(Will & Grace) stars as a woman who examines her life from ages 17 through 101, birthday by birthday. Closing 5/29. (roundabouttheatre.org)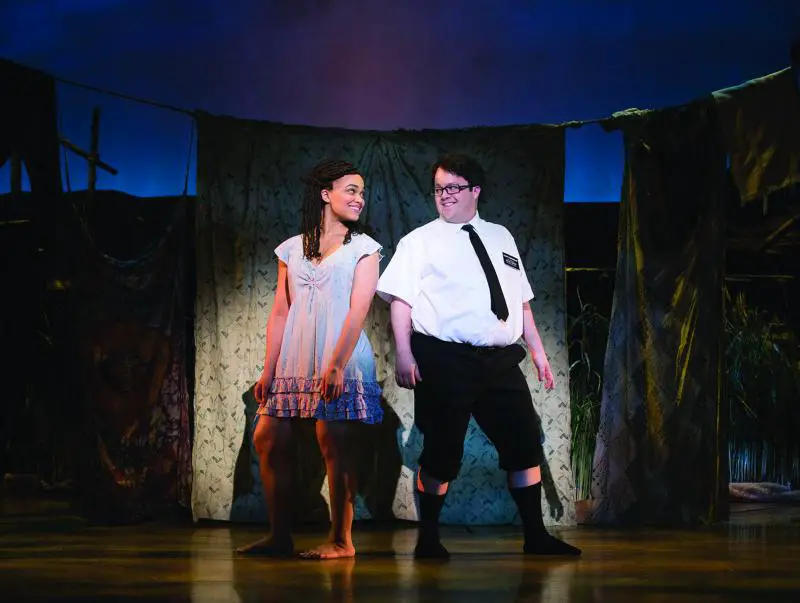 Kim Exum and Cody Jamison Strand in The Book of Mormon, photo by Julieta Cervantes.
The Book of Mormon (Eugene O'Neill Theatre, 230 W. 49th St.) 2011 Tony, Best Musical (Opened 3/24/11) (2 hrs., 30 mins.) One of Broadway's most successful, Tony-winning (nine in 2011!) musicals, from Trey Parker and Matt Stone—the duo behind South Park—follows a couple of wide-eyed Mormon missionaries whose first official assignment takes them to a remote village in Uganda. Divinely profane in all the right places!(bookofmormonbroadway.com)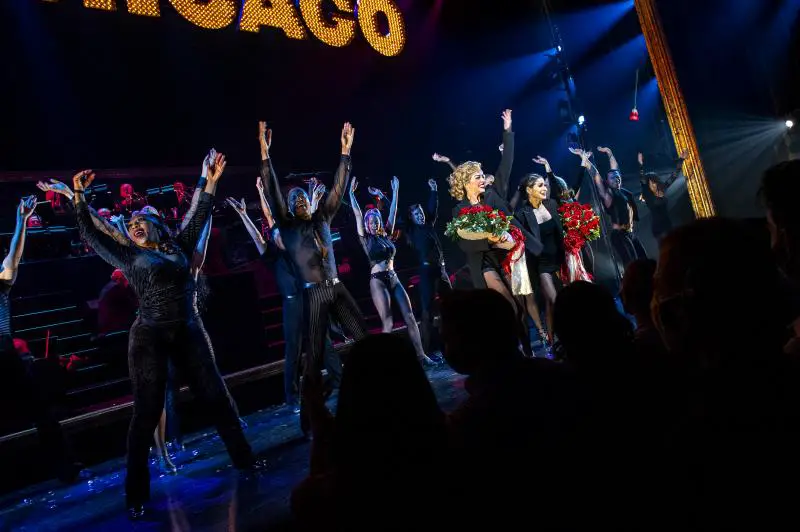 Chicago reopening night, 2021. Photo: Daniel Rader.
Chicago (Ambassador Theatre, 219 W. 49th St.) 1997 Tony, Best Musical Revival (Opened 11/14/96) (2 hrs., 30 mins.) Kander and Ebb's musical vaudeville about those murderous tootsies Roxie Hart and Velma Kelly picked up a Tony for Best Musical Revival back in 1997 and has reigned as one of Broadway's fiercest hits ever since. Sparkling with Bob Fosse's choreographic legacy, the show's cavalcade of colorful characters includes everyone from Billy Flynn and Mamma Morton to Amos Hart and Mary Sunshine. (chicagothemusical.com)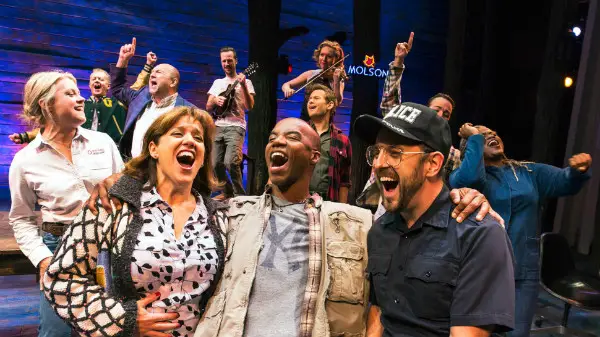 Photo by Matthew Murphy.
Come From Away (Gerald Schoenfeld Theatre, 236 W. 45th St.) (Opened 3/12/17) (100 mins., no intermission) One of Broadway's most celebrated musicals is based on the true story that unfolded on 9/11, 2001 when 38 planes were ordered to land in the remote town of Gander, Newfoundland. What unfolded when the stranded international strangers deplaned was amazing: the locals stepped up to host them, leading to extraordinary camaraderie. Worth noting: Christopher Ashley picked up the 2017 Tony for Best Direction of a Musical. (comefromaway.com)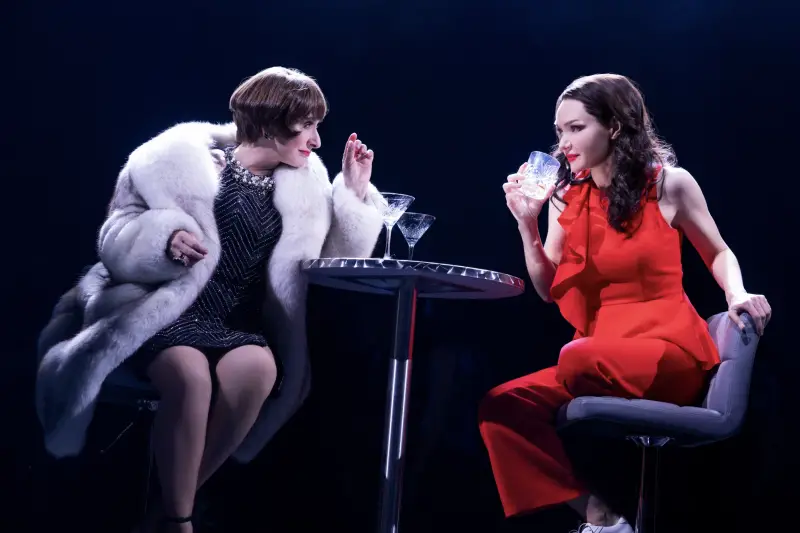 Patti LuPone and Katrina Lenk in Stephen Sondheim's Company. Photo by Matthew Murphy.
Company (Bernard B. Jacobs Theatre, 242 W. 45th St.) (Opened 12/9/21) (2 hrs., 35 mins.) Stephen Sondheim's iconic musical has been given a gender and modern-day revamp. Starring Tony winners Katrina Lenk (as Bobbie) and Patti LuPone (as Joanne), the show uses Bobbie's 35th birthday party as a launching pad for a score featuring such show-stopping numbers as "You Could Drive a Person Crazy," "The Ladies Who Lunch," and "Being Alive." (companymusical.com)
Photo: Matthew Murphy.
Dear Evan Hansen (Music Box Theater, 239 W. 45th St.) 2017 Tony, Best Musical (Opened 12/4/16) (2 hrs., 30 mins.) It picked up the 2017 Best Musical Tony, with its compelling story line about the title high school character who felt like an invisible outsider until a tragic event thrust him into the center of controversy and he's given the chance to be somebody else. Unique and deeply personal, this unique show is about a little lie that changes everything. (dearevanhansen.com)
for colored girls who have considered suicide/when the rainbow is enuf (Booth Theatre, 222 W. 45th St.) (Opened 4/20/22) (90 mins., no intermission) In the Broadway revival of Ntozake Shange's celebration of Black womanhood—reimagined, reinvented, directed, and choreographed by Tony nominee Camille A. Brown—seven women share their stories and find strength in each other's humor and passion through a fusion of poetry, dance, music, and song. Limited run thru 6/5. (forcoloredgirlsbway.com)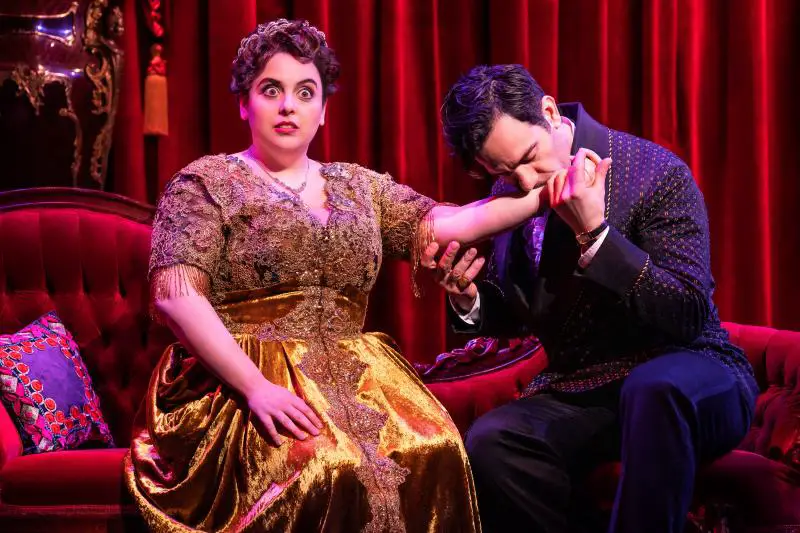 Beanie Feldstein (Fanny Brice) and Ramin Karimloo (Nick Arnstein) in Funny Girl. Photo: Matthew Murphy, 2022.
Funny Girl (August Wilson Theatre, 245 W. 52nd St.) (Opened 4/24/22) (2 hrs., 50 mins.) This long-awaited first Broadway revival of the celebrated Fanny Brice musical bio comes to life with a revised book by Tony winner Harvey Fierstein and starring Beanie Feldstein (American Crime Story: Impeachment), Jane Lynch (Glee), and Ramin Karimloo (Les Misérables). (funnygirlonbroadway.com)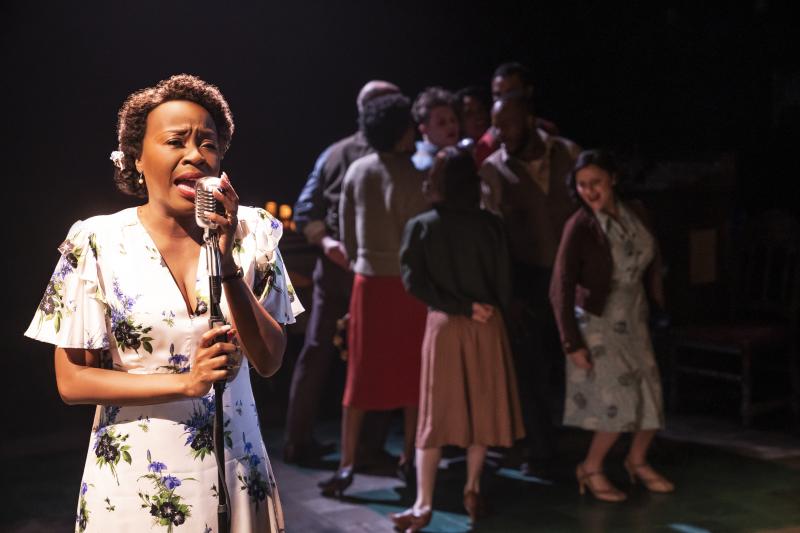 Jeannette Bayardelle and the cast of Girl From The North Country on Broadway, photo by Matthew Murphy.
Girl From The North Country (Belasco Theatre, 111 W. 44th St.) (Reopened 4/29/22) (2 hrs., 30 mins.) Written and directed by playwright Conor McPherson, this acclaimed musical boldly reimagines 20 legendary songs of Bob Dylan and incorporates them into a spiritually uplifting and beautiful story set in Duluth, MN, in 1934, when a group of wanderers' lives intersect at a house full of music, life, and hope. Limited run thru 6/19. (northcountryonbroadway.com)

Jewelle Blackman, Kay Trinidad, and Yvette Gonzalez-Nacer of Hadestown. Photo by Matthew Murphy.
Hadestown (Walter Kerr Theatre, 219 W. 48th St.) 2019 Tony, Best Musical (Opened 4/17/19) (2 hrs., 30 mins.) This unique musical follows the overlapping love stories of Orpheus & Eurydice and Hades & Persephone. The action unfolds in both a stylized New Orleans setting and Hades' stomping ground, The Underworld. As for the score, think New Orleans jazz melded with American folk music. (hadestown.com)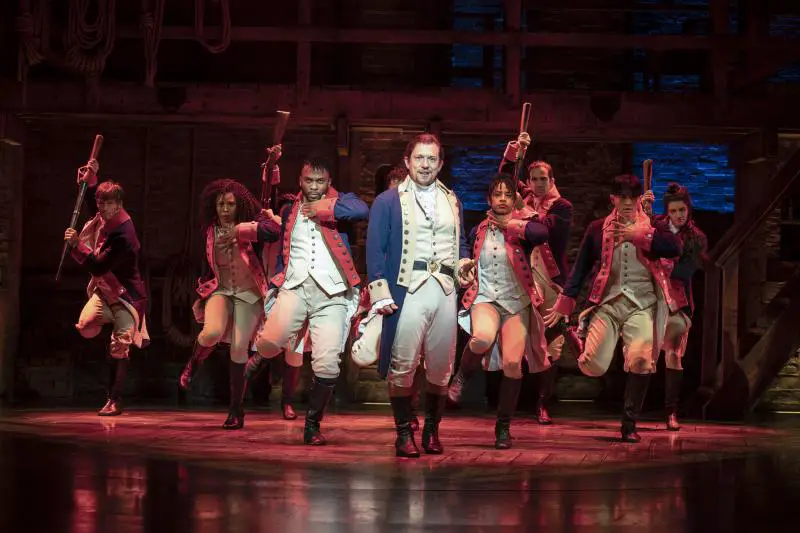 Miguel Cervantes and the ensemble of Hamilton, (c) Joan Marcus 2021.
Hamilton (Richard Rodgers Theatre, 226 W. 46th St.) 2016 Tony, Best Musical (Opened 8/6/15) (2 hrs., 55 mins.) Visionary Lin-Manuel Miranda's white-hot historical musical that redefined Broadway. Told through a score of musical theatre, hip-hop, jazz, and R&B, the Pulitzer Prize-winning show has also scooped up Tony, Olivier, and Grammy awards. Act fast. (hamiltonmusical.com)
Hangmen (Golden Theatre, 252 W. 45th St.) (Opened 4/21/22) (2 hrs., 30 mins.) Martin McDonagh's acclaimed comedy is set in a small pub in the mid-1960s where Harry is something of a local celeb. But what's a hangman in England to do on the day they've abolished hanging? Locals and reporters are dying to hear his reaction, when an intriguing stranger enters their world. Limited run thru 6/18. (hangmenbroadway.com)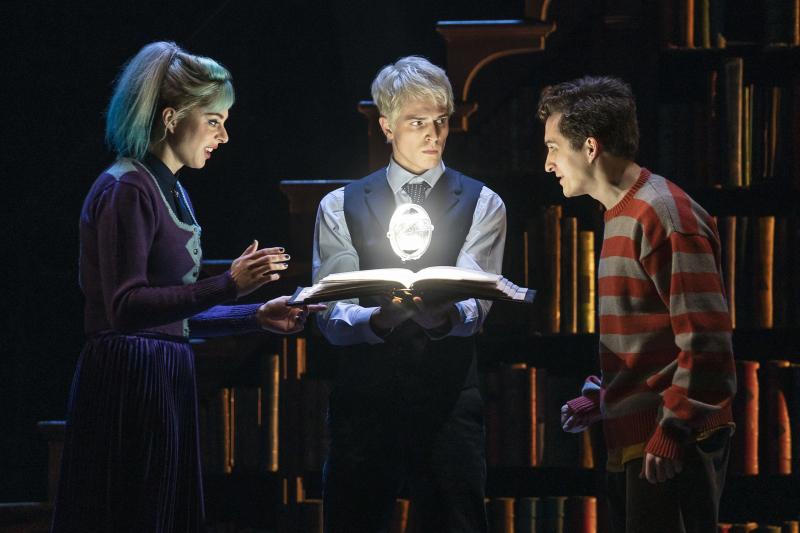 Harry Potter and the Cursed Child (Lyric Theatre, 214 W. 43rd St.) 2018 Tony, Best Play (Opened 4/22/18) (3 hrs., 30 mins.) Now a single night of exciting theatre (vs. the two that debuted in 2018), this Tony-winning play follows the friendship between Harry's son Albus and Draco's son, Scorpius—BFFs whose magical misadventures involve Time-turner shenanigans and a mysterious friend. Familiar characters plus a new generation of Hogwarts students make this a must-see for fans of the books and films! (harrypottertheplay.com)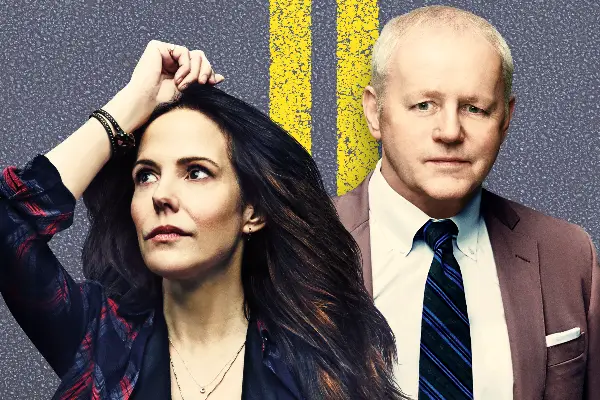 How I Learned to Drive (Samuel J. Friedman Theatre, 261 W. 47th St.) (Opened 4/19/22) (100 mins., no intermission) Stunningly timely and moving, Paula Vogel's powerhouse of a Pulitzer Prize-winning play centers on a woman coming to terms with the charismatic uncle who impacts her past, present, and future life. It arrives on Broadway with Mary-Louise Parker and David Morse—the show's original stars when it debuted Off-Broadway in 1997. Running thru 6/12. (manhattantheatreclub.com)
The Lion King (Minskoff Theatre, 200 W. 45th St.) 1998 Tony, Best Musical (Opened 11/13/97) (2 hrs., 30 mins.) The longest-running Disney production to grace Broadway—it arrived in November of 1997—this Tony-winning stage adaptation of the animated classic is a musical and visual treasure-trove to be savored. Set in the flourishing African Pride Land, the story follows lion prince Simba as grows from cub to king. Along the way, he makes friends, falls in love, and is subject to the machinations of his power-hungry uncle, Scar. (lionking.com)
Macbeth (Longacre Theatre, 220 W. 48th St.) (Opened 4/28/22) (2 hrs., 30 mins.) Tony-winning director Sam Gold helms this thrilling new production starring Daniel Craig and Ruth Negga as the notorious Shakespearean couple whose bloody quest for power becomes tinged with soul-gripping guilt before the final curtain. Fifteen weeks only. (macbethbroadway.com)
The Minutes (Studio 54, Studio 54, 254 W. 54th St.) (Opened 4/17/22) (90 mins., no intermission) Tracy Letts' mega-hit from Steppenwolf Theatre Company will be resuming Broadway performances. The play looks at how small-town democracy is not always what it seems, with greed and hypocrisy forming its core—and change possible within "a matter of minutes." (theminutesbroadway.com)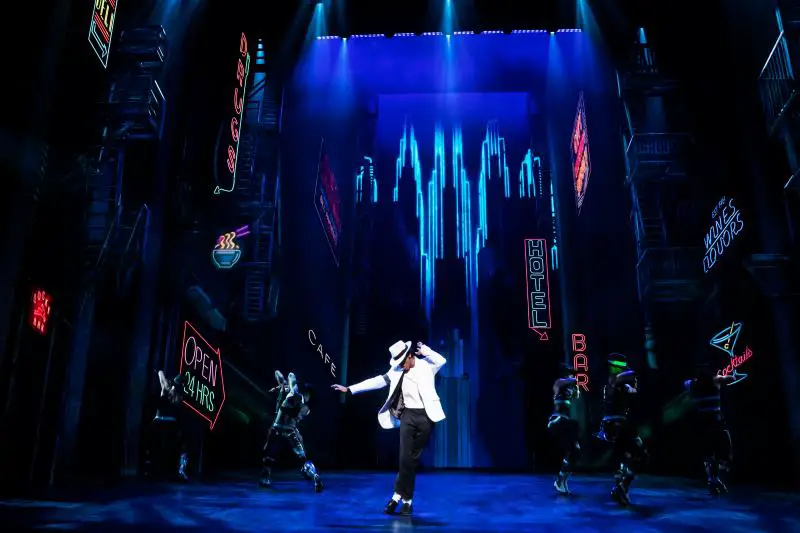 Myles Frost as Michael Jackson, photo by Matthew Murphy.
MJ the Musical (Neil Simon Theatre, 250 W. 52nd St.) (Opened 2/1/22) (2 hrs., 35 mins.) The new musical bio featuring over 25 Michael Jackson hits comes with a staggeringly impressive pedigree: book by two-time Pulitzer Prize winner Lynn Nottage and direction/choreography by Tony-winner Christopher Wheeldon. (mjthemusical.com)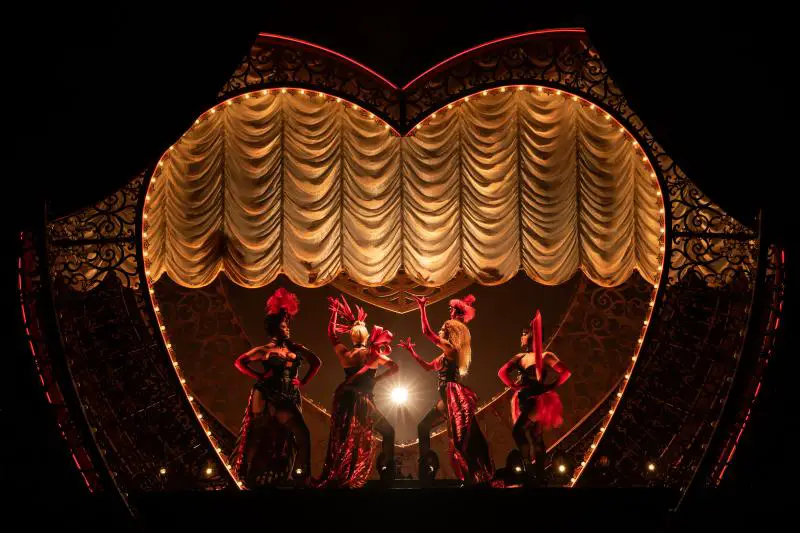 Moulin Rouge! The Musical (Al Hirschfeld Theatre, 302 W. 45th St.) 2020 Tony, Best Musical (Opened 7/25/19) (2 hrs., 35 mins.) A gleefully flamboyant stage adaptation of Baz Luhrmann's 2001 cinematic jukebox mashup, this Tony-winning musical from the 2019/2020 season takes place in a world where Bohemians and aristocrats rub elbows, reveling in the decadence and high kicks in the legendary Parisian night spot once upon a retro time. Add a love triangle, Toulouse-Lautrec, and a score of over 70 songs!(moulinrougemusical.com)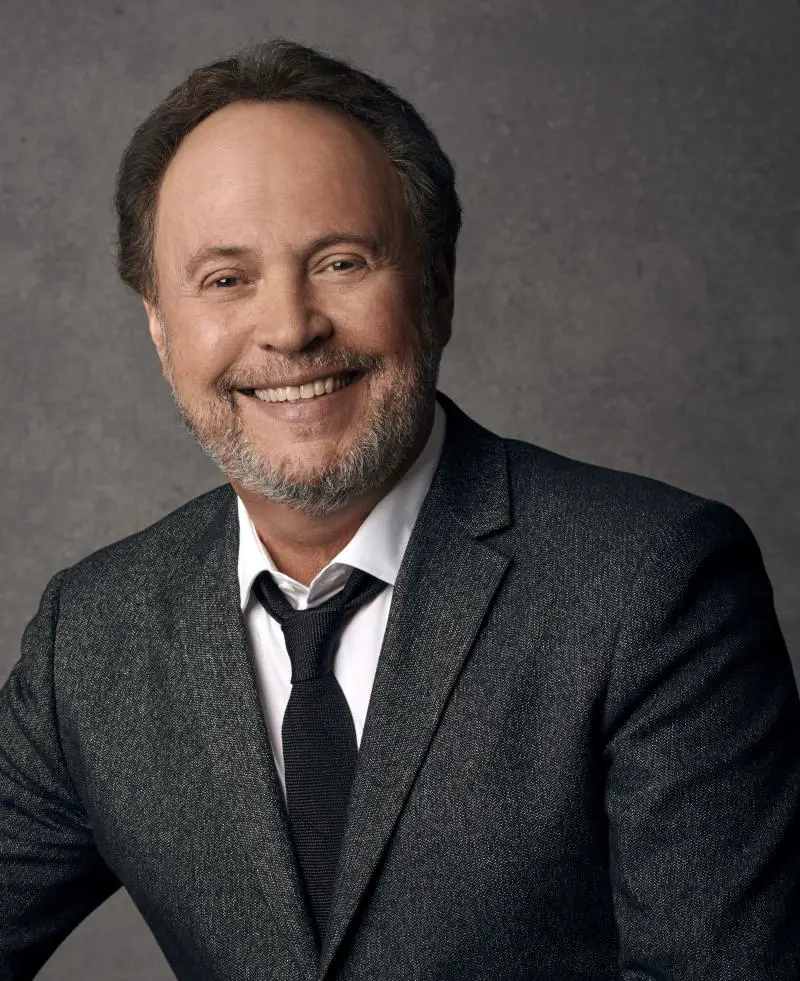 Photo by Steve Schofield.
Mr. Saturday Night (Nederlander Theatre, 208 W. 41st St.) (Opened 4/27/22) (2 hrs.) Tony and Emmy winner Billy Crystal returns to Broadway in this new musical comedy based on his 1992 film of the same name. The story follows Buddy Young Jr., a one-time famous TV comedian who now some 40 years later seeks one more shot at the spotlight— and while he's at it, one last shot at fixing the family he fractured along the way. (mrsaturdaynightonbroadway.com)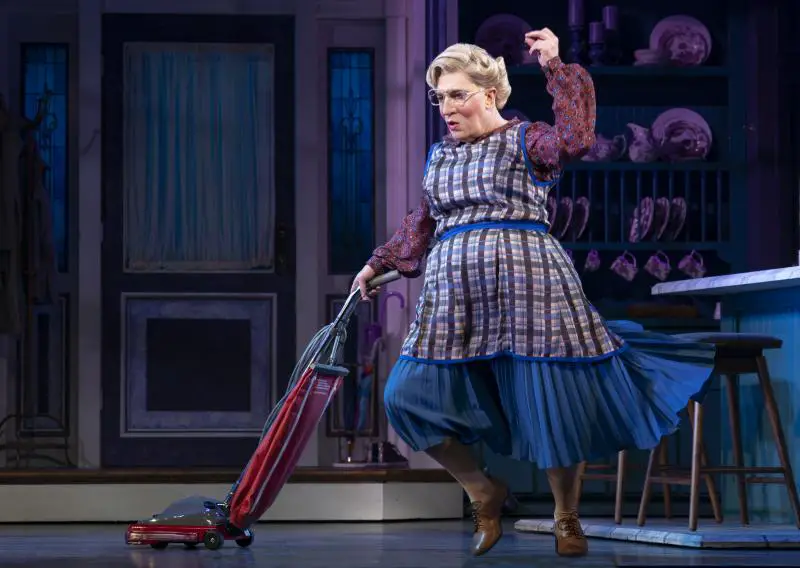 Mrs. Doubtfire (Stephen Sondheim Theatre, 124 W. 43rd St.) (Opened 12/5/21) (2 hrs., 35 mins.) This big-hearted musical based on the Robin Williams film follows Daniel Hillard, a man who adores his three kids and will do anything—even assume the persona of a Scottish nanny named Mrs. Doubtfire—to keep them in his life. Hilariously farcical, and wonderfully loving, the show ultimately reminds us that family can be as wonderful as you make it. Running thru 5/29. (mrsdoubtfirebroadway.com)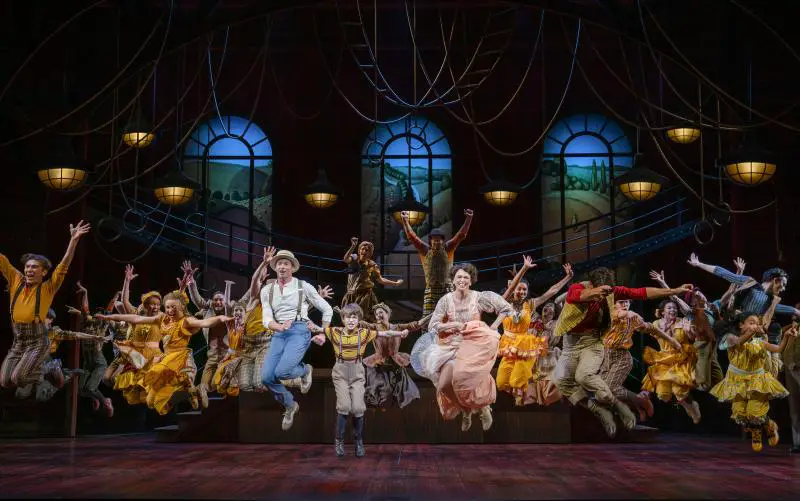 The Music Man (Winter Garden Theatre, 1634 Broadway) (Opened 2/10/22) (2 hrs., 25 mins.) Meredith Willson's beloved musical comedy returns to Broadway with an all-star cast led by Hugh Jackman and Sutton Foster. When con man Harold Hill arrives in River City to sell the townspeople the promise of a marching band, he gets more than he bargained for—including romance with Marian the librarian. No surprise this is one of the season's hottest tickets! (musicmanonbroadway.com)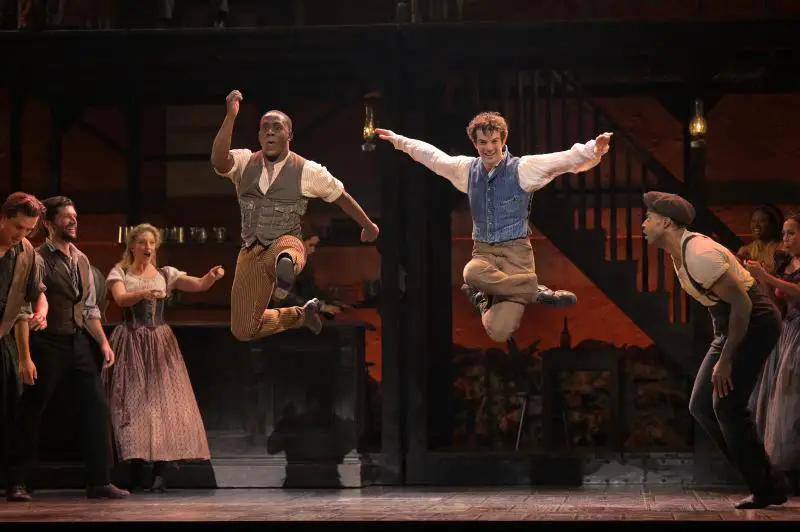 Sidney DuPont as Washington Henry, A.J. Shively as Owen Duignan and Ensemble in Paradise Square ©Kevin Berne
Paradise Square (Ethel Barrymore Theatre, 243 W. 47th St.) (Opened 4/3/22) (2 hrs., 35 mins.) Conceived by Larry Kirwan, who co-wrote the book with Craig Lucas, Marcus Gardley, and Christina Anderson, this new musical centers on the racially diverse 1863 regulars at Paradise Square, a saloon in the slums of Lower Manhattan, and how their relationships come unraveled "by a country at war with itself." (paradisesquaremusical.com)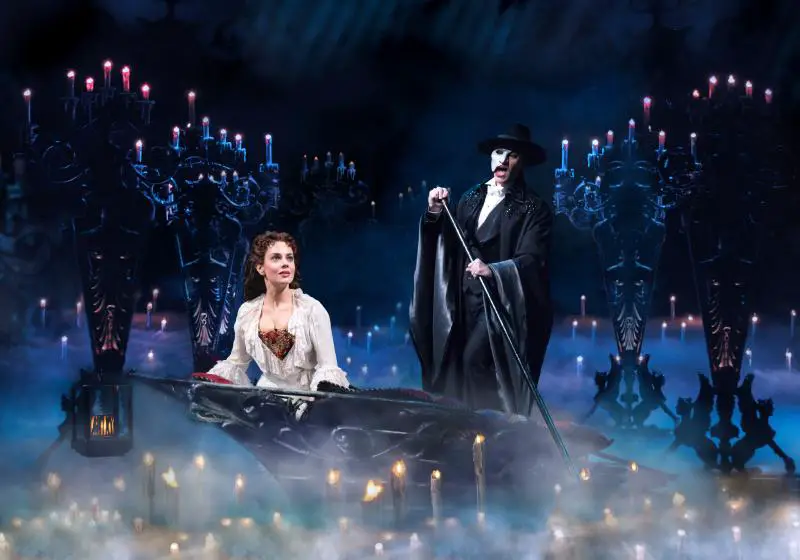 Meghan Picerno as Christine and Ben Crawford as The Phantom. Photo by Matthew Murphy.
The Phantom of the Opera (Majestic Theatre, 247 W. 44th St.) 1988 Tony, Best Musical (Opened 1/26/88) (2 hrs., 30 mins.) This long-running record breaker opened in January, 1988 and picked up a Tony a few months later. Based on the Gaston Leroux thriller, Phantom centers on a beautiful young soprano and the mysterious masked figure who adores her. Featuring Andrew Lloyd Webber's "Music of the Night," the musical is as iconic as it is a visual masterpiece. (us.thephantomoftheopera.com)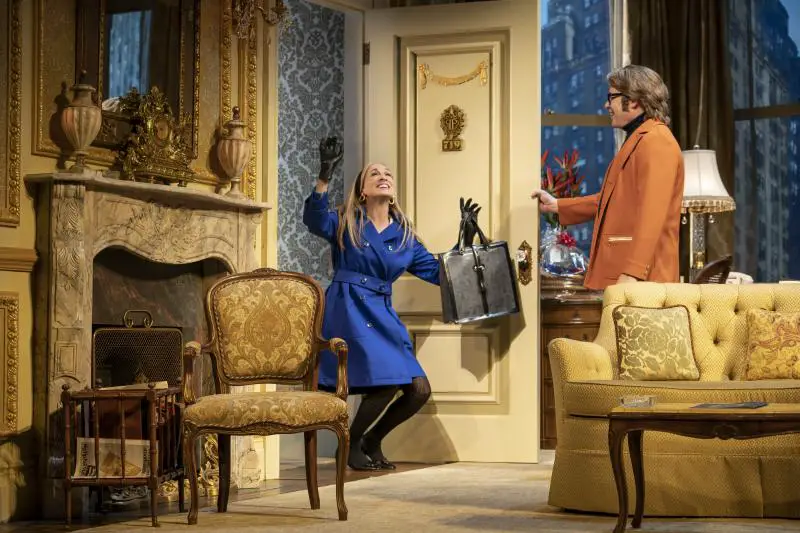 Photo by Joan Marcus.
Plaza Suite (Hudson Theatre, 141 W. 44th St.) (Opened 3/28/22) (2 hrs., 30 mins.) This revival of the Neil Simon comedy triptych stars two-time Tony winner Matthew Broderick alongside his real-life spouse, two-time Emmy winner Sarah Jessica Parker, in three separate vignettes unfolding in the noted New York hotel. Limited run thru 7/10. (plazasuitebroadway.com)
POTUS: Or, Behind Every Great Dumbass Are Seven Women Trying to Keep Him Alive (Shubert Theatre, 225 W. 44th St.) (Opened 4/27/22) (1 hr., 50 mins.) This modern farce unfolds when the U.S. President unwittingly spins a PR nightmare into a global crisis. Thankfully, the seven brilliant and beleaguered women whom he relies upon most are ready to risk life, liberty, and the pursuit of sanity to keep the commander-in-chief out of trouble. Limited run thru 8/14. (potusbway.com)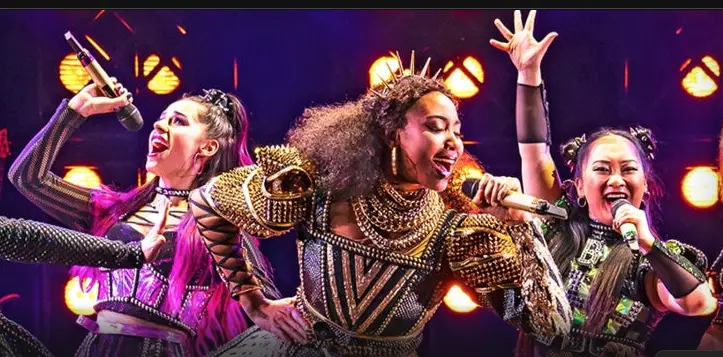 SIX (Brooks Atkinson Theatre, 256 W. 47th St.) (Opened 3/12/20) (80 mins., no intermission) Divorced, beheaded, died, divorced, beheaded, survived. From Tudor Queens to Pop Princesses, the six wives of Henry XIII take the mic to remix 500 years of historical heartbreak into an exuberant celebration of 21st-century girl power. This new original musical is the global sensation that everyone is losing their heads over! (sixonbroadway.com)
The Skin of Our Teeth (Lincoln Center Theaters' Vivian Beaumont Theater, 150 W. 65th St.) (Opened 4/25/22) (3 hrs., 5 mins.) This timely launch of Thornton Wilder's Pulitzer-winning masterwork coincides with the playwright's 125th "birthday." The story tracks the Antrobus family of Excelsior, NJ, as they persevere through an Ice Age, a biblical flood, and war. Running thru 5/29. (lct.org)
Photo by Marc J. Franklin.
A Strange Loop ((Lyceum Theatre, 149 W. 45th St.) (Opened 4/26/22) (100 mins., no intermission) Michael R. Jackson's Pulitzer Prize-winning, blisteringly funny musical exposes the heart and soul of Usher, a young gay artist grappling with desires, identity, and instincts he both loves and loathes. Hell-bent on breaking free of his own self-perception, he wrestles with the thoughts in his head, brought to life on stage by a hilarious ensemble. (strangeloopmusical.com)
Photo by Catherine Wessel.
Take Me Out (240 W 44th St.) (Opened 4/4/22) (2 hrs., 30 mins.) This first Broadway revival of Richard Greenberg's Tony-winning play centers on what happens when a star baseball player exits the closet. Off the field, facing hostile teammates and fraught friendships, he must deal with being a gay person of color within the confines of a classic American institution—all as his team struggles toward a championship season. Limited run thru 5/29. (2st.com)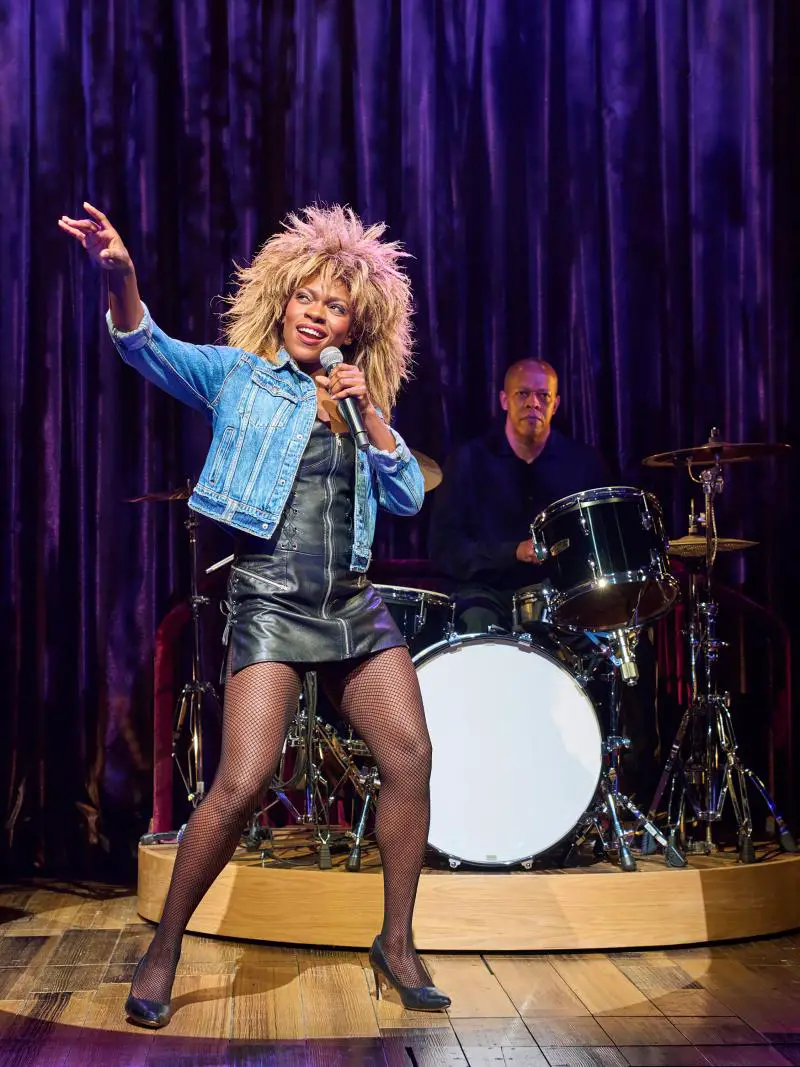 Nkeki Obi-Melekwe in TINA. Photo by Manuel Harlan, 2021.
Tina: The Tina Turner Musical (Lunt-Fontanne Theatre, 205 W. 46th St.) (Opened 11/7/19) (2 hrs., 45 mins.) From humble Tennessee beginnings to her transformation into the global Queen of Rock 'n' Roll, Tina Turner didn't just break the rules, she rewrote them. Featuring her most loved songs, the acclaimed production soars as it celebrates her resilience, talent, and overall star power. Big wheel [absolutely] keeps on turning, in this sparkling stage bio! (tinaonbroadway.com)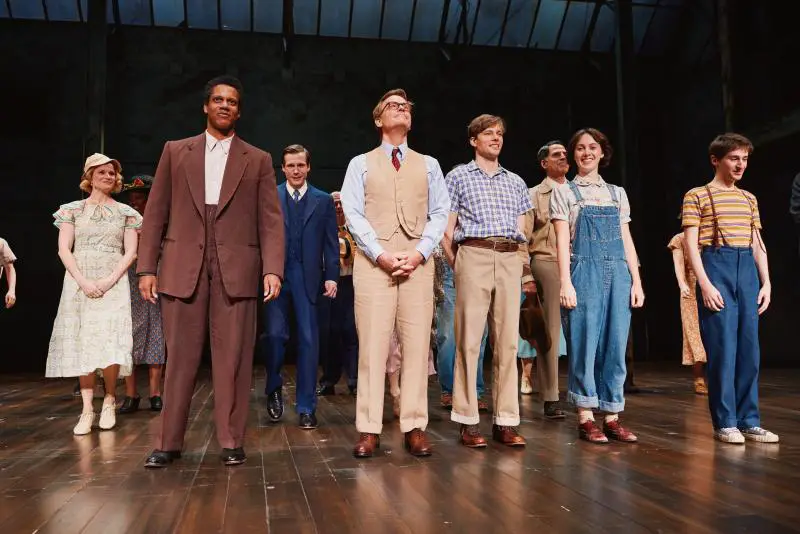 Photo by Emlio Madrid.
To Kill a Mockingbird (Belasco Theatre, 111 W. 44th St.) (Reopening 6/1/22) (2 hrs., 35 mins.) Set in 1930s Alabama, Aaron Sorkin's theatrical take on Harper Lee's Pulitzer Prize-winning book follows small-town lawyer Atticus Finch (Greg Kinnear) as he defends a young black man in the face of ignorance and racial injustice. (tokillamockingbirdbroadway.com)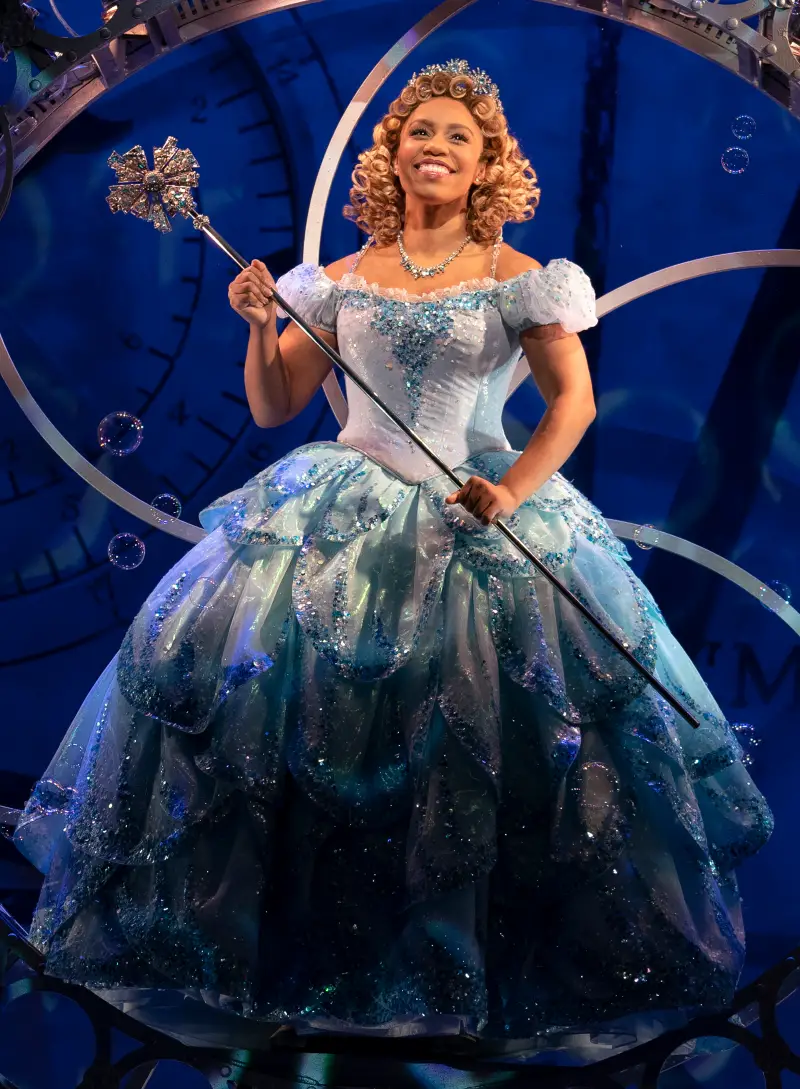 Brittney Johnson makes history as the first Black actor cast full-time as Glinda in Broadway's Wicked. Photo by Joan Marcus.
Wicked (Gershwin Theatre, 222 W. 51st St.) (Opened 6/10/03) (2 hrs., 45 mins.) One of Broadway's biggest success stories, this fantasy musical, based on the best-selling novel by Gregory Maguire, follows the friendship between two young girls—one smart, misunderstood, and green-hued; the other beautiful, ambitious, and popular. Wicked takes the world of Oz's fairy tale roots and replants them into an eye-popping production that turns the original story spectacularly upside down. (wickedthemusical.com)
Coming Soon to Broadway
July 6th: The Kite Runner (Official opening is July 21st at the Helen Hayes Theatre, 240 W. 44th St.) In this new play with music based on the best-selling novel, it's a beautiful afternoon in Kabul, Afghanistan where the skies are filled with the excitement of a kite-flying tournament. But neither Hassan nor Amir—two close childhood friends—can foresee the terrible incident that will shatter their lives forever. Limited run thru 10/30. (thekiterunnerbroadway.com)
September 19th: The Piano Lesson (Official opening TBA at the St. James Theatre, 246 W. 44th St.) August Wilson's Tony and Pulitzer Prize-winning masterpiece stars Samuel L. Jackson in the story of a brother and sister locked in a war over the fate of a family heirloom: a piano carved with the faces of their ancestors. Only by revisiting history can the siblings move forward. Limited 16-week run. (pianolessonplay.com)
October 12th: Kimberly Akimbo (Official opening is November 10th at a Shubert Theatre, TBA). In this new musical Kim is a bright and funny Jersey teen who happens to look like a 72-year-old lady. And yet her aging disease may be the least of her problems. Forced to maneuver family secrets, borderline personalities, and possible felony charges, Kim is determined to find happiness in a world where not even time is on her side. (TBA)
October 13th: KPOP (Official opening is November 20th at Circle in the Square Theatre, 235 W. 50th St.) Starring K-POP superstar Luna, this new musical follows global pop sensations putting everything on the line for a one-night only concert, when one singer's inner struggle threatens to dismantle a mega industry label. The multimedia production explores the discipline, talent, and ambition behind the international phenomenon. (kpopbroadway.com)
November 1st: Some Like It Hot (Official opening is December 11th at the Shubert Theatre, 225 W. 44th St.) Starring Tony winner Christian Borle and Kinky Boots alum J. Harrison Ghee, this new musical comedy based on the classic film follows two musicians fleeing Chicago after witnessing a mob hit. With gangsters in pursuit, they join in an all-girl band, but can they hide in plain sight, or will the mob and/or love be their undoing?(somelikeithotmusical.com)
November 3rd: Lerner & Loewe's CAMELOT (Official opening is December 8th at theLincoln Center Theaters' Vivian Beaumont Theater, 150 W. 65th St.) This new version of the classic musical has been reimagined for the 21st century by award-winning writer Aaron Sorkin. Based on the original book by Alan Jay Lerner, the epic tale, centering on King Arthur, Queen Guinevere, and Sir Lancelot, features an iconic score that includes "If Ever I Would Leave You" and "Camelot." (lct.org)
BROADWAY YOUR WAY: A VISITOR'S GUIDE
With the arrival of t-shirt and shorts weather, New York is awesome personified, and this is especially evident on Broadway where—in the span of just 11 blocks—the number of shows playing at one time outshines any other theatrical stretch on the planet. As a bonus, Tony nominations, awards, and celebs are currently front and center, so show time is officially prime time for Big Apple Broadway!
THE CLASS OF 2022 ON BROADWAY
The new show count for the season leading up to this year's Tony Awards has been impressive and, in the category of musicals, eclectic. A concert format (along with some awesome contemporary costumery) brings the wives of Henry VIII to vivid, anachronistic life in SIX—a mega-hot ticket and deservedly so.
Nostalgia your thing? Opt for the highly anticipated first revival of Funny Girl and/or Hugh Jackman's return to Broadway in The Music Man. Want to step back in time to the 1800s? Paradise Square offers a look at life against an unconventional historical backdrop. Then there's Mr. Saturday Night, the musical comedy version of the 1992 Billy Crystal film, starring Mr. Crystal himself. MJ, Broadway's latest jukebox musical/bio zeroes in on a portion of Michael Jackson's life while gender-tweaked Company continues to dazzle with Tony winners Patti LuPone and Katrina Lenk. Finally, the year's most lacerating, rule-defying, essential new musical, A Strange Loop, hit Broadway in a flurry of critical accolades—and the 2019 Pulitzer Prize already gracing playwright Michael R. Jackson's award shelf.
PERFECT SCORES FOR BROADWAY MUSICALS
Whether it's Tony trophies, rave reviews, cult status, or all of the above, some Broadway musicals continue to sell-out long after opening night. The Book of Mormon, e.g., has been showering audiences with blasphemous hilarity for 11 years, while June 10th marks Wicked's 19th birthday, a celebration of multi-generational proportions. Hamilton, of course, is legend for being a colossal draw, while theatregoers are so moved by Come From Away they return again and again. Stylized and haunting, both Hadestown and Moulin Rouge! continue to beguile their audiences, just as Dear Evan Hansen, with its contemporary score and compassionate storyline, ranks as a top tier Broadway must-see.
FUNNY BUSINESS ON BROADWAY
No matter how you like your laughs—understated, sophisticated, or slapstick—New York stages have you covered. Where Tracy Letts' dramady The Minutes serves up small town U.S.A. satire, black humor acolytes toss back pints in Hangmen's Irish pub. If, however, you crave non-stop farce, I recommend two shows: POTUS—an impeccably profane, off-the-White House-wall political femme fest in which the grenade pin has been pulled, allowing seven major-league comics to overstep their own boundaries; and The Play That Goes Wrong, a former Broadway hit that's now an Off-Broadway hilarity tour de force, capturing the hapless antics of an amateur theatrical troupe attempting a murder mystery while navigating serial cast, set, prop, and costume catastrophes.
FAMILY FABULOUS BROADWAY
If introducing a young family member to New York theatre is on your must-do list, there are a few shows you you'll want to consider…and I promise, as an adult, you'll be equally smitten! For starters, on Broadway, Disney's Aladdin and The Lion King are brilliant, kid-friendly versions (with a little grownup humor tucked in here and there) of the animated classics we grew up on. And for fans of J.K. Rawlings' ever-expanding wizarding world, I'm pleased to report the next generation of Hogwarts students are not so "mischief managed" in the magically eye-popping Harry Potter and the Cursed Child.
Off-Broadway, I say why not indulge the kids—and your inner child—in off-the-wall high jinks served up by the three colorful deadpan dudes known as Blue Man Group.
EMOTIONAL IMPACT BROADWAY
Dramatic revivals are a really big deal this season thanks to VIP casts and the ways even vintage scripts take on new significance when viewed through a 2022 lens. A wide swath of themes—from greed (American Buffalo starring Laurence Fishburne, Sam Rockwell, and Darren Criss), to power (Macbeth, showcasing Daniel Craig and Ruth Negga), to male sexuality (Take Me Out, with Jesse Williams and Jesse Tyler Ferguson)—have audiences enthralled.
And should you be looking for a once-in-a-lifetime theatrical opportunity, I urge you to check out Paula Vogel's Pulitzer-winning How I Learned to Drive with Mary Louise Parker and David Morse. Gently unraveling the same complex and disturbing relationship they portrayed Off-Broadway in 1997, the two actors embrace Vogel's memory play with piercing subtlety. Mesmerizing on all counts: humanity, aversion, and humor.
SUPER CHARGED STAR POWER ON BROADWAY
If big name celebs top your Broadway wish list, look no further, we have the stars and where to find them (no telescopes needed)!
Tony winners Patty LuPone & Katrina Lenk: Company
Tony winner Laurence Fishburne, Oscar winner Sam Rockwell, and Emmy winner Darren Criss: American Buffalo
Emmy winner Debra Messing: Birthday Candles
TV luminaries Jesse Tyler Ferguson (Modern Family) and Jesse Williams (Grey's Anatomy): Take Me Out
Tony winner Matthew Broderick and Emmy winner Sarah Jessica Parker: Plaza Suite
Tony winner Billy Crystal: Mr. Saturday Night
Tony winners Hugh Jackman and Sutton Foster: The Music Man
Film stars Daniel Craig and Ruth Negga: Macbeth
Tony winners Tracy Letts, Blair Brown, and Jessie Mueller plus Noah Reid (Schitt''s Creek): The Minutes
NOTES ON BROADWAY
It's safe to say, buzz went ballistic when Daniel Craig and Ruth Negga signed on to play Mr. and Mrs. Macbeth. Eighty-sixing 007, Craig, alongside Oscar nominee Negga (Loving) in her Broadway debut, innervate the pulse and bloodlust of Shakespeare's tragedy. (Before the show's adrenalin-soaked momentum fades, I suggest doubling-down at Punchdrunk's immersive Sleep No More version of the drama, unfolding throughout the McKittrick Hotel. The contrast will haunt you, guaranteed.)
Another high-profile twosome—Mary-Louise Parker and David Morse—are making theater history in the roles they originated Off-Broadway in 1997 in Paula Vogel's Pulitzer Prize-winning masterpiece, How I Learned to Drive. The current production marks the drama's Broadway debut.
Meanwhile, a headliner trifecta is spotlighting at Circle in the Square as Tony winner Laurence Fishburne (Two Trains Running; The Matrix), Oscar winner Sam Rockwell (Three Billboards Outside Ebbing, Missouri), and Emmy winner Darren Criss (The Assassination of Gianni Versace; Glee) juggle greed and profanity in David Mamet's classic American Buffalo.
And FYI, spring's new show roster includes more than a few TV notables. Birthday Candles stars Emmy winner Debra Messing (Will & Grace), while Modern Family alum Jesse Tyler Ferguson shares the stage with Jesse Williams of Grey's Anatomy in the revival of Take Me Out. Pulitzer Prize and Tony winner Tracy Letts, familiar to viewers of Homeland, wrote and costars in The Minutes. He's assembled a cast that includes Tony winner Blair Brown, who rose to small screen fame in The Days and Night of Molly Dodd, and Noah Reid, best known as Patrick on Schitt's Creek. Finally, there's the long-awaited revival of Funny Girl, starring American Crime Story: Impeachment's Beanie Feldstein as Fanny Brice, with five-time Emmy winner Jane Lynch (Glee) playing her mom and Tony nominee Ramin Karimloo (Les Misérables) as Nick Arnstein.
ABOVE & BEYOND ON BROADWAY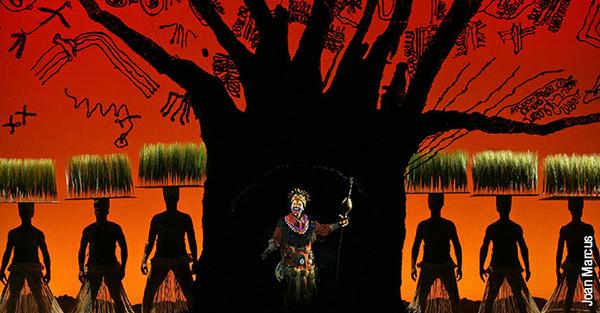 When mere snippets of escapism no longer suffice, it's time to cut the reality cord and head to Broadway's fantasy other-worlds: the breathtaking Pride Lands of The Lion King, Aladdin's fictional town of Agrabah (where a genie and flying carpets are standard issue), the Land of Oz and Shiz University where Elphaba and Glinda are roomies in Wicked, and, of course, Hogwarts, providing the backdrop for two young wizards to push the boundaries of magical shenanigans in Harry Potter and the Cursed Child.
FOREVER FABULOUS: EDITOR'S PICKS FOR BROADWAY (ON AND OFF)
Theatre lovers know how easy it is to become obsessed with certain shows. Here are a few of my personal favorites:
Come From Away. Uplifting & unforgettable.
Company. Tony winners Katrina Lenk and Patty LuPone in a Sondheim classic.
SIX. Henry VIII's wives as tell-all Tudor rock stars.
Tina: The Tina Turner Musical. No one like her…never will be.
And Off-Broadway…
¡Americano! A Dreamer's inspirational tale.
Blue Man. Iconic, cobalt, off-the-wall.
Jersey Boys. Frankie Valli & The Four Seasons bio.
The Play that Goes Wrong. Farce on steroids.
Read on for the full rundown of shows and theatres across Broadway and beyond.
OFF-BROADWAY
53% OF (Second Stage Theater's McGinn/Cazale Theater, 2162 Broadway) The president is coming to town, and the good ladies of Bethlehem, PA are planning a hero's welcome; later, their husbands drink and posture during his swearing in.  And in Brooklyn, a group of 20-something white women gather to plan… a revolution?  Or is it a ritual to absolve their own guilt? 6/14 thru 7/10. (2ST.com)
Alison Leiby: Oh God, A Show About Abortion (Cherry Lane Theatre, 38 Commerce St.) In her new show, Alison Leiby walks audiences through the stupid minutiae, backwards practices, and surprising perspective that come with exercising your reproductive rights -- from a visit to Planned Parenthood to a scary trip to the "Fertility" section of a Missouri CVS to a dozen meltdowns about what to wear to your abortion. Running thru 6/4. (ohgodshow.com)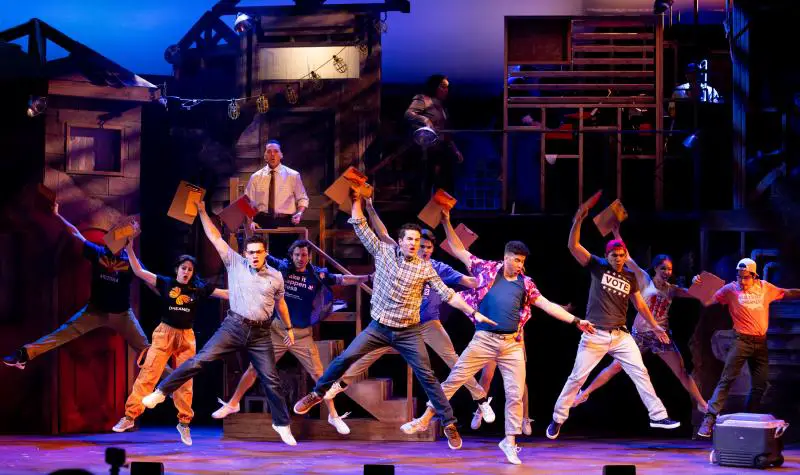 A scene from ¡AMERICANO!, photo by Maria Baranova.
¡Americano! (New World Stages, Stage 3, 340 W. 50th St.) (Opened 4/21/22) (2 hrs. 30 mins.) Dynamic and uplifting, this new musical centers on the true story of Tony Valdovinos. Growing up, he had one goal: to enlist in the Marines on his 18th birthday—but when the day comes, he learns he's an undocumented immigrant. With tenacity and help from his family and community, he discovers a new mission, one that can make history and inspire more change than he ever could as a Marine. Limited run thru 6/19. (americanothemusical.com)
The Bedwetter (Atlantic Theater Company's Linda Gross Theater, 336 W. 20th St.) Based on the bestselling memoir of the same name, this new musical zeroes in on 10-year-old Sarah whose secret shame is spelled out in the title. Limited run thru 6/19. (atlantictheater.org)
Belfast Girls (Irish Rep's Francis J. Greenburger Mainstage, 132 W. 22nd St.) 1850, aboard a ship bound from Belfast to Sydney, five young women, part of Earl Grey's the Female Orphan Emigration Scheme, seek to become "mistresses of their own destiny." But can they escape the nightmare of the lives they leave behind? As they draw nearer to Australia, their connection to the past grows ever more powerful, eliciting rage, love, despair, and above all, hope. Running thru 6/26. (irishrep.org)
Between the Lines (Second Stage's Tony Kiser Theater, 305 W. 43rd St.) In this new musical, school newcomer Delilah seeks comfort in the pages of her favorite book where she feels understood. But as fantasy and reality begin to blur, she has to confront whether she alone has the power to rewrite her own story. From 6/14 for a strictly limited run. (betweenthelinesmusical.com)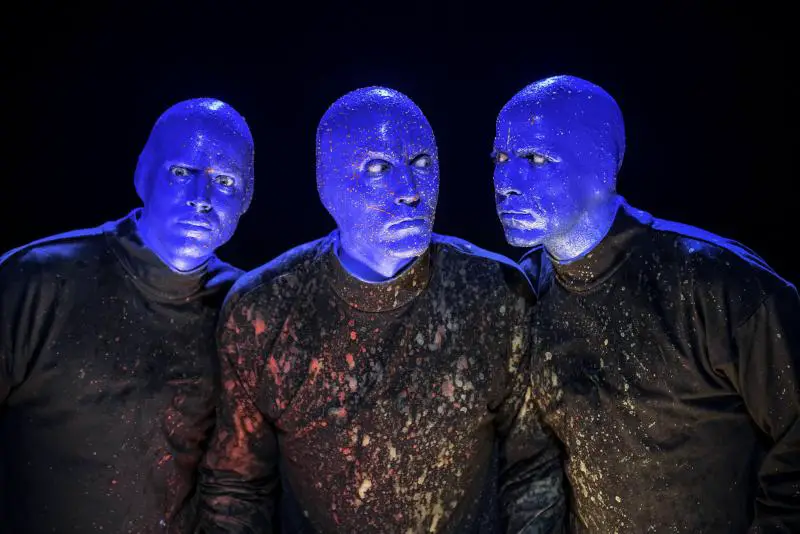 Blue Man Group (Astor Place Theatre, 434 Lafayette St.) (105 mins., no intermission) No plot, dialogue, or ripped from headlines drama, just a romp and a half orchestrated by three blue-hued alien dudes. This long-running Off-Broadway show and international sensation combines music, paint drums, snacks, high-tech hijinks, and unpredictable physical comedy. (blueman.com)
Bruise & Thorn (A.R.T./New York Theatres, 502 W. 53rd St.) Bruise and Thorn are Nuyorican cousins with plans for fame and fortune. When the basement of the laundromat where they work turns out to be an illegal cockfighting ring, the two can't tell if this is an opportunity to cash out big time, or a trap to keep them locked into what everyone expects them to be. Limited run thru 5/27. (coalcountrymusical.com)
The Butcher Boy (Irish Repertory Theatre, 132 W. 22nd St.) In this musical adaptation, Francie Brady lives in a comic book dreamland with his best friend Joe in a gossipy Irish village in the 1960s. But when he taunts a newcomer, his uptight mother calls Francie's family a bunch of pigs. This triggers a violent pig obsession, which grows as Francie's life falls apart around him. Running 7/21 thru 9/11. (irishrep.org)
Cascando (Outdoors in Greenwich Village) A line of black-cloaked, hooded figures move through Greenwich Village, guided by the words of Irish playwright and poet Samuel Beckett. Audience members, wearing headphones, take part in the guided processional performance and rhythmic group walk as the listen to the voices of Irish actors from Dublin's Pan Pan theatre. Running 6/21 thru 7/3. (nyuskirball.org)
Chains (Theatre Row, 410 W. 42nd St.) This drama, capturing the stories of a handful of ordinary people yearning for less ordinary lives, became the surprise breakthrough work for British playwright Elizabeth Baker, turning her from a $5 a week stenographer into an overnight literary success in 1910. Running 6/7 thru 7/17. (minttheater.org)
Chamber Magic (Lotte New York Palace, 455 Madison Ave.) Theatregoers, dressed to impress in cocktail attire, experience the mystifying artistry of Steve Cohen in an elegant and intimate salon within the legendary New York Palace. Recreating the up-close parlor entertainment of Manhattan in the early 20th century, Cohen conjures, mind-reads, and performs sleight of hand, along with a trick called Think-A-Drink. (chambermagic.com)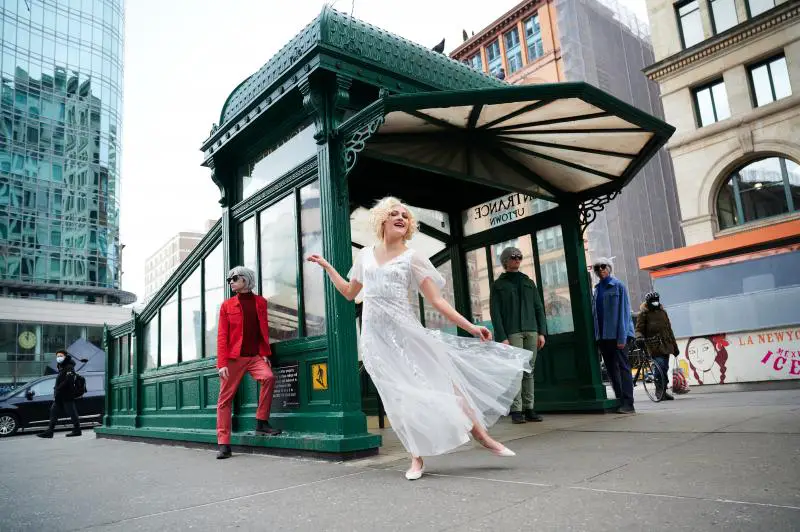 Photo by Jenny Anderson.
Chasing Andy Warhol (Walking beginning at Astor Place). This unique multimedia piece features scenes inspired from Warhol's enigmatic life. It unfolds on the streets, behind windows of area businesses, and inside secret locations along the route, using a blend of immersive theatre, dance, film, art, and puppetry to peek into the life of the iconic and mystifying artist. Limited run thru 6/12. (batedbreaththeatre.org)
Chekhov + Turgenev (Sheen Center, 18 Bleecker St.) Two Russian classics presented in repertory, and underscored in jazz. About Love is a musical play with songs, inspired by Ivan Turgenev's novella, "First Love," centering on a young man's summer of romance in the Russian countryside; and Three Sisters, a new adaptation of Anton Chekhov's masterpiece about Olga, Masha and Irina who yearn to return to Moscow after years living in a small provincial town. Running thru 6/5. (sheencenter.org)
Colorblind (Actors Temple Theatre, 339 W. 47th St.) Following the life of Mr. Clinton Muhammad, controversial spiritual leader of the Minority Empowerment Movement, this new play about racial inequality in America tackles the issues from every angle, presenting a story of love, patriotism, betrayal, violence and redemption, including the question, "Does love care about ethnicity?". (colorblindoffbroaddway.com)
Committed (Theater for the New City, 155 First Ave.) A work of historical fiction about the last two days of Dutch filmmaker Theo van Gogh's life. When his highly controversial documentary causes a violent uproar, Theo's downward spiral brings to light the collision of his radical temperament and unyielding vision with modern political realities and the inevitable tragedy when the two clash. Running 9/22 thru 10/9. (theaterforthenewcity.net)
Corsicana (Playwrights Horizons, Mainstage Theater, 416 W. 42nd St.) In this world premiere production, a woman with Down syndrome and her brother find themselves unmoored following their mother's death. Enter a close family friend who introduces them to a recluse artist and a story unfolds about caretaking and caregiving. Running 6/2 thru 7/10. (playwrightshorizons.org)
Cutting Edge Playhouse: Emerging Playwrights Competition (Urban Stages, 39 W. 30th St.) From the Negro Ensemble Company, INC.: four new plays presented in successive one-week runs: Unentitled by Charles White; The Dream Chest by Scarlett V. Finney, #NWORD by Christian Elder, and I Don't Have a Gun, Stop Shooting!—An American Tragedy by Rajendra Ramoon Maharaja. For details and dates visit website. Thru 5/29. (necinc.org)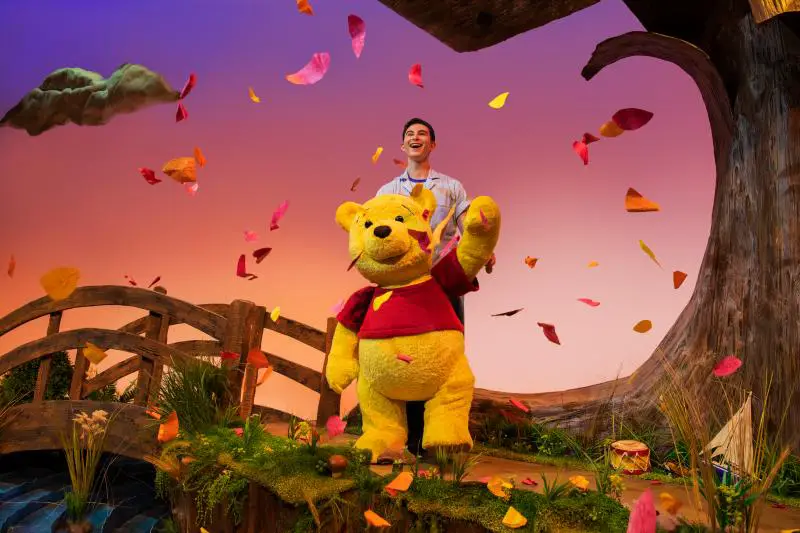 Photo by Evan Zimmerman for MurphyMade.
Disney's Winnie the Pooh: The New Stage Musical (The Hundred Acre Theatre at Theatre Row, 410 W. 42nd St.) This magical new story is told with life-size puppets of the A.A. Milne characters that have enchanted children for generations. Pooh and Christopher Robin, along with Piglet, Eeyore, Kanga, Roo, Rabbit, Owl and Tigger, come together in a modern narrative featuring an original score and songs from the animated feature, including "Winnie the Pooh","The Blustery Day", and A.A. Milne's "The More It Snows." Running 6/18 thru 7/31. (winniethepoohshow.com)
Don't Look Back (HERE, 7145 Sixth Ave.) God is about to rain fire down upon Sodom. The Angels have sent Lot, Edith and their two daughters fleeing into the mountains. Their only command: "Do not look back!" Desperate for the safety of her girls, Edith is caught between her husband's zealotry, her love of family and her passion for freedom. Running 6/10 thru 6/30. (voyagetheatercompany.org)
Dreaming Zenzile (New York Theatre Workshop, 79 E. 4th St.) At her final concert, South African musical legend and activist Miriam Makeba delivers the performance of her life, raising the conscience and the consciousness of a people. But the ancestors are calling—transporting her through the music and fractured memories of her past on a spiritual journey of reconciliation. 5/17 thru 6/26. (nytw.org)
Epiphany (Lincoln Center Theaters' Mitzi Newhouse Theater, 150 W. 65th St.) An uncanny evening. Snow falls softly. An eager host gathers old friends to try and resuscitate a forgotten tradition. But when the guest of honor is unusually late, the group becomes unmoored. And there might not be enough wine, or goose, or time to fend off the long-neglected questions that now haunt their souls. From 5/19. (lct.org)
(l to r): Claudia Logan (Dasani), Amandla Jahava (Mikayla), MaYaa Boateng (Erika), Toney Goins (Dayrin) in Roundabout Underground's Exception to the Rule
Exception to the Rule (Harold and Miriam Steinberg Center for Theatre/Black Box Theatre, 111 W. 46th St.) How do you make it through detention? In the worst high school in the city, six Black students are stuck in Room 111. They flirt. They fight. They tease. Should they follow the rules and stay put, or find an escape? Are the walls keeping them in, or are stronger forces at play? Limited run thru 6/26. (roundabouttheatre.org)
Fat Ham (The Public Theater's Anspacher Theater, 425 Lafayette St.) Playwright James Ijames reinvents Shakespeare's Hamlet in his new comic tragedy his new drama about Juicy, a queer, Southern college kid, whose father's ghost shows up in their backyard, demanding vengeance for his murder. But Juicy is a self-aware young Black man trying to break the cycles of trauma and violence in service of his own liberation. Running thru 6/12. (publictheater.org)
Friends! The Musical Parody (Jerry Orbach Theater, 210 W. 50th St.) The unauthorized comedic musical that lovingly pokes fun at TV's Friends celebrates the adventures of Ross, Monica, Rachel, Phoebe, Joey, and Chandler as they navigate the pitfalls of work, life, and love in 1990s Manhattan. The show recreates favorite moments from all 10 seasons of the iconic sitcom through an uncensored, fast-paced, music-filled romp! (ticketmaster.com/friends-the-musical-parody-new-york)

Photo: Joan Marcus.
Jersey Boys (New World Stages). The behind-the-music story of Frankie Valli and The Four Seasons. They were just four guys from Jersey, until they sang their very first note. They had a sound nobody had ever heard…and the radio just couldn't get enough of. But while their harmonies were perfect on stage, off stage it was a very different story—a story that has made them an international sensation all over again. The show features all their hits including "Sherry," "Big Girls Don't Cry," "Oh What A Night," "Walk Like A Man," "Can't Take My Eyes Off You," and "Working My Way Back To You." Limited run thru 5/22. (jerseyboysnewyork.com)
Golden Shield (New York City Center – Stage I, 131 W. 55th St.) When American lawyer Julie Chen files a class-action lawsuit involving a multinational technology corporation and the Chinese government, she hires her strong-minded sister as her translator. But what compromises will they make in order to win? (manhattantheatreclub.com)
Goldie, Max and Milk (59E59 Theaters, 59 E. 59th St.) Max, an unemployed single lesbian, just gave birth with no clue how to nurse her newborn. Can Goldie, an Orthodox Jewish lactation consultant, guide Max into motherhood? Or will conflicting family values get the better of them both? Limited run thru 6/4. (59e59.org)
Happy Birthday Doug (SoHo Playhouse, 15 Vandam St.) In this acclaimed comedy written and performed by Drew Droege, Doug is turning 41. His favorite, and least favorite, gay men have made the invite list: friends, exes, nightmares, tricks, and even a ghost. A wicked and wild hour-long celebration of modern gay culture, with tons of wine. Running 6/23 thru 6/26. (happybirthdaydoug.com)
A Healthy House (Theater for the New City, 155 First Ave.) A wickedly funny work about a Staten Island family trying to preserve its run-down house and its memories without getting too scammed by the contractor. Deadpan yet explosive and deeply personal, the play is built on themes of family closeness, the advancement of time, life, and death. Running 6/2 thru 6/19. (theaterforthenewcity.net)
Here There Be Dragons—A New Musical Quest (The Players Theatre, 115 MacDougal St.) In this new musical, it's the night before their college graduation and a group of Dungeons and Dragons players must contend with their anxieties, fears, and obstacles, manifested as fantasy monsters and locales, to discover what their futures may hold. Running 6/16 thru 7/17. (terisandoneill.com/heretherebedragons)
Hooded; Or Being Black For Dummies (Asylum Theatre, 306 W. 26th St.) Marquis is a book smart prep-schooler living with his adoptive white family in upscale suburbs; Tru is a street savvy kid from Baltimore's inner city. Their worlds overlap in a holding cell—a first for Marquis, who has been protected by his family's privilege, but all too familiar to Tru. They butt heads, debate, wrestle, and ultimately prove Nietzsche and Tupac were really saying the same thing. Running 6/11 thru 7/3. (59e59.org)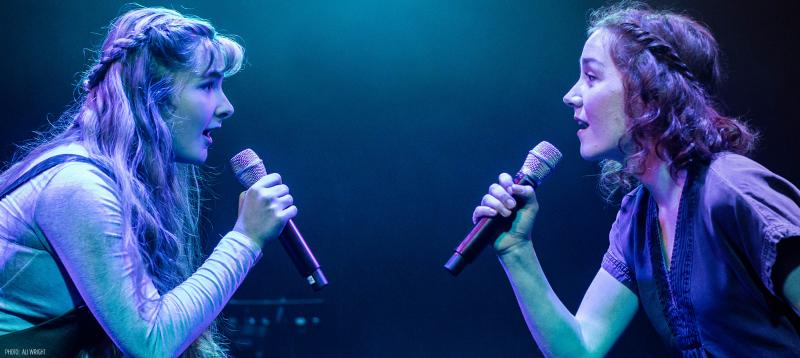 Photo by Ali Wright.
islander (PLAYHOUSE 46 at St. Luke's, 308 W. 46th St.) There is a girl. She stares out to sea and dreams of a new life beyond her lonely island. Myth and reality collide when the tide washes a mysterious stranger onto her beach. Acclaimed performers Kirsty Findlay and Bethany Tennick create a world of characters while live-mixing and layering their voices, harnessing looping technology to create an astonishing soundscape. (islandermusical.com)
Jews, God, and History (Not Necessarily in That Order) (Siggy Theater at The Flea, 20 St. Thomas St.) Both reverent and irreverent, this solo show written and performed by Michael Takiff, acknowledges that while religions date back to the pre-science Bronze Age, we still live with these traditions. Takiff's skills eliciting laughs is on full display as he challenges audiences to question their assumptions about Jews, God, history, and everything in between. Running 5/18 thru 6/15. (jewsgodandhistory.evenbrite.com)
Just for Us (Greenwich House Theater, 27 Barrow St.) After a string of anti-Semitic abuse is directed at Alex Edelman online, he decides to covertly attend a gathering of White Nationalists in New York City and comes face to face with the people behind the keyboards. The result is a hair-raising encounter that offers a final, jaw-dropping twist. Running 6/15 thru 7/23. (justforusshow.com)
The Karpovsky Variations (Jeffrey and Paul Gural Theatre at A.R.T./New York Theatres), 502 W. 53rd St.) Julia Karpovsky's father is brilliant, talented—and lives half a world away. Growing up among her eccentric and disparate relatives, Julia navigates her way through a family with a missing piece, searching for the elusive notes of her father's clarinet. This musical story traces the Karpovskys' encounters at airport lounges over two decades as they improvise what it means to be a family. Running thru 5/29. (our.show/thekarpovskyvariations)
A Kid Like Rishi (Origin Theatre Company, 520 Eighth Ave.) A critically acclaimed Dutch play about a notorious racial profiling police killing in The Hague receives its U.S. premiere. It follows the 2012 shooting of an unarmed, 17-year-old black youth suspected of assaulting a homeless person, who was never questioned or identified. Killed in retreat, the young man died immediately of a gunshot to the head. Running 5/27 thru 6/19. (origintheatre.org)
Kinky Boots (Stage 42, 422 W. 42nd St.) Harvey Fierstein and Cindy Lauper's Tony & Olivier-winning musical in its Off-Broadway debut. Based on true events, the story follows Charlie, a factory owner struggling to save his family business and Lola, a fabulous entertainer with a groundbreaking idea: to create a line of sturdy stilettos for drag performers! From 7/26. (kinkybootsthemusical.com)
Lambs to Slaughter (Cherry Lane Theater, 38 Commerce St.) A single mother who has lost her older son to gun violence must navigate the mourning process with the help of an upstairs neighbor and an ex-lover. She fears failing her younger son, who wrestles with his own demons and guilt. 6/15 thru 7/3. (nec.org)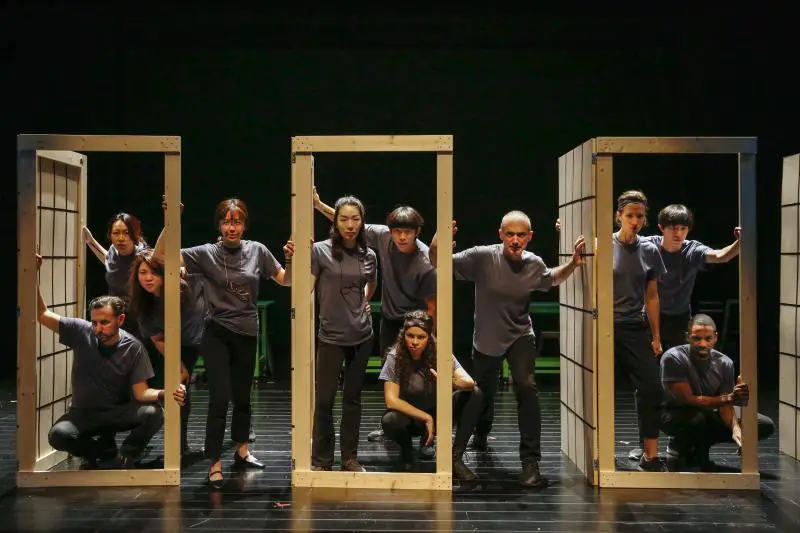 The Legend of the Waitress & the Robber (Dixon Place, 161A Chrystie St.) In a dystopian society, the Waitress, fed up with watching her elderly customers be mistreated by their children, kidnaps these seniors so she can give them the care they deserve. Meanwhile, the Second Son, accused by his brother of being a thief, becomes a robber who "liberates" people from the clutches of their cellular devices. Running 5/25 thru 5/29. (dixonplace.org)
Lessons in Survival: 1971 (Vineyard Theatre, 108 E. 15th St.) In 1971, 28-year-old poet Nikki Giovanni interviewed renowned novelist James Baldwin, 47, on the "Black Tonight Show," SOUL! In this revelatory live staging, contemporary audiences are reintroduced to their candid, provocative dialogue on race and liberation in America while exploring the layers of intimacy and ideas between two Black revolutionary artists of different generations. Running 5/26 thru 6/30. (vineyardtheatre.org)
Little Girl Blue (New World Stages, 340 W. 50th St.) A new musical exploring the evolution of American musical icon and civil rights activist Nina Simone. From her ascension as classical music prodigy to "High Priestess of Soul" to civil rights activist, the show offers a powerful portrait of Simone's rich life and her ultimate decline. Running thru 5/29. (littlegirlblue.nyc)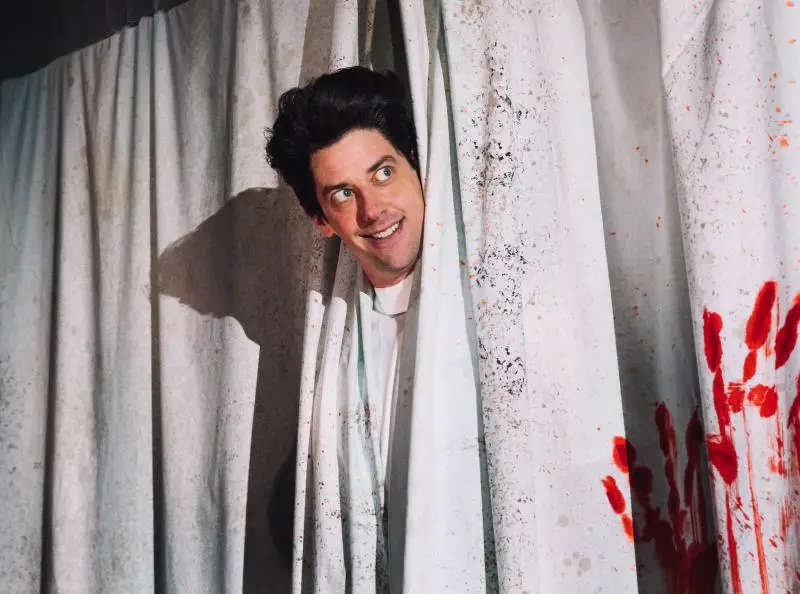 Photo by Emilio Madrid-Kuser.
Little Shop of Horrors (West Side Theatre, 407 W. 43rd St.) The wildly acclaimed musical revival is back with Emmy-winning leading lady Tammy Blanchard and two-time Tony winner Christian Borle. Tony nominee Jeremy Jordan (Newsies) joins them as hapless flower-shop employee, Seymour, trapped under the blood-thirsty fronds of Audrey II. (littleshopnyc.com)
Lower East Side Festival of the Arts (In & around Theater for the New City) Over 190 performing arts organizations, independent artists, poets, puppeteers, and film makers will be taking part in Theater for the New City's 27th annual festival. Running 5/27 thru 5/29. (theaterforthenewcity.net)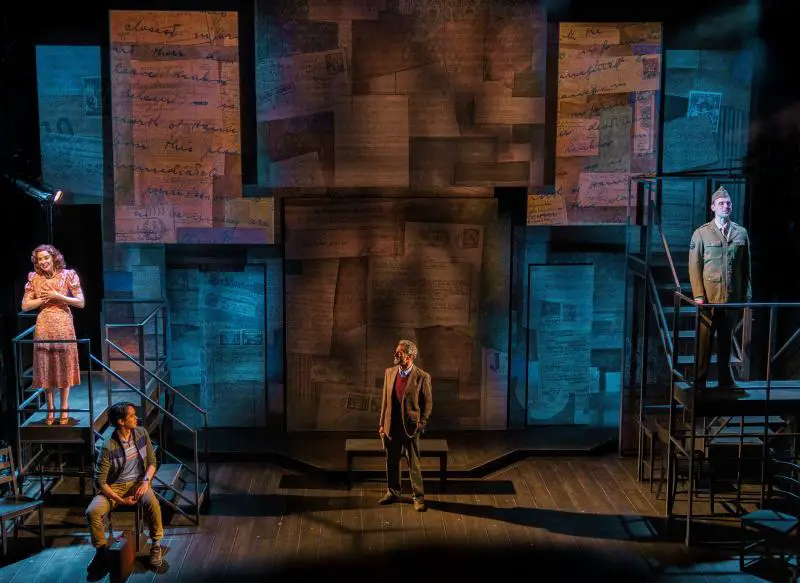 Alexandra Silber, Sky Smith, Steven Skybell and Danny Gavigan in THE LUCKY STAR © Cory Pattak.
The Lucky Star (59E59 Theaters, 59 E. 59th St.) With scenes alternating between past and present, this mesmerizing drama brings Richard Hollander's book, "Every Day Lasts a Year: A Jewish Family's Correspondence from Poland" to the stage. The discovery of a stash of over 200 letters opens clues to a gripping true story of resilience and determination, a family torn apart by war, fighting to immigrate, escape and survive. Limited run thru 6/12. (59e59.org)
Maya Angelou's I Know Why the Caged Bird Sings (Theatre Row, 410 W. 42nd St.) In this one-woman show, unfolding on a rainy day in Stamps, Arkansas, Maya Angelou (Cherrye J. Davis) has returned to the now-abandoned general store where she grew up. The room conjures memories, and she reminisces about the events and lessons learned on her painful, beautiful, and extraordinary journey into womanhood. Running 5/20 thru 6/5. (nycchildrenstheater.org)
Mother Courage and Her Children (Irondale Theater, 85 S. Oxford St., Brooklyn) This timely production of Bertolt Brecht's passionate and profound statement against war plays out in an immersive German beer garden setting with "Mother Courage" pulling her wagon of wares and her children through the carnage of Europe's religious wars. Shattered by hardship, brutality and loss, Mother Courage stands as a monument to flexibility of character and the indomitable survival of the individual. Running thru 6/5. (irondale.org)
Mr. Yunioshi (SoHo Playhouse Huron Club, 15 Vandam St.) Asian-American writer and performer J. Elijah Cho's funny and poignant one-man-comedy centers on Mickey Rooney's cringeworthy performance as Mr. Yunioshi in the 1961 film Breakfast at Tiffany's— a portrayal that opens the door to a number of questions, including "What compels an actor to play a character that they really shouldn't be playing?". Running 5/18 thru 5/29. (mryunioshi.com)
New Golden Age (Primary Stages at 59E59 Theatre B, 59 E. 59th St.) In an era just beyond our own, two sisters fight for human connection as they face down a big tech dystopia. A folk-hero professor defends our most intimate relationships while her sister attempts a perilous inside maneuver within the corporation that owns and sees all. This new play by Karen Hartman is a revolutionary tale for today that reclaims a bond beyond data. Limited run thru 6/9. (59e59.org)
New York Theatre Festival 2022 (Teatro Latea, 107 Suffolk St.) The event's NY Spring/Summerfest runs between May and July. It is a playwright and musical competition featuring a wide variety shows running between 5 and 90 minutes long in an intimate theatre environment. Running thru 7/3. (newyorktheaterfestival.com/summerfest)
The Orchard (Baryshnikov Arts Center, 450 W. 37th St.) Conceived, adapted from The Cherry Orchard, and directed by Igor Golyak, the play centers on the fragile world of a family threatened with foreclosure and the loss of their beloved orchard. They face unstoppable, destructive forces that dismantle their lives like the breaking of a string. Running 5/31 thru 7/3. (theorchardoffbroadway.com)
Oresteia (Park Avenue Armory, 643 Park Ave.) Aeschylus' final play is a searing familial saga that examines the sins of a family over several decades and explores whether justice can ever really be done. Robert Icke's Olivier Award-winning adaptation of this moral dilemma comes to the Armory for its North American premiere following sold-out runs in London's West End. Running 6/9 thru 8/13. ([email protected])
Our Brother's Son (Pershing Square Signature Center, Romulus Linney Courtyard Theatre, 480 W. 42nd St.) A family fragments when confronted with a complicated medical crisis, compelling every family member to make an unimaginable personal choice. In this New York premiere production, playwright Charles Gluck delves into where to draw the line between family loyalty and self-preservation. Limited run thru 6/24. (ourbrotherssonplay.com)
Patience (Second Stage Theater's McGinn/Cazale Theater, 2162 Broadway) In this sports-inspired fantasia, professional solitaire player is one of the best, but he's ready to retire and settle into a perfect new house with is husband-to-be. He's just got to hold it together through one final, career-defining match. 8/2 thru 8/16. (2ST.com)
Pinkalicious the Musical (Soho Playhouse), Pinkalicious can't stop eating pink cupcakes despite warnings from her parents. Her pink indulgence lands her at the doctor's office with Pinkititis, an affliction that turns her pink from head to toe—a dream come true for this pink-loving enthusiast. But when her hue goes too far, only Pinkalicious can figure out how to get out of this predicament. Limited run thru 6/26. (pinkaliciousthemusical.com)
Photo by Jeremy Daniel.
The Play That Goes Wrong (New World Stages). A madcap hybrid of Monty Python and Sherlock Holmes, this award-winning comedy is bringing down the house—literally—Off-Broadway. It's opening night of The Murder at Haversham Manor where an unconscious leading lady, corpse that can't play dead, and actors who trip over everything are only some of the hilarious mishaps. (broadwaygoeswrong.com)
Prince Charming, You're Late (Theatre Row, 410 W. 42nd St.) Billy Hipkins wrote and stars in this one-man middle-age-ed cautionary tale warning us to be careful who you crush on, or you might just get crushed. Running 6/29 thru 7/23. (tigerbearproductions.com)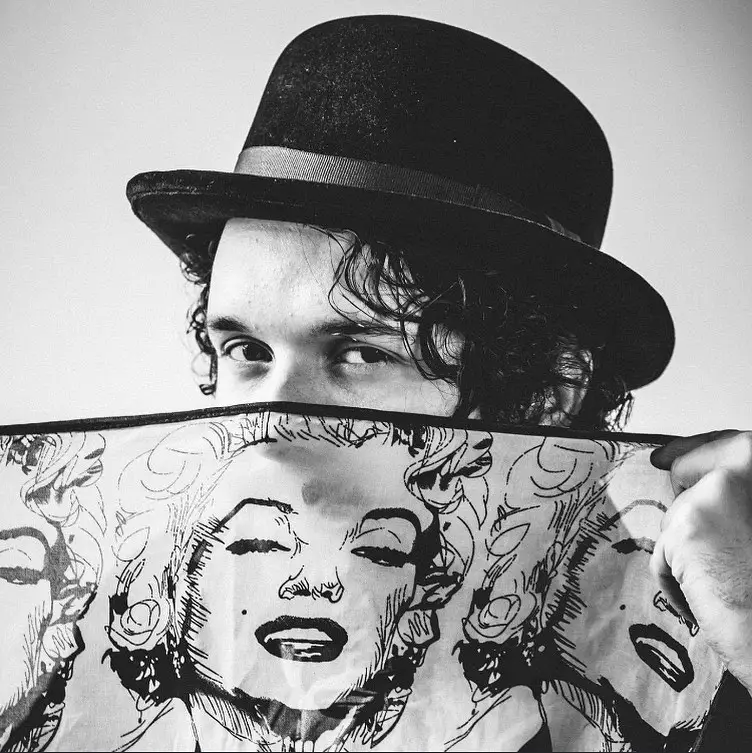 Queerly Festival (Kraine Theater, 85 E. 4th St.) FRIGID New York's annual celebration of all things LGBTQ+, Queerly strives for diversity on and off stage and provides a space for queer artists who've rarely or never seen their identities portrayed on stage to be able to represent themselves and tell their stories, their way. Visit website for productions and playing schedules. Running 6/15 thru 7/3. (frigid.nyc/festivals/queerly)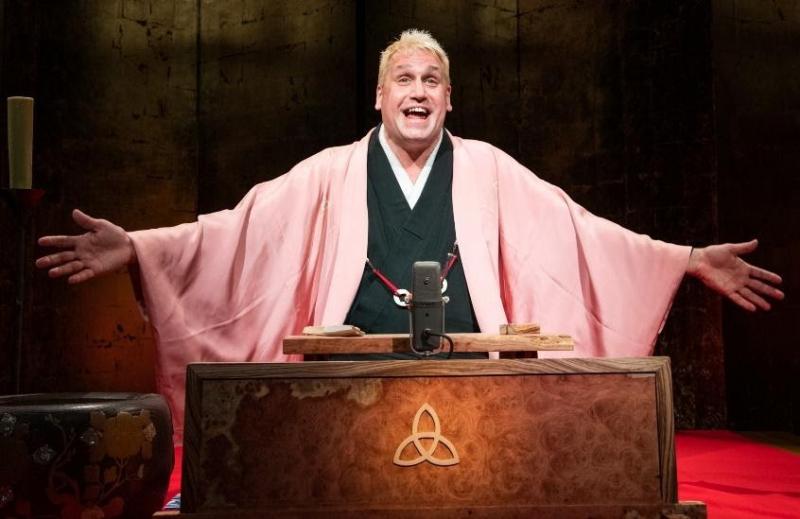 Rakugo (New World Stages). Master Storyteller Katsura Sunshine returns to New York with his acclaimed work. With a minimal set, Rakugo features a lone storyteller dressed in a kimono, kneeling on a cushion, and using only a fan and a hand towel for props; Sunshine entertains the audience with a comic monologue followed by traditional stories. (rakugo.lol)
The Refugees (A.R.T./New York Theatres, 502 W. 53rd St.) In an imagined world that blends Ancient Greek myth with the realities of today, a jaded queen and her woke children struggle to answer that question, each side fiercely opposed over whether their prosperous realm should offer asylum to masses of immigrants displaced by climate change. With wild intrigue and a satirical bite, both sides go to dangerous lengths to justify their positions. Running 6/4 thru 6/26. (adjustedrealists.com)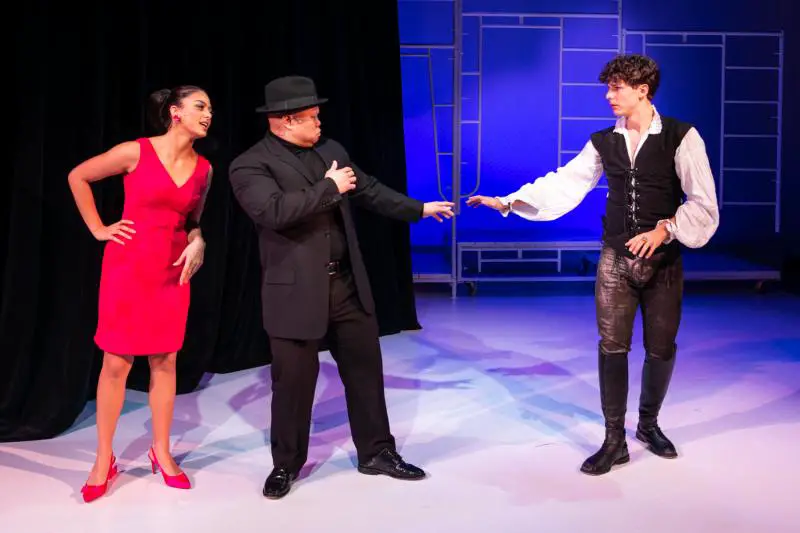 Anna Kostakis, Viet Vo, and Nikita Burshteyn. Photo by Russ Rowland.
Romeo & Bernadette: A Musical Tale of Verona and Brooklyn (Theatre 555, 555 W. 42nd St.) Romeo—yes, that Romeo—awakens and finds himself in 1960 Brooklyn, chasing a girl he believes is his beloved Juliet. But no, it's Bernadette, the beautiful, foul-mouthed daughter of a crime family in this spoof of Shakespeare's timeless tale. Limited run thru 6/26. (romeoandbernadette.com)
Seagull (NYU Skirball Center, 566 LaGuardia Place). Elevator Repair Service returns with Anton Chekhov's classic about artists in life and love. Blurring the line between the play itself and an informal chat with the audience, ERS's venturous approach to the text twists truth into lies and fact into fiction as actors become characters who become actors who become characters. Running 7/7 thru 7/31. (nyuskirball.org)
Sistas! The Musical (Actors Temple Theatre, 339 W. 47th St.) After a matriarch's death, the women in the family clean Grandma's attic and find love and old memories packed away, and in the process, hit tunes that trace the history of Black women, from the trials of the 1930s through the girl groups of the '60s to the empowerment of the '90s. Featuring 40 hit songs by such black legends as Aretha Franklin, Nina Simone, Alicia Keys, and The Supremes. (sistasthemusical.com)
Sky of Darkness (Theaterlab, 357 W. 36th St.) Loosely adapted from Joseph Conrad's "Heart of Darkness," this documentary-style work is based on actual accounts by Chinese nationals who found themselves in the service of a huge government-owned industrial conglomerate selling and operating military equipment in West Africa. Running 6/2 thru 6/12 (theaterlabnyc.com)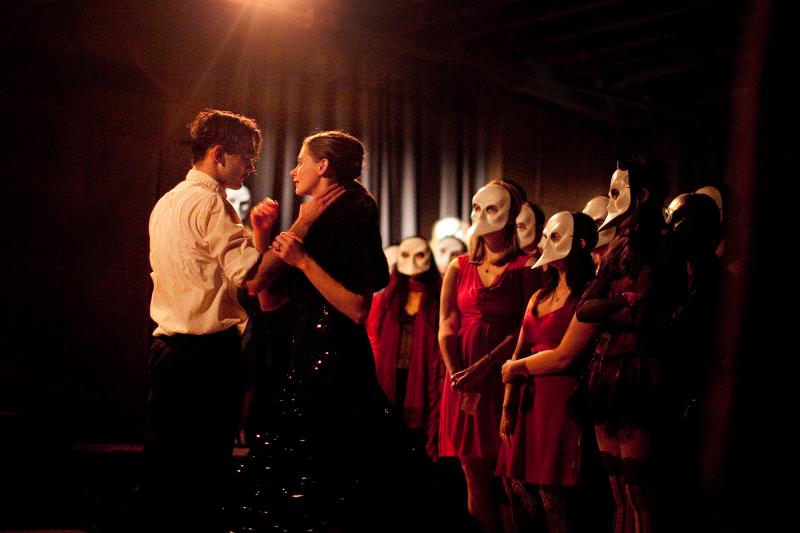 Photo by Robin Roemer.
Sleep No More (McKittrick Hotel, 530 W. 27th St.) This award-winning theatrical experience tells Shakespeare's classic tragedy Macbeth through a darkly cinematic lens. Audiences move freely through the epic world of the story at their own pace, choosing where to go and what to see, ensuring that everyone's journey is different and unique.(mckittrickhotel.com)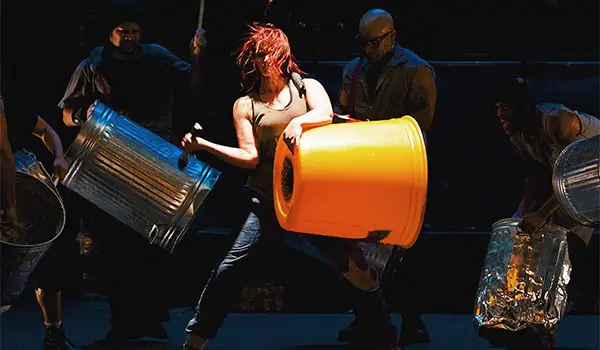 Stomp (Orpheum Theatre, 126 Second Ave.) (1 hr., 45 mins.) "For us, Stomp has always been about connecting with the audience, having a shared experience with them and celebrating rhythm together. We can't wait to bring Stomp and New York audiences back together again," says show co-creators Steve McNicholas and Luke Cresswell. Clearly, the exuberance of cacophony has returned. (stomponline.com)
SUFFS (The Public Theater's Newman Theater, 425 Lafayette St.) Set in the 7 years leading up to the passing of the 19th Amendment in 1920, this epic new musical brings to life the American women's suffrage movement, centering on a group of suffragists who took to the streets, pioneering protest tactics that transformed the country. Limited run thru 5/29. (publictheater.org)
Summerworks (The Wild Project, 195 E. 3rd St.) Clubbed Thumb theatre company is back with its festival of new plays. This year's lineup includes California by Trish Harnetiaux, Spindle Shuttle Needle by Gab Reisman, and Bodies They Ritual by Angela Hanks. For dates and descriptions, visit Clubbed Thumb's website. Running 5/20 thru 7/2.(clubbed.org)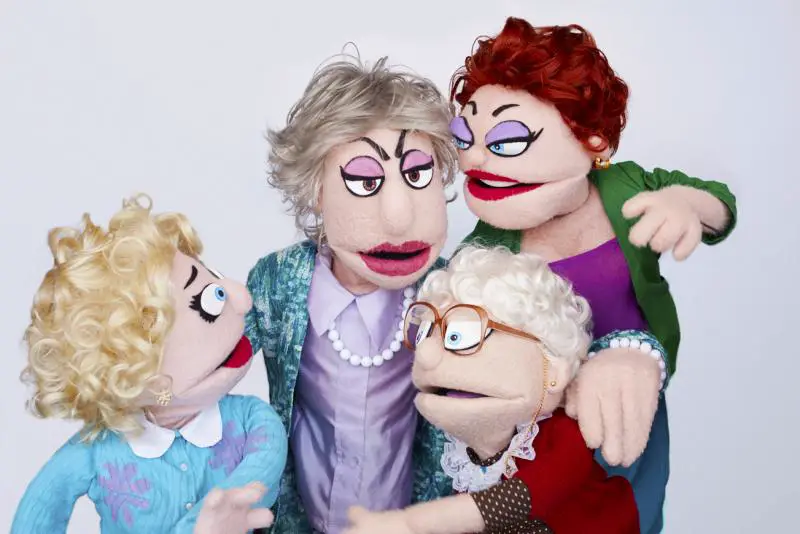 That Golden Girls Show! A Puppet Parody (Theatre Row Theatre, 410 W. 42nd St.) Get ready for an evening of cheesecakes, St. Olaf stories, jazzercise, sex, and all the topics that made Dorothy, Blanche, Rose, and Sophia so much fun—brought to you by a cast of puppets! The four gals from Miami will have you in stitches fondly remembering the brilliance of the beloved sitcom. Limited run thru 5/29. (thatgoldengirlsshow.com)
Titanique (Asylum Theatre, 306 W. 26th St.) A musical celebration that turns one of the greatest love stories of all time into a hysterical and joyful slay-fest. Want to find out what really happened to Jack and Rose on that fateful night? Leave it to Céline Dion to casually hijack a Titanic Museum tour and enchant the audience with her totally wild take, recharting the course of Titanic's beloved moments and characters with her iconic song catalog. Running from 6/14 thru 9/25. (housesonthemoon.org)
To My Girls (Second Stage's Tony Kiser Theater, 305 W. 43rd St.) For one tight group of gay men, a post-pandemic getaway is the perfect chance to reunite, reclaim their time, and replace the gloom with some gossip. But as soon as the drinks start pouring, truths start spilling and this chosen family quickly realizes the world has changed. (2ST.com)
Trevor (Stage 42, 422 W. 42nd St.) In this timely musical, 13-year-old Trevor struggles with what it means to become a teenager, including the challenges of harnessing his imagination and homing in on just how to fit in. (trevorthemusical.com)
Twelfth Night (Marcus Garvey Park) The Classical Theatre of Harlem's Free Uptown Shakespeare in the Park kicks off with this Afrofuturistic take on the Shakespeare's comedy in which separated twins, Viola and Sebastian, wreak havoc, mistaken identities, and, ultimately, romance on Duke Orsino and the woman he loves, Countess Olivia. Running 7/5 thru 7/29. (cthnyc.org)
TWO BY SYNGE: In the Shadow of the Glen & The Tinker's Wedding (Irish Rep's W. Scott Lucas Studio Stage, 132 W. 22nd St.) This evening of theatre pairs early Synge masterpieces inspired by stories he heard and witnessed while living among poor Irish peasants at the turn of the early 20th-century. Limited run thru 5/22. (irishrep.org)
War Stories (The Tank's Proscenium Theater, 312 W. 36th St.) During WWII, Ruth, a young musician from a working-class immigrant family, arrives to New York City. Exploring the world through music, labor action, and relationships, she is committed in her support of the war, views that are challenged by Nat, who comes from a wealthy industrial Jewish family and sees all wars as capitalist and corrupt. Running 5/20 thru 6/12. (thetanknyc.org)
…what the end will be (Harold and Miriam Steinberg Center for Theatre/Laura Pels Theatre, 111 W. 46th St.) In this new work, three generations of men live under one roof and grapple with their own truths of what it means to be Black and gay. It's an exploration of pride, pain, and patience through the unflinching eyes of fathers and sons. Running thru 7/10. (roundabouttheatre.org)
Which Way to the Stage (Newman Mills Theatre at MCC Theater, 511 W. 52nd St.) The year is 2015 and Jeff and Judy are right where they're supposed to be: waiting outside the stage door of If/Then to get an autograph from the star. But the experience they have while they wait will change the course of their decades-long friendship forever. Limited run thru 5/22. (mcctheater.org)
The Wizard of Oz (Actors Temple, 339 W. 47th St.) This 60-minute adaptation of the classic tale has a cast of 6 actors, Munchkin puppets, a flying monkey and a funny witch. Perfect for ages 2 to 7 ready to discover the joy of following the yellow brick road with Dorothy, the Scarecrow, the Tin Man, and the Cowardly Lion as they travel through a reimagined world of Oz. Limited run thru 6/26. (vitaltheatre.org)
Yes! Reflections of Molly Bloom (Irish Repertory Theatre, 132 W. 22nd St.) In this daring theatrical journey into the mind and heart of James Joyce's Molly Bloom, it's June 17, 1904, early a.m., when her philandering husband Leopold falls asleep. And Molly patrols the pathways of her wild and leaping consciousness. She is lustful. Scared. Exuberant. Lonely. Reckless. And profoundly funny. Running 6/8 thru 7/17. (irishrep.org)
Be sure to check websites for Covid-related performance cancellations before heading to the theatre, and do have a back-up show or two on your must-see radar!
For the latest news on Broadway scheduling and cancellations, check out this great resource from the Broadway League.
Vaccination and Mask Policy for Broadway Shows in NYC
The owners and operators of all 41 Broadway theatres in New York City have extended the current mask requirement for audiences through at least June 30, 2022, but many will no longer check vaccination status.
For more information, please visit your show's official website or contact your point-of-purchase. More information is available here.—The Broadway League