You don't have to be Brazilian to enjoy the annual Brazilian Day in New York, now entering its 30th year. While numerous New Yorkers will have exited the city for the end-of-summer Labor Day weekend, hundreds of thousands of Brazilians from near and far will assemble for the massive festival on Sunday, September 1.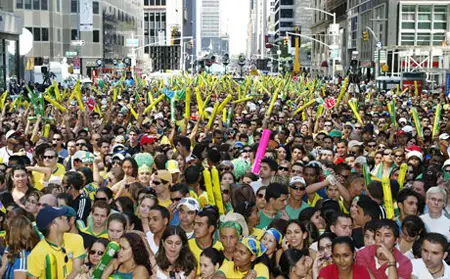 The free event, with fabulous entertainers, Carnaval dancers, soccer stars, and food not only native but from around the globe, is the largest such event outside Brazil. Last year, it attracted over 1,500,000 -- many waving Brazil flags. It will cover 25 blocks uptown along Sixth Avenue from West 44 Street, utilizing several East/West side streets.
From 11am-6pm, along with hundreds of vendors of all kind, there will be two entertainment stages for the celebration of Brazilian music, culture, and tradition (including the colorfully-dressed Bahai women from Northern Brazil). The main stage will be at West 44th Street and Sixth Avenue. Stage Two will be at East 46th Street and Madison Avenue.
Gusttavo Lima, international recording and TV megastar whose hits include "Balada," "Inventor dos Amores (Inventor of Love)," and "Cor de Ouro (Golden Color)"; acclaimed singer "Mr. Samba" Zeca Pagadinho, who's marking 30 years in show business; and famed percussion/vocal group Pagode Roots will perform throughout the day on the main stage. Serginho Groisman, known throughout his country as The Host of Brazil TV, will emcee.

Stage Two will feature DJs and bands blending electronic, house, and traditional Brazilian and urban electronic music. Try to stop those Brazilians from dancing in the street. Greet them with the popular Portuguese expression: Tudo bem, good luck!
According to entrepreneur João de Matos, publisher of the weekly The Brasilians New York newspaper and owner of New York's popular Brazilian steakhouses Churrascaria Plataforma, "The event began in 1984 on West 46th Street [an area known as Little Brazil] with a group wanting to celebrate their Independence Day (from Portugal) closer to their homeland. It's grown beyond anyone's imagination into one of the biggest festivals in New York."
Brazilian Day is sponsored by Albatroz Limousine, BACC Travel, Banco do Brasil, Bahiatursa, The Brasilians, Brazilian-American Cultural Center, Churrascaria Plataforma steakhouses, Delta Airlines, Embratur Brazil Tourist Board, Emporium Brazil restaurant, Globo International, Recife (Brazil) Government, and Viva Brasil restaurant. The event is produced by Mardi Gras Productions, the world's leading festival coordinator. For more information, visit www.brazilianday.com.
A precursor to the megafest is Saturday, August 31st's Brazilian Cultural Parade and Festival in Manhattan's Little Brazil (West 46th Street between Fifth and Madison Avenues). There's a two-hour parade beginning at 11am following by free entertainment by famed native singer and beauty Carla Visi and numerous groups, including Manhattan Samba, Marcio Mendes, and Del Feliz.