If you're looking for a steakhouse with a breakfast worthy of the early wake up, New York has you covered. If you're planning an early meeting with a job contact or business associate, it can be difficult to strike the right tone at a diner or cafe. Luckily, a few power lunch spots are open for breakfast too. You can seal the deal over expertly prepared steak and eggs, an omelet, or waffles, complete with attentive service and impressive interiors. At steakhouses like Benjamin, Empire, and CUT, you can also toast to success with a mimosa. Find below our picks for the best steakhouse breakfasts in New York City.
Steakhouse Breakfasts to Try in NYC: Benjamin Steakhouse
Halfway between Bryant Park and Grand Central is a truly delicious plate of steak and eggs with your name on them. Benjamin Steakhouse is open every morning for business breakfasts and other morning meetings with their incredible thick-cut Canadian bacon, lobster eggs benedict, and pastries. Have coffee and/or a morning cocktail with your breakfast, which you can select as a prix fixe meal for only $19.95. Open 7am on weekdays and 7:30am on weekends. 52 E. 41st St., 212-297-9177, benjaminsteakhouse.com
Steakhouse Breakfasts to Try in NYC: Empire Steak House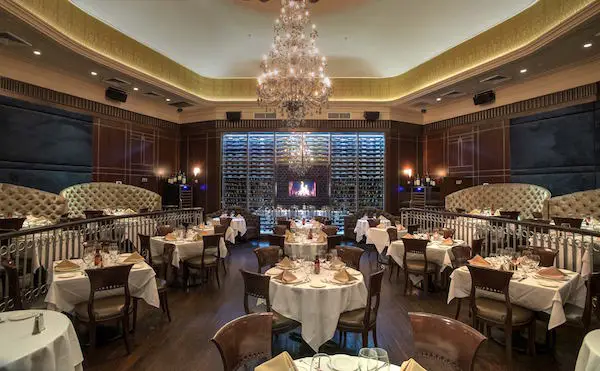 Empire Steak House at E. 50th Street.

We have three words for you: ale beer waffles. Empire Steak House serves a menu of breakfast classics at its West 54th location, with these waffles being a standout (besides the steak and eggs, of course). You might also enjoy a bacon and cheddar omelette with roasted red potatoes while snagging a reasonably priced breakfast at this fine steakhouse. 237 W. 54th St., 212-586-9700, empiresteakhousenyc.com
Steakhouse Breakfasts to Try in NYC: Charlie Palmer Steak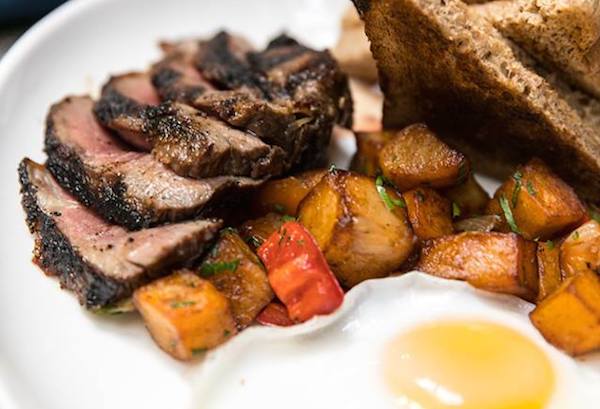 Prodigious breakfast-eaters should bookmark Charlie Palmer for one menu item alone. The Works comes with pancake, sausage, bacon, and two eggs. The less peckish will still enjoy this steakhouse on West 38th Street, which serves a lovely array of typical breakfast dishes in a sleek dining room with a large outdoor patio. Charlie Palmer also serves Lavazza coffees and Mighty Leaf teas and a balanced egg white omelet, made with mozzarella, tomato, and spinach. It's also open at 6:30am Monday through Friday if you need a boost before your early meeting. 47 W. 38th St., 212-302-3838, charliepalmersteak.com
Steakhouse Breakfasts to Try in NYC: CUT by Wolfgang Puck
If you work around Wall Street, you probably already know about the sensational breakfast at Wolfgang Puck's restaurant on the border of Tribeca and the Financial District. They have all the classics covered, plus surprises like a hybrid of avocado toast topped with smoked salmon and poached eggs (done and done). Health nuts can also have a green juice or house-made granola with lemon yogurt and local orange blossom honey. 99 Church St., 646-880-1995, wolfgangpuck.com
Steakhouse Breakfasts to Try in NYC: White Gold Butchers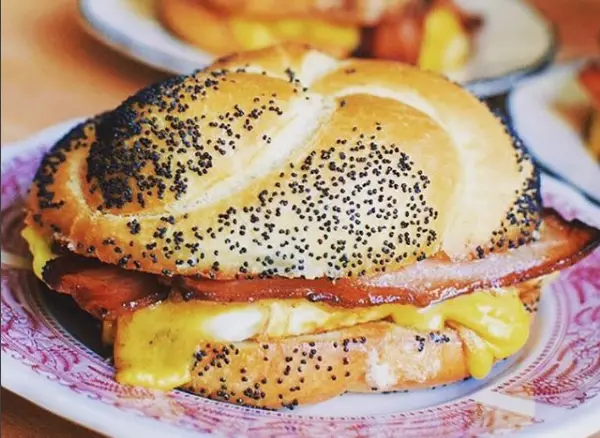 We'll admit White Gold Butchers is a strange choice for this list, but we'd argue it's not not a steakhouse. A venture from Spotted Pig chef April Bloomfield, this new curiosity on the Upper West Side is part neighborhood butcher, part restaurant, serving plates of lamb shoulder and ribeye butchered in-house. In the mornings, only egg and cheese sandwiches are available, but they're some of the best in the city. The bread is soft, the eggs perfectly cooked, and the additional sausage or bacon with locally sourced meat enriches the whole sandwich. The space has a friendly vintage vibe and a window-side bar for people-watching in the morning. 375 Amsterdam Ave., 212-362-8731, whitegoldbutchers.com