New York is known for having great food and some of the best restaurants in the entire world, and — in a sense — you can practically travel around the world without leaving the island of Manhattan. But sometimes you just want a great burger or barbecue, or to sample some of the latest in New American cuisine. Here are our picks for the best American restaurants in New York City.
BATEAUX NEW YORK | Full Review | Reservations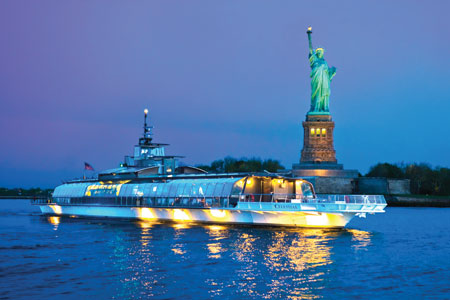 The classiest cruise in the waters around Manhattan has to be the one aboard Bateaux, the sleek 200-foot, all-glass boat that departs from the Chelsea Piers every day of the year. Much like a floating, luxurious, white tablecloth restaurant, it glides along the Hudson and East Rivers while its well-dressed passengers dine on customized china and order from a sophisticated menu as a melodic trio with a female singer serenades them.
BB KING BLUES CLUB AND GRILL | Full Review | Reservations
A throwback to the fabled days of New York nightclubs, B.B. King Blues Club & Grill features top-caliber music stars and an American Continental menu with a Southern flair. The Showcase Room has video screens and state-of-the-art sound, table seating, a bar where you can snack and listen, and a dance floor. The Beatles Brunch is offered every Saturday at noon (doors at 11am), and doors open for the Gospel Brunch every Sunday at 11am & 2pm. Visit bbkingblues.com for a list of all upcoming shows.
DAVE & BUSTER'S TIMES SQUARE | Reservations | Coupon
Walking into Dave & Buster's Times Square is not unlike strolling into Coney Island during its heyday, with the Million Dollar Midway and its virtual speedways, skeeball, basketball tosses, shuffle board tables, and high-tech amusements—but the food is far better than its theme-restaurant counterparts. They take pride in their eclectic American fare, which includes great steaks, seafood and pasta, chicken and ribs, and more. Plus, with more than 50 signature drinks, it's a great place to simply grab a cocktail.
GARAGE RESTAURANT & CAFE | Reservations
With great food, an outdoor cafe, and live jazz all day and night, Greenwich Village's Garage Restaurant and Café has it all. Multi-level dining allows everyone to have the best seat in the house, whether you relax on richly upholstered banquettes or overlook the entire scene from a cozy booth on the balcony.
GUY'S AMERICAN KITCHEN & BAR | Full Review | Reservations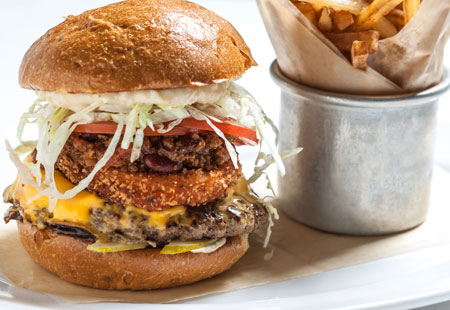 When it opened in the New York Times Building, Guy's American Kitchen & Bar introduced the Guy Fieri style of dining to Times Square. With an open kitchen and three bars offering imaginative cocktails and a wide range of Guy's own, unique beers (courtesy of NYC's Heartland Brewery), the menu (available for lunch and dinner) includes items such as Awesome Pretzel Chicken Tenders, BBQ Buffalo Meatloaf, Motley Que Ribs, and General Tso's Pork Shank—and that's just scratching the surface.

HARD ROCK CAFE
Get your evening festivities started by rocking your senses with tantalizing food and drinks and an awe-inspiring rock memorabilia collection at the Hard Rock Cafe's Times Square location. Priceless pieces from legends The Beatles, Led Zeppelin, Nirvana, Billy Joel, The Ramones, and Elvis grace the walls alongside more contemporary items including stage costumes worn by Madonna and Gwen Stefani. Boasting a unique outdoor space above the historic marquee that hosts parties, the building that Hard Rock occupies—the Paramount Theater—is rich with history, having hosted the premiere of Elvis Presley's Love Me Tender and performers such as Fred Astaire, Bing Crosby, Frank Sinatra, and others.
HEARTLAND BREWERY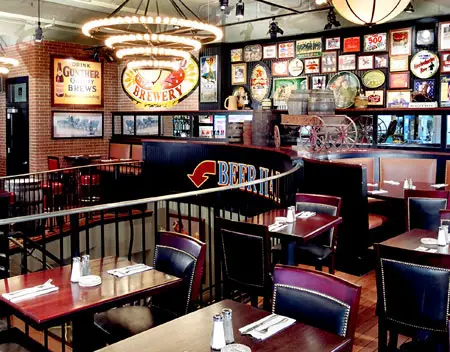 Stop into any of Heartland Brewery's locations and you'll see that it isn't just beer that's brewing at New York's first American-style brewpub. The relaxed atmosphere makes it a great place to kick back and relax, and their multiple locations—including inside the Empire State Building (pictured) and a 12,000-square foot space in Times Square—make it easy to escape the rush of the city. Sample one of the many unique brewed beers, or have one of the appetizers before chowing down on great burgers, sandwiches, and more. 35 Union Square at 17th St., 212-645-3400; 127 W. 43rd St. btw. Sixth and Seventh Aves., 646-366-0235; 350 Fifth Ave. at 34th St. in the Empire State Building, 212-563-3433; 625 Eighth Ave. at 41st St., 646-214-1000; www.heartlandbrewery.com
PLANET HOLLYWOOD | Full Review
Dine among the stars and immerse yourself in Hollywood history at Times Square's Planet Hollywood. Be sure to stroll around the restaurant and check out the massive movie memorabilia collection before diving into a menu with an eclectic mix of favorites, including pastas, salads, sandwiches, and award-winning burgers. Food is not an afterthought here—a kitchen crew of about 60 churns out the dishes offered on a voluminous menu dominated by huge portions of unique appetizers, unusual pastas and salads, sandwiches, burgers, and more. 1540 Broadway at 45th St., 212-333-7827; planethollywoodintl.com
SOUTHERN HOSPITALITY | Reservations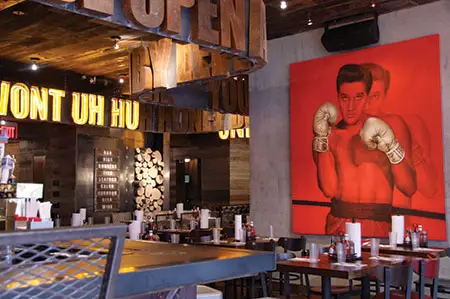 The creation of Justin Timberlake, Eytan Sugarman, and Trace Ayala, Southern Hospitality in Hell's Kitchen is an authentic, Memphis-style BBQ restaurant and bar offering ribs, pulled pork, and southern fried chicken. Walking through the door is like taking a step into the south, with warm and hospitable service, southern rock and bluegrass music, a great bar for sporting events, and more.