You probably never thought you'd be uplifted by reports of increased rat activity in the city, but such are the times we're living in. The uptick in rodent complaints reflects an increasingly bouncing back city. In more pleasant indicators, subway ridership just had its first 2 million-plus rider day in eons; nationally Uber saw rides spike almost 10% in March. There's much more on the opening front, too:
The travel trends suggest summer in the U.S. will be dominated by domestic travel. New York should do well on that front: Destination Analytics has us #2 on the most-desired domestic destination list, between Las Vegas and Florida. And look for international visitors to be back soon—New York has now lifted its COVID-19 quarantine and testing requirements for all travelers.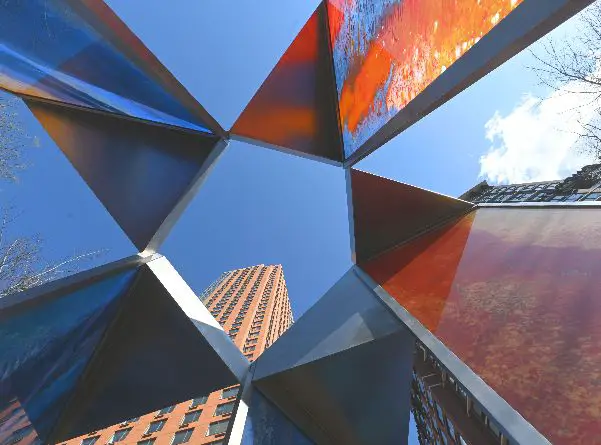 New Hurricane Maria Memorial honoring Puerto Rican community now open in Battery Park. Image governorandrewcuomo/Flickr.
Links of Interest
Ad pros push NYC in new #nowyork campaign.
NY state budget includes major COVID relief for small businesses.
Manhattan retail market still searching out the bottom.
Still time to help The Actors Fund set a new Guinness World Record.
Dippin' Dots opens first-ever NYC shop.
Live talk tomorrow at 6:30pm, A Helluva Four Decades: Tom Dyja and Meg Wolitzer on NY, NY, NY.
HOTELS
Has New York hospitality finally turned the corner to recovery?
Margaritaville Resort Times Square now taking reservations.
Hotel Pennsylvania to be razed.
CLOSING TIME
Longtime elite player Del Posto ends its 16-year run.
Village Korean fusion fave ZusikNY is done.
City top ramen contender Mu Ramen walks away in LIC.
New Weekly Video Series Behind The Experience
What kind of spy would you be? Would you have the nerve? Behind The Experience takes you behind the scenes of SPYSCAPE, the immersive espionage experience in midtown. We share some secrets, like the story of the double agent assigned to find himself and why New York is where it all began, and tell you about a perfect idea for a first date. SPYSCAPE joins our recent visits to Madame Tussauds and the Museum of the City of New York. CHECK IT OUT—it's fun! If you'd like to share secrets and connect with our thousands of followers, please reach out.
Posts of the Week: Everything to Do NYC Facebook Group
Another barometer of the returning city is the increase in interest in City Guide's Facebook Group Everything to Do NYC. More than 18,000 New York superfans are interacting here daily, including:
Over 1,000 new members this week
90 posts this week
1,500 comments this week
This is a community, helping locals and tourists looking to get the most out of NYC. Check out the answers to these recent posts:
Stop by the group for insight into what locals and visitors are thinking.