One of New York's top attractions, Rockefeller Center's Top of the Rock Observation Deck has introduced brand-new ticketing options to the spectacular historic observation deck that presents an incomparable view of New York City. The deck, consistently voted one of the City's best destinations, includes multiple indoor and outdoor viewing levels housed in the 70-story architectural heart of Rockefeller Center, 30 Rockefeller Plaza.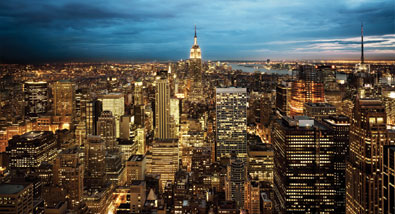 A night view from Top of the Rock

The new Premier Pass ($30; chidren $21; seniors $28) gives you the opportunity to experience all that Top of the Rock has to offer for a preferred rate that includes two of the attraction's most popular retail items. The pass includes admission to Top of the Rock, the printed panoramic Viewfinder map, which highlights all the major landmarks visible from the deck, and a keepsake digital photo courtesy of Kodak.

The Sun & Stars combination ticket ($38; children $20) lets you visit Top of the Rock twice in 24 hours at a discounted rate. Take in two distinct experiences of viewing New York City's unparalleled skyline - once during daytime and once at nighttime - any time of day between from 8am and midnight, with the last shuttle elevator ascending to the top at 11:15pm.

Rockefeller Center also offers the Rock MoMA combination ticket which provides admission to two of New York City's most popular attractions, the Museum of Modern Art and Top of the Rock Observation Deck, at a preferred rate ($38). Guests may visit both attractions on the same day or separately. Rock MoMA tickets are available exclusively at the Top of the Rock box office on 50th Street between 5th Avenue and 6th Avenue in Manhattan.