April is brimming with culture in NYC. The New York Botanical Garden hosts its popular annual Orchid Show, the New York International Auto Show returns to the Javits Center, jewelry fans flock to the Museum of Arts and Design for its annual LOOT shopping event, and much more!
Things to Do in New York in April: Exhibits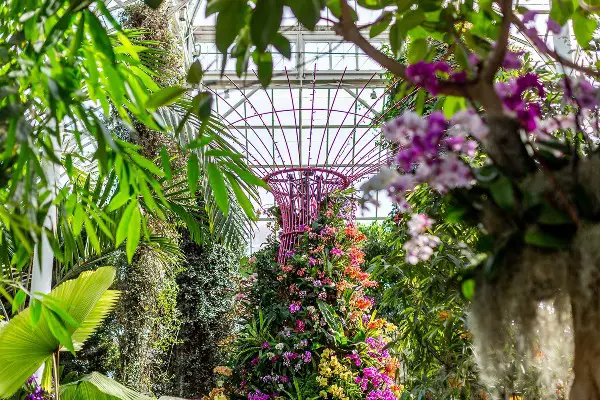 (2/23-4/28) The Orchid Show at the New York Botanical Garden is back. The 17th annual Orchid Show is a dazzling tribute to Singapore—one of the world's greatest orchid cultures—where these storied flowers are an integral part of the life of the "City in a Garden." Developed in partnership with the Singapore Botanic Gardens and Gardens by the Bay, this horticultural tribute set in the landmark Enid A. Haupt Conservatory will feature thousands of orchids paying homage to Singapore's innovative garden design, spectacular floral displays, and achievements in orchid cultivation. nybg.org
(4/8-4/13) LOOT: 2019 at the Museum of Arts and Design. Now in its 19th edition, LOOT presents a cross-section of the most exciting cutting-edge art jewelry designs, while offering the public a rare opportunity to meet and acquire pieces directly from some of the most skilled creators in the field. Opening night is a benefit.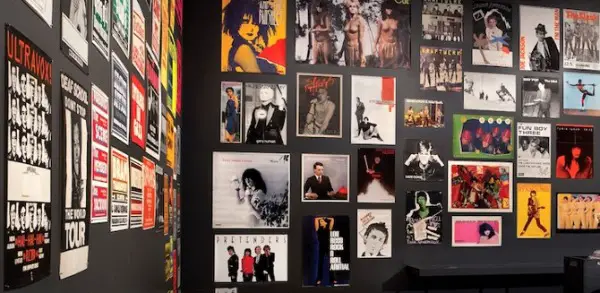 (4/9-8/18) Too Fast to Live, Too Young to Die: Punk Graphics 1976-1986 at the Museum of Arts and Design. More than forty years after punk exploded onto the music scenes of New York and London, its impact on the larger culture is still being felt. Born in a period of economic malaise, punk's energy coalesced into a powerful subcultural phenomenon that transcended music to affect other fields, and especially graphic design. Too Fast to Live, Too Young to Die explores the visual language of punk through hundreds of its most memorable graphics, from the shocking remixes of expropriated images and texts to the DIY zines and flyers that challenged the commercial slickness of the mainstream media. #PunkGraphics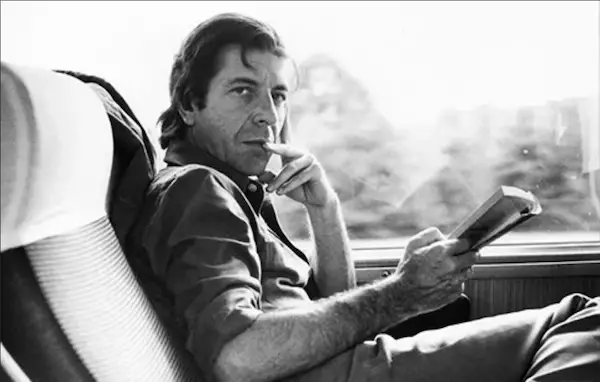 (4/12-9/8) Leonard Cohen: A Crack in Everything at The Jewish Museum is the first exhibition entirely devoted to the imagination and legacy of the influential singer/songwriter, man of letters, and global icon from Montréal, Canada. The exhibition includes commissioned works by a range of international artists who have been inspired by Cohen's style and recurring themes in his work, a video projection showcasing Cohen's own drawings, and an innovative multimedia gallery where visitors can hear covers of Cohen's songs by musicians such as Lou Doillon; Feist; Moby; and The National with Sufjan Stevens, Ragnar Kjartansson, and Richard Reed Parry, among others.
(4/15) In conjunction with this exhibit, there will be a special Conversation with Johnny Rotten Lydon and Gillian McCain at MAD Museum, at 2pm.
(4/13) NYC Food Truck Fest 2019 at Grand Bazaar NYC . Join this year's NYC Food Truck Fest on Saturday, April 13th, which will be the largest in New York City! Grand Bazaar NYC will feature 15 of the best gourmet food trucks in addition to over 30 of its most unique weekly vendors. This 3rd annual special event is organized by Grand Bazaar NYC, the largest weekly curated market in New York City, and is co-hosted by the NYC Food Truck Association.
(4/14) Maple Fest NYC. Every Sunday on the Upper West Side you can find Grand Bazaar NYC, the city's largest curated market—and most distinctive! You'll find one-of-a-kind fashion, crafts, collectibles, and handmade jewelry. Sunday the 14th, you'll also find the city's first maple festival! With co-host Maple Craft Foods, the market will be welcoming the finest artisanal maple sugar-makers from throughout the Northeast. Enjoy sampling and shopping a curated selection of artisanal natural, organic, and infused maple syrups, plus maple candy, maple drinks, waffles with maple syrup, and other yummy maple-inspired bites. 10am-5:30pm.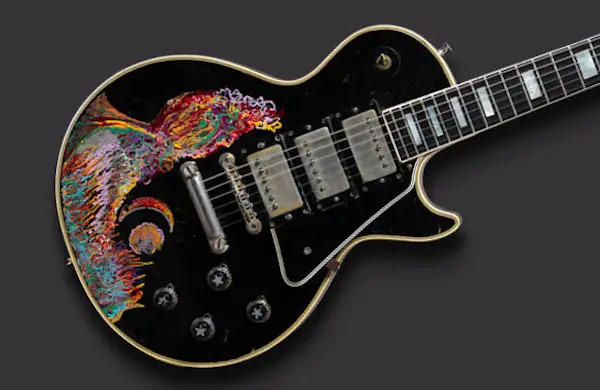 (4/8-10/1) Play It Loud: Instruments of Rock n Roll at the Metropolitan Museum of Art . One of the most important artistic movements of the twentieth century, early rock musicians were attracted to the wail of the electric guitar and the distortion of early amplifiers-Jimmy Hendrix, Eddie Van Halen, Joan Jett, Prince, are just a few outstanding examples. The instruments used in rock and roll had a profound impact on this art form that forever changed music. The exhibition is co-organized with the Rock & Roll Hall of Fame, and will present approximately 130 instruments alongside posters and costumes. #MetRockandRoll
(4/19-4/28) The New York International Auto Show is home to an awe-inspiring display of technology and design, as 1,000 new cars and trucks are arrayed across the acreage of the Javits Convention Center. You can check out all the latest models from a hands-on, driver's seat vantage. The show also features the hottest exotics, joined by futuristic concept cars and a few shiny classics. You'll even leave with a gift bag or two. Open Mon.-Sat., 10am-10pm, Sun. until 7pm. autoshowny.com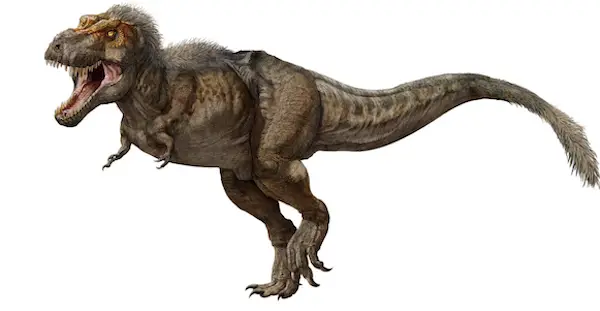 (3/11-8/9/2020) T. rex: The Ultimate Predator opens at the American Museum of Natural History. Visitors will encounter a massive, life-sized model of a T. rex with patches of feathers—which, as scientists now know, were likely present on nearly all non-avian dinosaurs (all dinosaurs other than birds)—as well as reconstructions of a fluffy T. rex hatchling and a four-year-old juvenile T. rex; a "roar mixer" where visitors can imagine what T. rex might have sounded like by blending sounds from other animals; a shadow theater where a floor projection of an adult T. rex skeleton will come to life; and a magnetic wall where visitors will be tasked with placing various tyrannosaur family members in the correct time period. They will also encounter a life-sized animation of T. rex in the Cretaceous and explore real data from fossil specimens, CT scans, and microscope images at a tabletop Investigation Station. In collaboration with HTC VIVE, the Museum will present V. rex (working title) as its first interactive, multi-player virtual reality experience. Visitors will team up to build a T. rex skeleton bone by bone and then watch as it comes to life in what is now Montana, as it was 66 million years ago.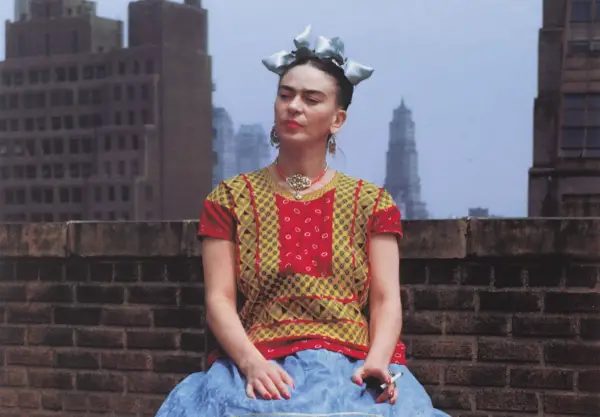 Nickolas Muray (American, born Hungary, 1892–1965). Frida in New York, 1946? printed 2006. Carbon pigment print, image: 14 x 11 in. (35.6 x 27.9 cm). Brooklyn Museum, Emily Winthrop Miles Fund, 2010.80. Photo by Nickolas Muray, © Nickolas Muray Photo Archive. (Photo: Brooklyn Museum.)


(Now-5/12) Mexican painter Frida Kahlo (1907-1954) lived and worked in a manner which challenged the political, social, and sexual norms of her era. Kahlo held her national identity dear and used traditional Mexican dress as a fixture of her public persona. Her large body of self-portraits created a mythos of self (some say she invented the selfie). New at the Brooklyn Museum is Frida Kahlo: Appearances Can Be Deceiving, a lush exhibition that shows off Kahlo's art, in addition to personal artifacts like her cosmetics, letters, jewelry, and clothing. Additional context is provided by items from the museum's Arts of the Americas collection, including Aztec sculptures, ceramics made in Guadalajara in the early 20th century, and an ancient Colima dog sculpture of a Xoloitzcuintli, a Mexican hairless dog that Kahlo had an affinity for. Advance tickets are available here.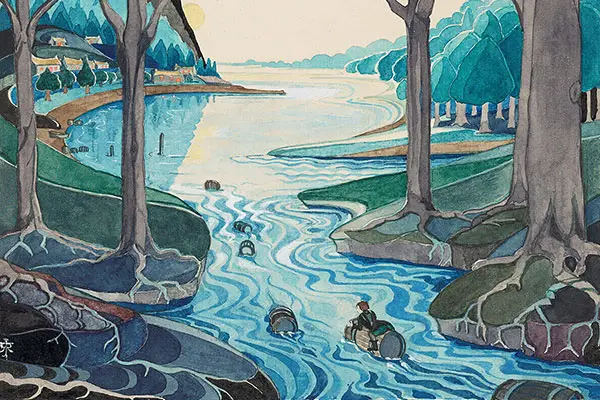 (Now-5/12) "In a hole in the ground there lived a hobbit." With these words Oxford professor J.R.R. Tolkien ignited a spark that's burned for generations of readers. From the children's classic The Hobbit to the epic The Lord of the Rings, Tolkien's tales of hobbits and elves, dwarves and wizards have introduced millions to Middle-earth, a world that Tolkien populated with creatures, languages, and histories. Tolkien: Maker of Middle-earth at the Morgan Library & Museum is the most extensive public display of original Tolkien material in decades, stocked with family photographs and memorabilia, maps, draft manuscripts, and Tolkien's original illustrations.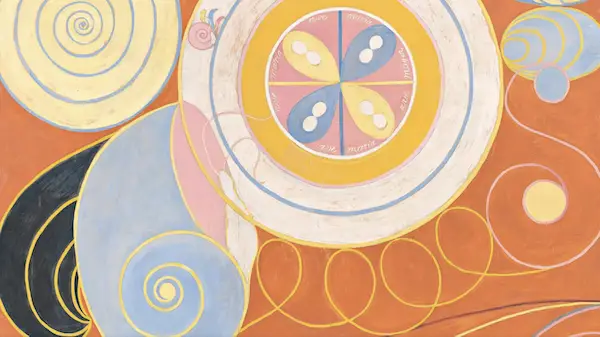 Group IV, the Ten Largest, No. 3, Youth, 1907, from Untitled Series. Photo: Albin Dahlström, Moderna Museet, Stockholm
(Now-4/23) Before abstract art was a speck in Kandinsky's eye, the painter Hilma af Klint (1862-1944) was pioneering non-representational painting in Sweden. A spiritualist who claimed to communicate with the dead, af Klint worked in near-obscurity, forbidding her paintings to receive public exposure until 20 years after her passing. Discover Hilma af Klint, a woman before her time, at the new Solomon R. Guggenheim Museum exhibition Hilma af Klint: Paintings for the Future. Over 170 of af Klint's non-figurative paintings are on display, richly colored and often staggering in scale. Many pieces play with geometry and floral shapes that seem to swim across the canvas. As af Klint worked on her series The Paintings for the Temple, she envisioned a spiral temple as their eventual home. She got her wish over a century later with this eye-opening exhibition at the Guggenheim.
(Now-7/10) Implicit Tensions: Mapplethorpe Now at The Solomon R. Guggenheim Museum. Robert Mapplethorpe, one of the most critically acclaimed and controversial American artists of the late 20th century, is represented in great depth in the Guggenheim's collection. In 1993 the museum received a generous gift of approximately two hundred photographs and unique objects from the Robert Mapplethorpe Foundation, creating one of the most comprehensive public repositories in the world of this important artist's work. In 2019, 30 years after the artist's death, the Guggenheim will celebrate the sustained legacy of his work with a yearlong exhibition in two sequential parts in the museum's Mapplethorpe Gallery on Tower Level 4.
(Ongoing) Faith and Empire at the Rubin Museum. Religion has influenced and empowered countless political leaders throughout history, and Tibetan Buddhism is no exception. "Faith and Empire: Art and Politics in Tibetan Buddhism" is the first exhibition of its kind to explore Tibetan Buddhism's dynamic political role in the empires of Asia from the 7th to the early 20th century. Artwork highlights include a set of 8th-century gilt-silver drinking vessels from the Tibetan Empire; an early 13th-century wrathful icon made of silk and ornamented with tiny seed pearls; a 4 ½-foot-tall 680-pound gilt-bronze bodhisattva from the early 15th-century Ming court; and a 19th-century 8-feet-wide Mongolian depiction of the final battle against the heretics and nonbelievers. The exhibition is arranged chronologically, beginning with the Tibetan Empire in the 7th century, and includes sections on the Tangut kingdom of Xixia, the Mongol Empire, the Chinese Ming dynasty, the rule of the Dalai Lamas, and the Manchu Qing dynasty.
(Now-7/28) Made in New York City: The Business of Folk Art at the American Folk Art Museum. See around 100 works by 18th, 19th, and early 20th-century self-taught artists that highlight the history of of New York City as a financial capital. The exhibition is curated by Elizabeth V. Warren, author of Red and White Quilts: Infinite Variety, The Perfect Game: America Looks at Baseball, and Young America: A Folk Art History, among other books. Made in New York City will tell its story from two perspectives: "The Art of Business" focuses on the people and places that were part of the city's thrumming commercial life. "The Business of Art" highlights the products of the artists, artisans, and manufacturers—the commercial signs, store figures, and early advertising images that they made. The exhibition will draw on the collections of a number of New York City museums.
Things to Do in New York in April: Comedy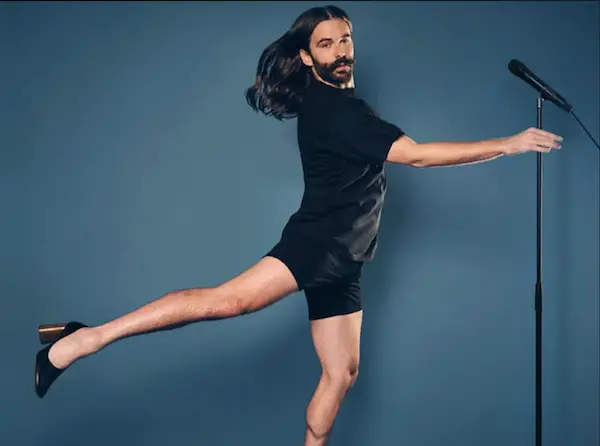 (4/12) Johnathan Van Ness: Road to Beijing at Radio City Music Hall.
(4/4-4/7) In Living Color's Damon Wayans at Carolines.
(4/4-4/5) Jerry Seinfeld at the Beacon Theater.
(4/9) Eat, Drink, & Be Literary: Sloane Crosley at the Brooklyn Acadmey of Music (BAM). Humor writer Sloane Crosley is not merely funny––David Sedaris called her "perfectly, relentlessly funny." Crosley has taken up the gauntlets thrown by her predecessors—Dorothy Parker, Nora Ephron, Sedaris—and crafted something rare, affecting, and true. She is the author of The New York Times bestselling essay collections, I Was Told There'd Be Cake, a finalist for The Thurber Prize for American Humor, and How Did You Get This Number, plus the bestselling novel, The Clasp. Her most recent book of essays is Look Alive Out There. Her work has appeared in Esquire, Vogue, The New York Times Magazine, The New York Times Book Review, The Guardian, New York Magazine, The Believer and on National Public Radio, and she is a contributing editor at Vanity Fair. 6:30pm.
(4/11-4/13) Curb Your Enthusiasm's Jeff Garlin at Carolines.
(4/12-4/13) Jared Fried at Gotham Comedy Club.
(4/19-4/20) Lynne Koplitz at Gotham Comedy Club.
(4/26-4/27) Pat McGann at Gotham Comedy Club.
(4/26-4/27) Curb Your Enthusiasm's Richard Lewis at Carolines.
Things to Do in New York in April: Kids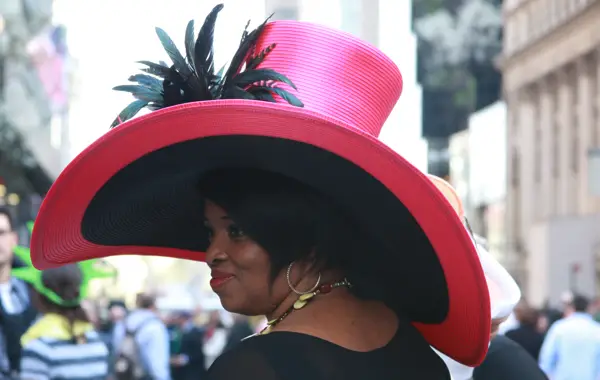 Image: Katy Gartside Photography/Flickr
(4/21) Easter in New York brings egg hunts, fine brunches, and a bonnet-filled procession down Fifth Avenue that's been a city tradition for nearly a century and a half. Celebrate the holiday in true New York fashion with a trip to the Easter Parade. The tradition dates all the way back to the 1870s, when upper class New Yorkers would stroll down Fifth Avenue after church and show off the fashionable new outfits they'd purchased for the holiday. Traffic shuts down for the parade on Fifth Avenue between 49th and 57th Streets from 10am to 4pm on Easter Sunday, letting festive paradegoers fill the streets in their elaborate Easter finest.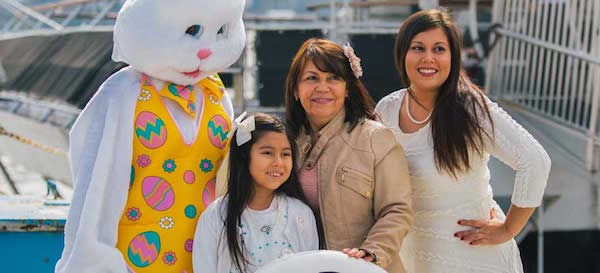 Spirit of New York offers some lovely Easter Sunday Brunch and Dinner Cruises.
PLUS
(4/6) Operation Slumber at Intrepid Sea, Air, & Space Museum. Families can sleep among the aircraft, just like the sailors did. Includes dinner, snack, breakfast, t-shirt, planetarium activities, and more. $99 pp. Reservations required.
(4/7) Mirai at the Brooklyn Academy of Music. A young boy embarks on an exhilarating journey through his family's past and future in this heart-soaring animated fantasy. When his parents bring home a new baby girl, four-year-old Kun struggles to find his place within his changing family—until he meets the future version of his own little sister. So begins a dazzling time-traveling odyssey that blends gentle comedy with a poignant message about what it means to be a family.
(4/13) Watercolor Your World at the Morgan Library. Surrealist artist Max Greis will guide participants using watercolor techniques. Explore creating a fantasy landscape using trees and other flora and fauna to establish your own universe. Ages 8-14.
For more kids things to do, visit our sister site at nymetroparents.com!
Things to Do in NYC: Music & Nightlife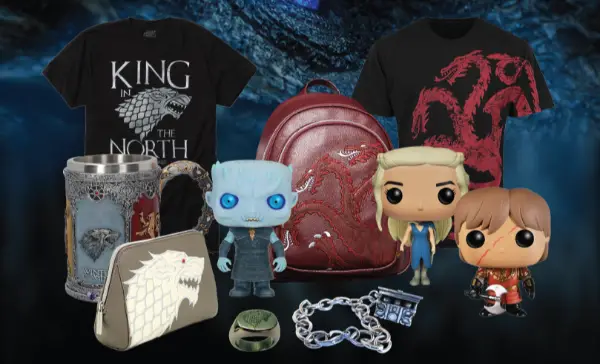 (4/14) Winter is here. Game of Thrones returns to HBO. All six episodes will be an hour+ long, it's been confirmed by director David Nutter. Visit the HBO Shop store to get the latest GOT gear. Use our coupon and save! #Forthethrone
PLUS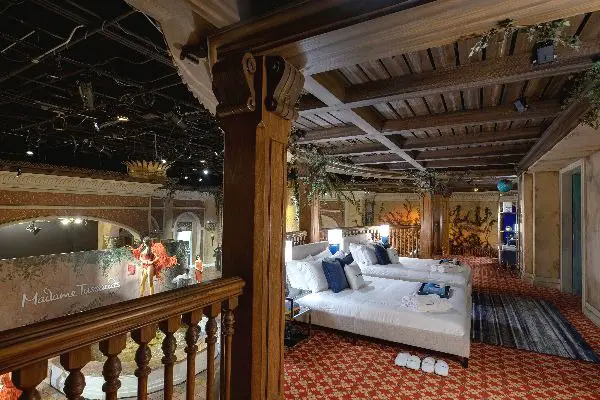 (4/5-4/7) Enjoy a one-of-a-kind experience at Madam Tussauds New York by staying over for the night. Enjoy the ultimate star-studded sleepover for you and your squad, filled with tons of Insta-worthy moments all captured by your own selfie butler, who's there to assure the perfect angles are always available to you. Your stay also includes a goodie bag with swag like a Booking.com robe, slippers, and Madame Tussauds mementos (drink tumbler, shot glass, foldable tote, thumb drive, and Madame Tussauds chocolate); dinner at Dallas BBQ; and a breakfast assortment of pastries with a $15 dollar Starbucks gift card.
(4/11) An Evening with The Clintons at the Beacon Theater.
(4/2-4/6, 4/16-4/20) Buster Poindexter at Cafe Carlyle.
(4/4) A Long Expected Party at the Morgan Library. The Morgan invites Tolkien fans to a Shire-themed celebration of Tolkien: Maker of Middle-earth. Enjoy drinks along with live music and after-hours access to the Morgan's exhibitions and the historic library. Tickets include museum admission and complimentary wine and beer. Costumes encouraged.
(4/4, 4/18) Frida Kahlo: A Perfumed Portrait at the Brooklyn Museum. Experience some of Frida's favorite perfumes and consider the power of fragrance as a form of self-expression during an intimate presentation in which visitors are invited to smell five perfumes and learn about their individual styles and stories. The presentation will be followed by a tour through current exhibition Frida Kahlo: Appearances Can Be Deceiving, focusing on how Kahlo used her art, clothing, and personal possessions to shape and share her identity. Tickets include a special gift.
(4/5-4/6, 4/12-4/13, 4/19-4/20, 4/26-4/27) Orchid Evenings at the New York Botanical Garden. New York City's most spectacular evening outings are back, bringing the color and nightlife of Singapore with them. Step into one of the world's greenest cultures as Supertrees come alive around you, exhilarating with a display of lights and orchids after dark in the Conservatory. Sip a Singapore Sling and purchase a bite to eat from the Bronx Night Market Pop-up while freestyle dancers and DJs perform. You can also explore the kaleidoscope of orchid varieties from the "City in a Garden" and beyond.
(4/5-4/6) NYC Craft Beer Festival at new venue, Union West.
(4/8) Muse with Walk the Moon at Madison Square Garden.
(4/10) Melissa Etheridge's The Medicine Show stops at Town Hall.
(4/10) Mott the Hoople at the Beacon Theater.
(4/12) Billy Joel at Madison Square Garden.
(4/13) Tony Bennett at Radio City Music Hall.
(4/16) Brooklyn Artists Ball & After Party at Brooklyn Museum. Join as the Museum honors Nick Cave and Bank of America and celebrate Frida Kahlo during the art world's most beloved, fun, and inspiring event of the year—the Brooklyn Artists Ball! Tickets required. 6:30pm-midnight. Cocktails, dinner, and after hours set by DJ Swizz Beats.
(4/20) Dream Theater: Distance Over Time Tour + 20 Years of Metropolis Part 2 at Radio City Music Hall.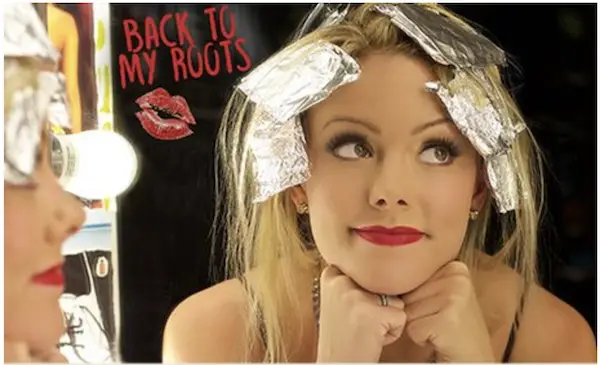 (4/22) Katy Rockwell, star of Broadway's Mean Girls, performs songs from her debut album, Katy Rockwell: Back to My Roots at City Winery. Featuring songs by Cy Coleman, Frank Wildhorn, Stephen Sondheim, Andrew Lloyd Webber, William Finn and more.
(4/24-5/5) The Tribeca Film Festival returns.
(4/25) Little Cinema presents the film Frida at the Brooklyn Museum. This special screening of the 2002 film includes live music performances.
(4/30) Snow Patrol at Terminal 5.
Things to Do in New York in April: Sightseeing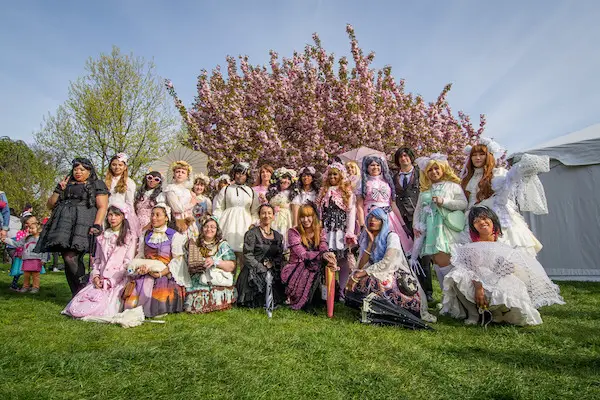 (4/27-4/28) The Sakura Matsuri Cherry Blossom Festival at the Brooklyn Botanic Garden. This beloved cherry blossom festival will be celebrating its 38th anniversary this year. Sakura Matsuri incorporates both modern and traditional Japanese culture, and it offers the perfect opportunity to check out the garden's famous Cherry Esplanade. bbg.org
PLUS
(3/24-4/7) Don't miss the final chance to catch the Macy's Spring 2019 Flower Show.
(4/6) New York Tartan Day Parade in NYC. Celebrate Scottish pride!
(Ongoing) Take a deep dive into an underwater world with one of New York City's newest attractions, National Geographic Encounter: Ocean Odyssey in Times Square. This experience lets visitors explore the ocean like never before thanks to state-of-the-art technology and a brilliant team of designers. This is not a museum, exhibit, movie, aquarium, or virtual reality; instead, the producers consulted with dozens of scientists to create a new kind of immersive experience that guests can walk through as they share ocean encounters. Blockbuster new science—some of it not even published yet—was used in its creation. Short of a submarine, you'll be hard pressed to find a better way to experience life as it's lived under the sea. Use this coupon and save $10!
Things to Do in New York in April: Ongoing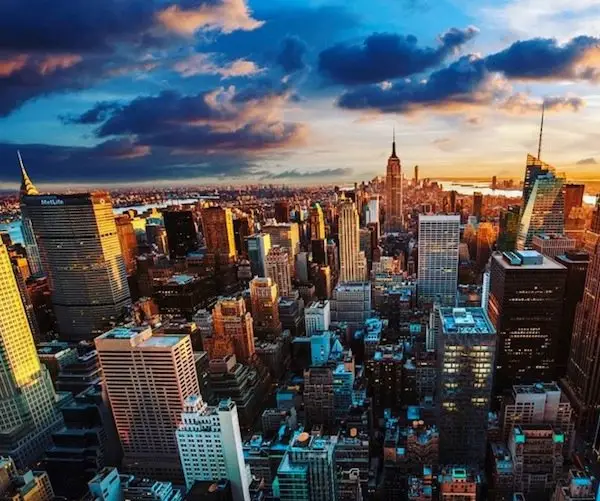 Bring a loved one to take in the breathtaking view at Top of the Rock.
PLUS
(ongoing) Ride 102 stories to the top of the One World Observatory in less than 60 seconds!

(ongoing) Springtime is baseball season! Take a Yankee Stadium Tour!
(New) Check out the New Year's Ball Exhibit at Ripley's New York, where it's New Year's Eve year-round!
Visit the sites of Friends, Seinfeld, Trainwreck, Gossip Girl, Sex and the City and many other NYC film sites with On Location Tours.

Learn more about the fascinating history of New York City's Financial District with Wall Street Walks tours.
Grab a photo with Taylor Swift, One Direction, Lady GaGa and countless others at Madame Tussauds New York.
Ripley's Believe It or Not! Odditorium brings people of all ages face-to-face with the world's most unbelievable curiosities. With 18,000 square feet of astonishing artifacts and exciting interactive exhibits. Here's a coupon!
Weather in New York in April
"April showers bring May flowers," the old saw goes, and you can expect to pay some rain dues this month in New York. In fact, more than half the days in an average April will see rain, although the total precipitation is actually slightly lower than what New York experiences in March. Expect the temperatures to rise steadily, from a start on April 1 with average highs of 56 degrees Fahrenheit (13°C) and average lows right at 40 degrees Fahrenheit (4°C), to highs closer to 66 degrees Fahrenheit (19°C) and lows of 49 degrees Fahrenheit (9°C) by month's end. Days are getting longer, with about 8 hours of light. The heaviest coats can safely be left behind, but you'll still want to pack some outerwear, with sweaters, jackets, and—of course—rain gear. Snow is a longshot by this point in the year. All the great restaurants, museums, galleries, and bars in New York make it easy to entertain yourself indoors, but the odds are you'll have at least a couple of fresh spring days to enjoy the early blooms, and the city's parks coming back to life.
---
Like what you see here? Share it with your friends on Facebook!