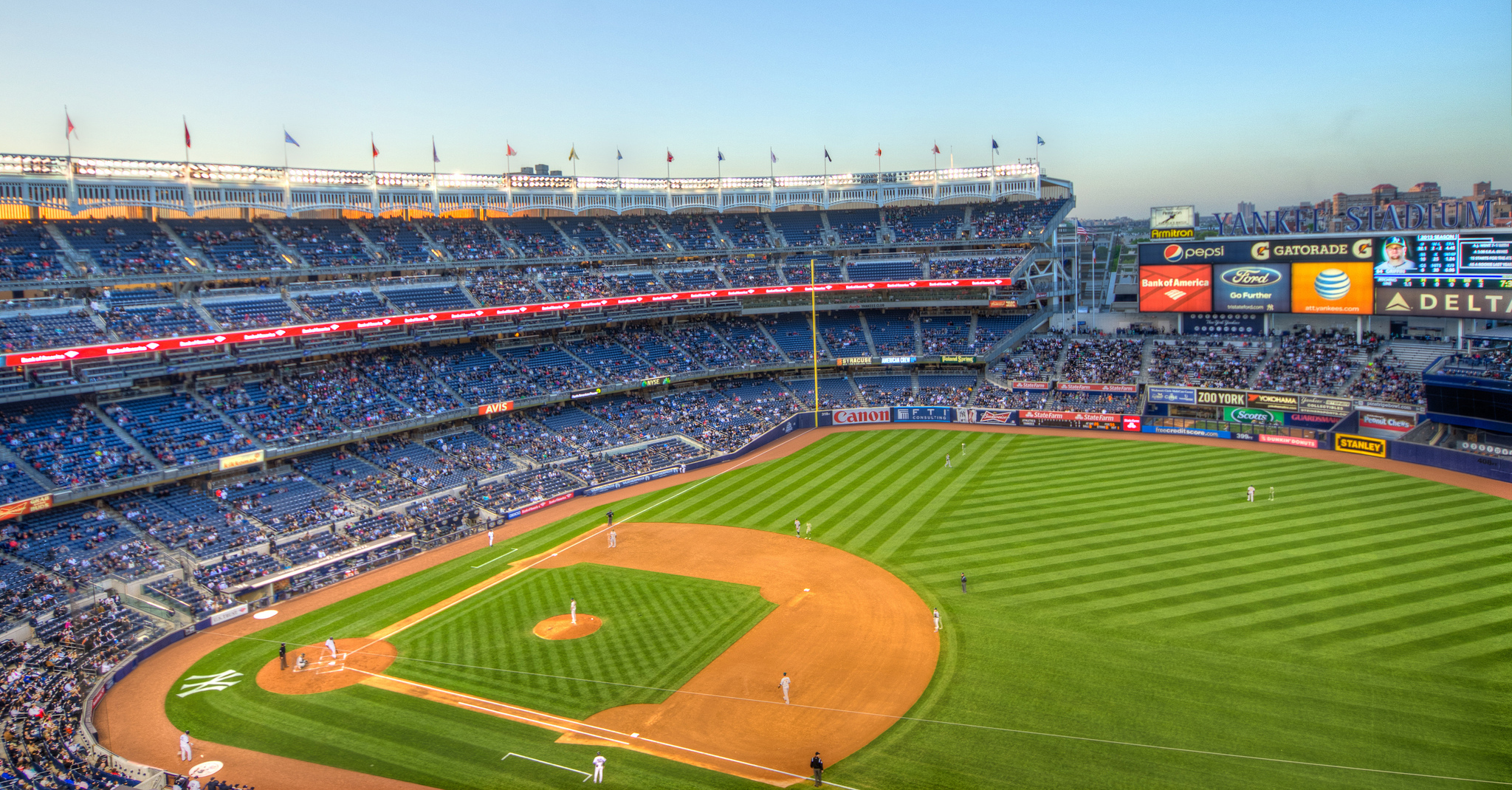 Photo: m01229/Flickr

NYC is home to the Knicks, the Yankees, the Jets, the Rangers, the Mets, the Nets, and the Islanders, so you can bet that there are sporting events happening in the city no matter the season. (There's also soccer, minor league baseball, marathons, and all kinds of college teams.) Find out what sports events in New York City are happening this weekend on City Guide's roundup and then snag some tickets for a game you'll never forget.


Yogacise — Yoga + Exercise - CRS (Center for Remembering No Sharing)
September 13, 2019 - New York
Enjoy yoga and complimentary exercises to increase your flexibility and strengthen your muscles. Improve your yoga poses. Relax & rejuvenate with accurate breathing technique. Taught in English and Japanese as needed. About the Instructor Hazuki Homma is originally from Japan, where she studied classical and modern dance. Since moving to NYC, she completed the Teacher Training Course at OM Yoga as well as international student training programs at Dance New Amsterdam and HB Studio. She has had the wonderful fortune to flow with many talented choreographers such as Meredith Monk, Mariah Molony, Ximena Garnica, Martha Bowers, Daria Fain, and others.
Spades, Bid Whist & Board Game Saturdays @ The West End (Free Admission)!!! - The West End
September 14, 2019 - New York
You are invited to attend our Monthly Spades, Bid Whist & Board Games Meetup, at The West End (formerly known as The Underground), on the Upper West Side!!! Start Time: 1pm End Time: 6pm At this Meetup, we will have several tables available for those that wish to play cards (Spades and Bid Whist Players represent!!!) or board games. The list of games available include: Spades Bid Whist Martin Trivia Card Game Taboo Backgammon Dominoes Chess Checkers Uno Trouble Life Scattergories and MANY MANY MORE!!! As mentioned above, we will have a 75 cent wings special (8 minimum per order) for the group until 6pm!!! DRINK SPECIALS from 1pm-6pm: $5 Shot Specials $6 Well Drinks $6 Mimosas $15 Beer Pitchers $20 Fishbowls The Kitchen will be open for food orders as well. Please note: There is an automatic gratuity added to each bill. We look forward to seeing you there!!
New York Harbor - Liberty to Freedom Swim
September 14, 2019 - New York
Join us on Saturday, September 14th, 2019 for a 2.2M swim from the Statue of Liberty to the Freedom Tower in downtown Manhattan.
4th Annual Carmine's Cigars Golf Outing - La Tourette Golf Course
September 14, 2019 - Staten Island
Enjoy a day of golf, barbecue and cigars at the 4th Annual Carmine's Cigars Golf Outing on Saturday, September 14, 2019 at the La Tourette Golf Course in Staten Island. Proceeds from the event benefit Samaritan Daytop Village's network of lifesaving programs, including treatment for substance use disorder. Golfers can purchase tickets for a day on the greens followed by a barbecue at Carmine's Cigars. BBQ-only tickets are also available. During the BBQ, the Office of the District Attorney Richmond County will be honored for its groundbreaking work with the borough's drug treatment courts. Attendees can purchase tickets for multiple raffles including a 50/50 raffle and enjoy a cigar event hosted by General Cigars. The annual event is organized by Samaritan Daytop Foundation and Carmine's Cigars. 11:30 a.m. – Check-in at La Tourette Golf Course 1:00 p.m. – Golf shotgun start 5:30 p.m. – BBQ immediately after golf at Carmine's Cigars Golf: La Tourette Golf Course 1001 Richmond Hill Rd. Staten Island, NY 10306 BBQ & Cigar Event: Carmine's Cigars 1677 Richmond Rd. Staten Island, NY 10304 $150 – Golf and BBQ $200 – Hole Sponsor $30 – BBQ o... (read more)
National Stair Climb - Belmont Park
September 15, 2019 - Elmont
Mark your calendars for Sunday, September 15, for the National Stair Climb for Fallen Firefighters held in Elmont, NY at Belmont Park, 2150 Hempstead Turnpike. The Climb to Remember is hosted by the New York City Fire Department (FDNY) in partnership with the National Fallen Firefighters Foundation. Participants climb the equivalent of 110 stories to symbolize the number of floors in the World Trade Center. The event participation fee is $50 for the climb and after party. Opening ceremony begins at 9:30 a.m., with the climb beginning at 10 a.m. The climb after-party includes three-hours of unlimited BBQ, soda and draft beer along with admission to the Belmont Park races. The Belmont racing form includes races in memory of fallen FDNY members, Lt. William "Billy" Moore, of EMS Queens/Brooklyn, Firefighter Chris Slutman of FDNY Ladder 27 and Firefighter Steven Pollard of FDNY Ladder 170. All climbers receive a commemorative event shirt and a name badge for the firefighter they are honoring. Interested in supporting but don't want to climb? For $50 supporters 13 years and up may cheer on climbers and attend the after-party. Supporters 4-12 years may attend the event and after p... (read more)
Connecticut Tigers at Staten Island Yankees - Richmond County Bank Ballpark
Through June 18, 2109 - Staten Island
Connecticut Tigers at Staten Island Yankees
Lowell Spinners at Brooklyn Cyclones - MCU Park - Coney Island
Through August 01, 2109 - Brooklyn
Lowell Spinners at Brooklyn Cyclones

Want free advice on what to see and do in NYC? Join our Facebook group Everything to Do NYC, a place for people to ask questions and get tips on how to make the most of the city.