Last week, ten award-winning dancers between the ages of 9-16 performed a fusion of traditional and modern Indian dances to celebrate the arrival of Madame Tussauds' traveling Bollywood exhibit at Madame Tussauds New York.
The exhibit features incredibly lifelike wax figures of five Hindi cinema legends including: Shah Rukh Khan, one of Bollywood's most renowned actors and often referred to as "King Khan;" Aishwarya Rai, one of the leading contemporary actresses of Indian cinema who was featured in the blockbuster action thriller Dhoom 2; Hrithik Roshan, acclaimed actor and recipient of numerous Best Actor awards; Kareena Kapoor, who is noted for her performances across a range of film genres, from romantic dramas and comedies to independent films and major Bollywood productions; and Amitabh Bachchan, regarded as one of the greatest and most influential actors in the history of Indian cinema.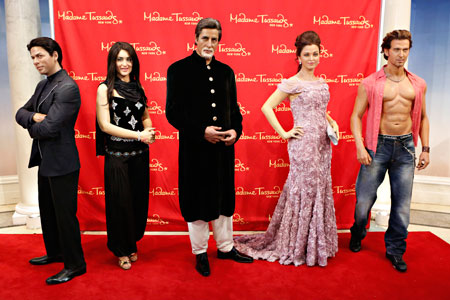 Each of the wax likenesses was created by Madame Tussauds' team of artists in London and took approximately four months to complete at a cost of $300,000. The exhibit will be featured as part of Madame Tussauds New York' "Bollywood Zone" and remain on display through July 12.
Prominently located in the heart of Times Square, Madame Tussauds New York is open 365 days a year. Tickets and additional information is available at www.nycwax.com.