Spirit Cruises is New York's most vibrant and entertaining dining vessel. Based out of Chelsea Piers, its bountiful buffets, stunning skyline views and DJs/live entertainment provide a one-of-a-kind New York experience. Make your reservations now for one of their specially-themed fall/winter cruises.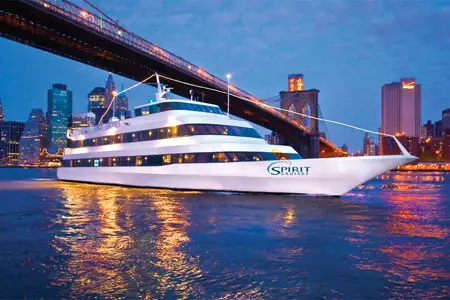 Karaoke Dinner Cruises - 09/13, 10/18, 11/15, 11/29
Come aboard Spirit's Karaoke Night if you like to sing or have a friend or loved one that loves belting it out. The DJ for the Friday Karaoke Night Cruise will cue the music, just add your name to the list to sing your favorite selection. With high-end Skyline buffet on board. 6:30pm-10pm
Hot Latin Moonlight Cruises - 09/14, 10/26


New York's hottest summer cruise is celebrating its 10th anniversary and you can't afford to miss the boat. Grab your favorite pair of dancing shoes to rock the boat all night with non-stop Salsa, Bachata and Merengue. Come aboard and enjoy a night under the stars dancing to your favorite songs! Midnight-3am
Full Moon Dinner Cruise Series - 09/19, 10/18, 11/17
Spend an evening cruising New York Harbor under a full moon. Enjoy the spectacular sights of New York when the moon is at it's fullest, illuminating the city's skyline. 7pm.
The Quiet Storm with Lenny Green (For Singles Only) - 09/20
Hosted by Lenny Green and reality star Ariane Davis from Love & Hip - Hop Atlanta. Featuring 3 Minute speed dating on level 1 and dance music and slow jams on levels 2 & 3. Featuring music by DJ Bent Roc from WBLS & DJ Mitch The People Pleazzer. This special cruise includes a dinner buffet. 11:30pm
Smooth Cruise Encore: The Angela Bofill Experience - 10/04
For 16 years, the Smooth Jazz Cruises have been a hit. This summer enjoy New York's favorite summer jazz series aboard the Spirit of New York! The Smooth Jazz Cruise has evolved into one of New York's most popular attractions. 9pm-11:30pm
New York Saturday Gospel Lunch Cruises - 10/05, 12/7
Join Spirit Cruises New York for a positively inspiring experience on their Gospel Lunch Cruises. You will enjoy a live gospel performance by a contemporary choir while you dine on a delicious lunch buffet and cruise the Hudson River. Boarding at 11:30am.
Fall Foliage Lunch Cruise - 10/19, 10/31
All aboard the Spirit of New York for a cruise north up the Hudson River, past the George Washington Bridge. Experience the spectacular beauty of the fall foliage surrounding you as you delight in a bountiful lunch buffet and DJ narration. 11:30am-3pm
Thanksgiving Cruises in New York 11/28
Let Spirit handle the food and the dishes this year! Celebrate the holiday with friends, family and out of town guests aboard these Thanksgiving Weekend cruises. Lunch, 2pm-4pm, dinner, 7pm-10pm. *Also Saturday After Thanksgiving Cruises (11/30), lunch 12pm-2pm, dinner, 7pm-10pm
Holiday Light Cruises 12/1, 12/5-8, 12/11-15, 12/18-22, 12/24, 12/27-29
The moment you step aboard, a musical trio sets the mood for an elegant evening of cosmopolitan delights. After dinner as you cruise the tip of Manhattan, a talented vocalist joins the trio to compliment the spectacular skyline views with a sophisticated variety of familiar standards, light pop and Broadway tunes. 7pm
Santa Lunch Cruise 12/14
Meet Santa and have your photo taken with him! (photos are available for purchase onboard.) There will be a child-friendly buffet which will include chicken tenders, fries and cookies along with our other fabulous selections. 12pm-2pm
New York New Year's Eve Fireworks Dinner Cruise - 12/31
Enjoy the ultimate New Year's Eve Party aboard the warm and cozy decks of Spirit's beautiful ships. You'll get a complete package of fun that includes: Four-Hour Event on the New York Harbor; Premium Open Bar (Must be 21 or older with ID to consume alcohol); Grande Dinner Buffet; Rockin' DJ for Dancing the Night Away; Party Favors & Festive Decorations; Champagne Toast at Midnight; Stunning views of the illuminating fireworks display at the Statue of Liberty, sponsored by Spirit, as synchronized music accompanies the show in perfect harmony. 9pm-1am *Also New Year's Eve Family Lunch: celebrate New Year's Eve with the whole family aboard this special Spirit Lunch Cruise. Grand buffets. Breathtaking views of New York from the Hudson River. And DJs playing Top 40 hits. 11:30am-2pm. *Also New Year's Day Lunch (1/1/14), 1pm-3pm.
For reservations, call 866-483-3866, or visit spiritofnewyork.com.