New York City has many famous streets: Broadway, of course, which runs the full length of Manhattan and into the Bronx;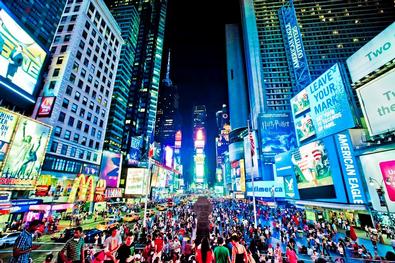 Times Square/Broadway
Madison Avenue, synonymous with advertising; Fifth Avenue, home to high-end shopping and the Empire State Building; and on and on.
Grand Central Terminal
Perhaps the most legendary is 42nd Street, the eastern terminus of the first road across the United States and home to the southern edge of Times Square and the Theatre District, the United Nations (at First Avenue), the Chrysler Building (at Lexington Avenue), and Grand Central Terminal (at Park Avenue), which during the holidays, hosts its own Holiday Fair. In fact, you could spend an entire day in the city without stepping off of 42nd Street; here are some of the great places you'll find along the thoroughfare made famous by the Tony Award-winning musical of the same name.
Get up close and personal with the world's biggest legends and celebrities at Madame Tussauds New York, home to masterfully crafted, life-size wax figures that seem so real, they'll feel like they've met some of their favorite celebrities. Due to popular demand, British boy band sensation One Direction, has made a brief return. Throughout the month of January, fans can get cozy next to One Direction's wax figures in an iconic wintery Central Park scene.
Hunger Games fans, alert! New to the Madame Tussauds pantheon are three wax likenesses of Katniss of The Hunger Games series, portrayed by Academy Award Winner, Jennifer Lawrence. In New York, fans can pose next to Katniss wearing her arena outfit from the first film. 234 W. 42nd St. btw. Seventh & Eighth Aves., 866-841-3505; madametussauds.com/newyork.
With stadium seating, 40 monitors, 3000 LED lights, & surround sound, THE RIDE, now in its third year, is the world's only moving theater. THE RIDE's ensemble cast of singers, dancers, musicians, actors, and comedians are discovered along a 75-minute journey through Times Square and midtown Manhattan. New York City's iconic landmarks unfold before your eyes as audience members face sideways out of floor-to-ceiling glass windows, delivering unparalleled panoramic and vertical views of Manhattan. 234 West 42nd Street, 212-221-0853, experiencetheride.com.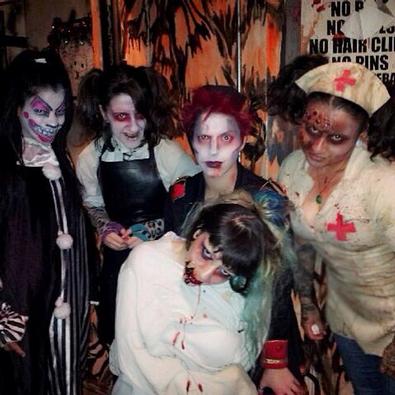 Love your thrills with a side of laughs? Times Scare NYC is a year-round haunted attraction in the heart of Times Square, the first of its kind in the nation, bringing together an interactive haunted house, the Crypt Cafe, live magic shows, comedy and more. Karaoke lovers will want to get in on the act with Scaryoke, hosted by New York City's own Shequida – as seen on season 3 of America's Got Talent. Times Scare NYC also hosts a late night comedy show on Friday nights, Face Off's 11th Hour, an improv comedy group where anything can happen.
For more information and reservations, visit timesscareny.com
Whether you want to pedal along the city streets alone or with the aid of a tour, Bike & Roll is your ride. Bike and Roll's My Way Pass ($54 adults/$36 kids) gives riders access to multiple spots to pick up and drop off a bike. If you don't feel like 'getting lost', and want to travel with a guided tour, no problem! Bike and Roll offers guided tours of Central Park, Brooklyn Bridge, 9/11 Memorial and New York at Night. 140 West 30th Street, 212-260-0400, bikeandroll.com/newyork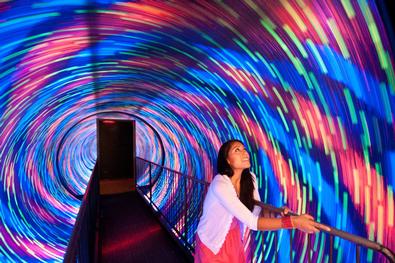 Not an art museum, not a science museum, and not a circus sideshow, Ripley's Believe It or Not! Times Square showcases the oddities in life and delivers the ultimate in shockingly odd, true stories. The exhibits include Ripley's collection of 24 shrunken heads that were the spoils of war for the Jivaro Indians of Ecuador; a 3,197-lb. meteorite that fell to earth in China during the Ming Dynasty in 1529; a collection of Olympic torches; and human and animal oddities. 234 W. 42nd St. btw. Seventh & Eighth Aves., 212-398-3133; ripleysnewyork.com.
Looking to include an elegant Italian dinner in your night on the town? Celebrity chef Dino Redzic has done it again with Paul's on Times Square, located the heart of Times Square, on the 4th floor of the brand new Hilton Garden Inn Hotel. From Dino's signature Duck Confit Pizza at Uncle Paul's, (sibling on 70 Vanderbilt Ave (45 St) near Grand Central), to his gourmet specialty "Osso Buco," the public is in for a special dining experience. Great bar scene, too. 136 West 42nd St. (6th Ave-B'way), 212-204-7246, paulsontimessquare.com
Take in the grandeur of New York with Circle Line 42nd Street Cruises and see spectacular views of Manhattan as knowledgeable guides point out the famous landmarks. There are many cruises to choose from: the classic 3-hour Full-Island Cruise; two hour Semi-Circle Cruise; the Liberty Cruise); the romantic 2-hour Harbor Lights Cruise; plus special holiday cruises. There are even specially themed 75 minute children's cruises. Pier 83, W. 42nd St. and 12th Ave., 212-563-3200, circleline42.com.
World Yacht offers an idyllic setting for romantic dinner cruises along the Hudson. Pier 81, West 41st Street, 212-630-8100, worldyacht.com
For more sightseeing, maps, and other family-friendly activities, visit cityguideny.com.