Cultural Arts > Museums


More Museums Listings... | Submit Listing Changes/Additions | Send this link to a friend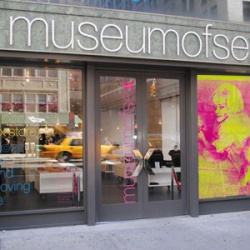 233 Fifth Ave.

212-689-6337
www.museumofsex.com
The most stimulating museum in New York. Current exhibitions include: Spotlight on the Permanent Collection, with objects and ephemera drawn from over 9,000 objects in the permanent collection. Present this guide at the front desk and receive $4 off admission.
Upcoming Events at Museum of Sex:
CityGuideNY.com Articles About Museum of Sex:
| | |
| --- | --- |
| | JUMP TO CITYGUIDE LISTINGS |
Advertising | Add a Calendar Event | Bookmarks | Company News | Contact Us | Jobs @ City Guide
Suggest a Listing
For More Content Visit: Concierge Choice Awards | Promenade Magazine | NY Metro Parents Magazine
Bar Bat Mitzvah Book | NYC Activities | NYC Dining | NYC Discounts | NYC Events
NYC Museums | NYC Shopping | NYC Theater