Sightseeing > Attractions


More Attractions Listings... | Submit Listing Changes/Additions | Send this link to a friend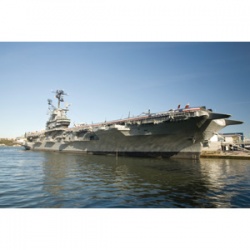 Pier 86, W. 46th St. and 12th Ave.

212-245-0072
www.intrepidmuseum.org
Coupon (click here): 20% off admission, Space Shuttle, guided tours

The renovated museum complex includes the 900-foot-long aircraft carrier Intrepid with seven full decks and four theme halls; the guided missile submarine Growler; and an extensive aircraft collection including the A-12 Blackbird, the fastest plane in the world, and the British Airways Concorde, the fastest commercial aircraft in the world. Guests are able to experience areas of the ship, multimedia presentations and exhibit collections, interactive educational stations, recently restored historic aircraft collection and a state-of-the-art public pier.
A recent addition is the Space Shuttle Enterprise. The climate-controlled Shuttle Pavilion (scheduled to reopen in early summer, 2013) contains fully curated exhibits and require additional admission for entrance. For more on the Enterprise -- which was recently added to the National Register of Historic Places -- click here.
Upcoming Events at Intrepid Sea, Air & Space Museum:
Visit the Activity Planner for More Great Activities
CityGuideNY.com Articles About Intrepid Sea, Air & Space Museum:
Click Here for the New York City Activity Planner!
Advertising | Add a Calendar Event | Bookmarks | Company News | Contact Us | Jobs @ City Guide
Suggest a Listing
For More Content Visit: Concierge Choice Awards | Promenade Magazine | NY Metro Parents Magazine
Bar Bat Mitzvah Book | NYC Activities | NYC Dining | NYC Discounts | NYC Events
NYC Museums | NYC Shopping | NYC Theater