Restaurants > Japanese


More Japanese Listings... | Submit Listing Changes/Additions | Send this link to a friend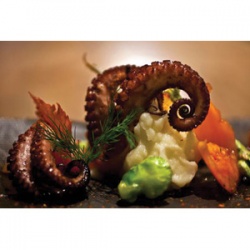 1674 Broadway

212-757-1030
mrrobata.com
"Mr. Robata is great!" hails Cindy Adams/NY Post, and Bob Lape of News Radio 88 offers the restaurant high marks, saying "it's worth checking out." Nestled in the heart of the Theater District, this Japanese Sushi/steak house offers tantalizing cuisine with a flair and presentation befitting a top Broadway musical. Chef Masaki Nakayama has developed a sizable following for his playful artistic interpretation of French-inflected Japanese cooking. Mr. Robata boasts a "robata" grill:the centuries-old Japanese style of open-hearth grilling into the contemporary New York culinary scene. Whether its duck breast served with foie gras or the Wagu sliders, one can savor the ultimate dining experience at Mr. Robata.
CityGuideNY.com Articles About Mr. Robata:
Click Here to Purchase Tickets to NYC Shows & Attractions!
Advertising | Add a Calendar Event | Bookmarks | Company News | Contact Us | Jobs @ City Guide
Suggest a Listing
For More Content Visit: Concierge Choice Awards | Promenade Magazine | NY Metro Parents Magazine
Bar Bat Mitzvah Book | NYC Activities | NYC Dining | NYC Discounts | NYC Events
NYC Museums | NYC Shopping | NYC Theater