Restaurants > Italian


More Italian Listings... | Submit Listing Changes/Additions | Send this link to a friend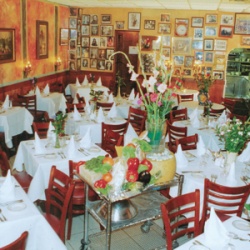 97 MacDougal St.

212-228-9194
www.montes1918.com
Monte's will be closed July 30 to August 13, 20013, but you can dine at their nearby sister restaurant, Villa Mosconi, at 69 MacDougal St.
Monte's has been serving classic Italian Cuisine in Greenwich Village since 1918. Chef Pietro Mosconi makes your visit a most memorable one. Order from the menu or, even better, choose one of Chef Pietro's signature "specials of the evening" and the wine to go with it. The service is superior, and the staff will make you feel as if you are part of the family. The food is moderately priced, but appears and tastes elegant. Evening entertainment.
Related Links:
Monte's review (Review) Visit the Activity Planner for More Great Activities

CityGuideNY.com Articles About Monte's:
Click Here to Purchase Tickets to NYC Shows & Attractions!
Advertising | Add a Calendar Event | Bookmarks | Company News | Contact Us | Jobs @ City Guide
Suggest a Listing
For More Content Visit: Concierge Choice Awards | Promenade Magazine | NY Metro Parents Magazine
Bar Bat Mitzvah Book | NYC Activities | NYC Dining | NYC Discounts | NYC Events
NYC Museums | NYC Shopping | NYC Theater