Theater > Off-Broadway


More Off-Broadway Listings... | Submit Listing Changes/Additions | Send this link to a friend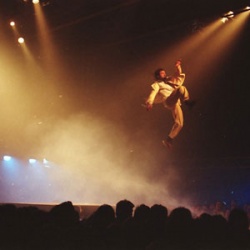 Daryl Roth Theatre, 20 Union Square E.

212-239-6200
www.fuerzabrutanyc.com
Breaking free from the confines of spoken language and theatrical convention, this show from the creators of De La Guarda floods the senses and makes the imagination soar. Wed. & Thurs., 8; Fri., 8 & 10:30; Sat., 7 & 10; Sun., 5 & 8. Call or visit website for variations in playing schedule.
CityGuideNY.com Articles About FUERZA BRUTA:
Click Here for Money Saving New York City Offers!
Advertising | Add a Calendar Event | Bookmarks | Company News | Contact Us | Jobs @ City Guide
Suggest a Listing
For More Content Visit: Concierge Choice Awards | Promenade Magazine | NY Metro Parents Magazine
Bar Bat Mitzvah Book | NYC Activities | NYC Dining | NYC Discounts | NYC Events
NYC Museums | NYC Shopping | NYC Theater